Forever in Our Ears
hosted by Garrison Keillor
From The Town Hall | New York City, NY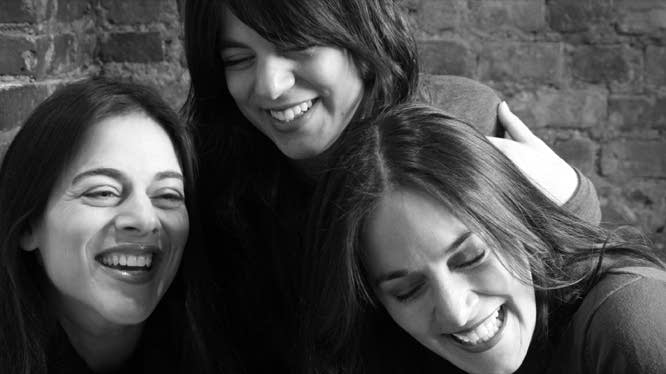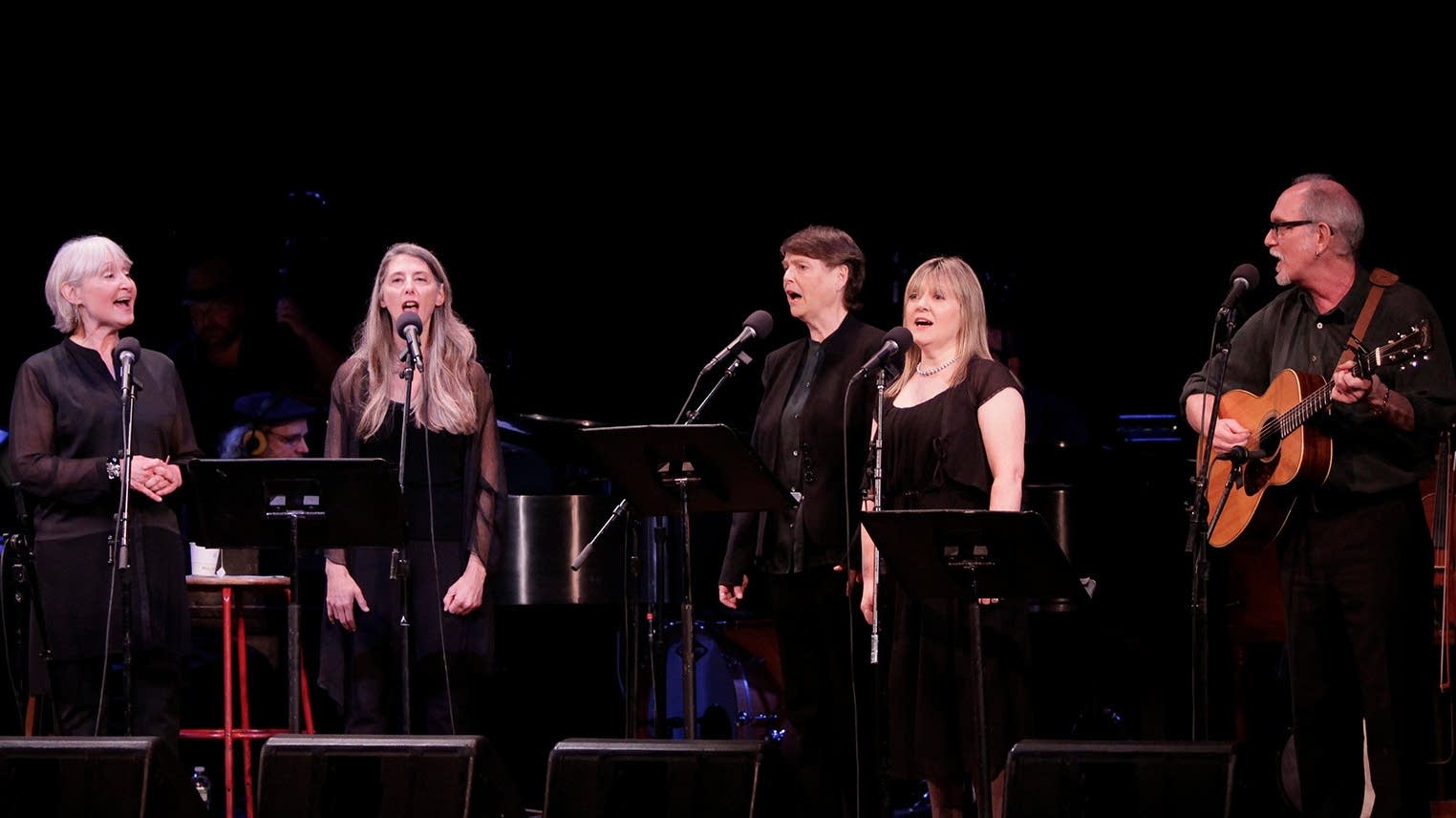 Coming to you this week from the historic
Town Hall
in New York City, it's a live broadcast with special guests, women's vocal ensemble
Anonymous 4
with multi-instrumentalist
Bruce Molsky
, renegade songwriter
Nellie McKay
, and Bensonhurst harmonizers
The DiGiallonardo Sisters
. Plus, the Royal Academy of Radio Actors,
Tim Russell, Sue Scott
, and
Fred Newman
; pianist and musical director
Richard Dworsky
with The Dworsky New York Orchestra (
Jeff Carney
on bass, drummer
Bernie Dresel
,
Richard Kriehn
on mandolin and fiddle, and guitarist
Chris Siebold
); and the latest News from Lake Wobegon.
Anonymous 4 with Bruce Molsky

Anonymous 4 - Ruth Cunningham, Marsha Genensky, Susan Hellauer, and Jacqueline Horner-Kwiatek - first formed to sing medieval chant. Now, nearly 30 years later, the New York-based quartet has a repertoire spanning more than a thousand years of music. And they have some 20 albums to their credit. For the latest, 1865 (Harmonia Mundi), a collection of Civil War-era songs of hope and home, they joined forces with renowned singer and multi-instrumentalist Bruce Molsky, who's aptly been called "the Rembrandt of Appalachian fiddle."

Nellie McKay

Singer, songwriter, actor, and activist Nellie McKay has amassed quite a following with her quirky musical approach. The London-born, New York-based performer's latest recording, My Weekly Reader (Savoy 429 Records), is a collection of favorite songs from the 1960s. For her portrayal of Polly Peachum in the Broadway production of The Threepenny Opera, she won a Theatre World Award. And the Humane Society honored her with a Doris Day Music Award, in recognition of her dedication to animal rights.

The DiGiallonardo Sisters

The DiGiallonardo Sisters - Daniela, Nadia, and Christine - started singing together when they were kids Brooklyn. They still call Brooklyn home, and they still love stacking up those three-part harmonies. Now, Daniela teaches social studies at Brooklyn's Mark Twain Intermediate School for the Gifted & Talented; Nadia is a pianist, composer, arranger, and singer; and Christine is a singer and actor. The trio's debut album, Shout Sister Shout, was recorded with Rob Fisher live at the Virginia Arts Festival.

Garrison Keillor

Garrison Keillor

was born in 1942 in Anoka, Minnesota. He went to work for Minnesota Public Radio in 1969, and on July 6, 1974, he hosted the first broadcast of

A Prairie Home Companion

in St. Paul. He is the host of

The Writer's Almanac

and the editor of the

Good Poems

series of anthologies from Viking.

Rich Dworsky and The Dworsky New York Orchestra - April 18, 2015

Richard Dworsky Keyboardist, composer, and arranger Richard Dworsky is APHC's music director. He leads the band, composes themes, improvises script underscores, and collaborates with such diverse guests as Yo-Yo Ma, James Taylor, Brad Paisley, Kristin Chenoweth, and Sheryl Crow. He has released many recordings of original material and has provided music for documentaries on HBO and PBS. Jeff Carney Bassist Jeff Carney is always in demand - in Broadway orchestras, on jingles and film soundtracks, and as accompanist for jazz giants and popular music stars. A professor of double bass and electric bass at the New School for Jazz and Contemporary Music, he is also principal bassist with the New York Pops Orchestra at Carnegie Hall, and has appeared with the New York Philharmonic, the San Francisco Symphony, and more. Bernie Dresel Bernie Dresel has been in the percussion game since he got his first drum kit at the age of two. After graduating from the Eastman School of Music, he headed to Los Angeles. He's worked with countless artists, from Chaka Khan and Maynard Ferguson to David Byrne and Brian Wilson, and spent 15 years with the Brian Setzer Orchestra. He currently plays with Gordon Goodwin's Big Phat Band and heads up his own 12-piece funk band, BERN. Richard Kriehn When Richard Kriehn turned 10, his mom bought him a mandolin; at 19, he'd won the Buck White International Mandolin Contest. He went on to play with the Nashville Mandolin Ensemble and bluegrass group 1946. On the classical side, he has performed with numerous orchestras and was principal second violin for the Washington/Idaho Symphony. Chris Siebold Bluegrass to big band jazz, Chris Siebold knows his way around a guitar - or a bunch of other instruments, for that matter. Based in Chicago, he draws from a deep well of influences and styles, and has put his talents to work in ensembles such as Howard Levy's Acoustic Express and Kick the Cat. In 2010, he formed the band Psycles, whose album Live at Martyrs' was released the following year.

Tim Russell

One minute he's mild-mannered

Tim Russell

; the next he's George Bush or Julia Child or Barack Obama. We've yet to stump this man of many voices. Says fellow APHC actor Sue Scott, "He does a better Ira Glass than Ira Glass." A well-known Twin Cities radio personality and voice actor, Tim appeared in the Robert Altman film

A Prairie Home Companion

and the Coen brothers'

A Serious Man

. Tim has also been

reviewing films professionally for over 10 years

.

Sue Scott

On APHC, Sue Scott plays everything from ditzy teenagers to Guy Noir stunners to leathery crones who've smoked one pack of Camel straights too many. The Tucson, Arizona, native is well known for her extensive commercial and voice-over work on radio and television, as well as stage and movie roles, including the part of "Donna" in Robert Altman's A Prairie Home Companion.

Fred Newman

Sound effects man Fred Newman is an actor, writer, musician, and sound designer for film and TV. Turns out, no one is more surprised than Fred that he's made a career out of doing what he used to do behind the teacher's back -crossing his eyes, making sounds, and doing voices. He readily admits that, growing up, he was unceremoniously removed from several classrooms, "once by my bottom lip."