More Than Anything
hosted by Garrison Keillor
From State Theatre | Minneapolis, MN
"It Might As Well Be Spring"

"It Might As Well Be Spring"

"We Must Have Been Out of Our Minds"

"We Must Have Been Out of Our Minds"

"Malt-O-Meal" - The Limestones

"Malt-O-Meal" - The Limestones

"Never Did Fit In" - Becky Schlegel

"Never Did Fit In" - Becky Schlegel

The Lives of the Cowboys

The Lives of the Cowboys

"Foreign Lander" - GQ

"Foreign Lander" - GQ

"You Are My Sunshine" - GQ

"You Are My Sunshine" - GQ

"That's the Way Love Goes"

"That's the Way Love Goes"

St. Olaf commercial

St. Olaf commercial

The News from Lake Wobegon

The News from Lake Wobegon

"Golden Ring"

"Golden Ring"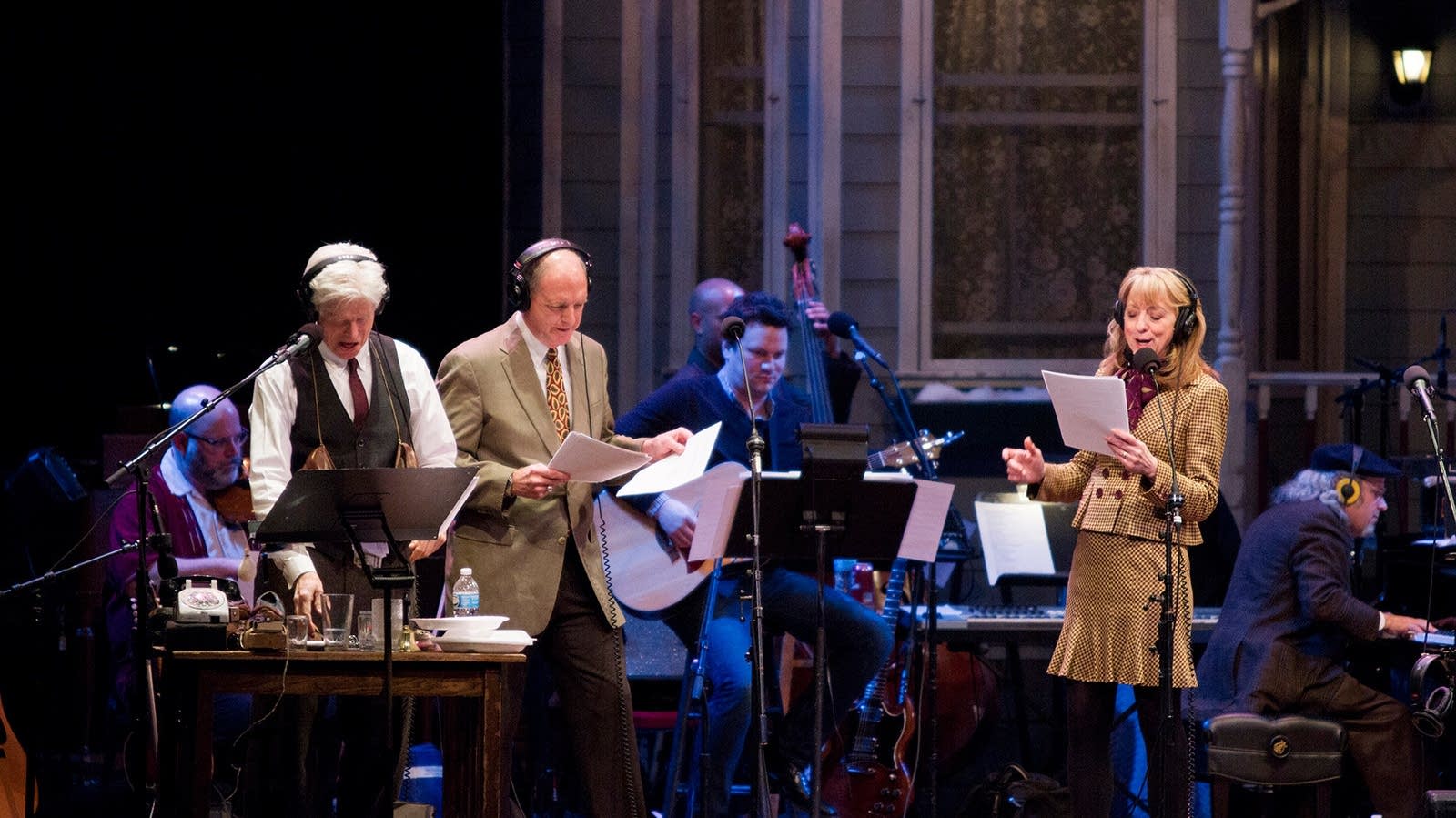 This week, we're staying on the West side of the Mississippi River, for another live broadcast from the
State Theatre
in Minneapolis, Minnesota with special guests, bluegrass sensation
Becky Schlegel
, country singer Kim Parent, and two young a capella groups, girls' quartet
GQ
, and men's septet
The Limestones
. Plus, our Royal Academy of Radio Actors,
Tim Russell, Sue Scott
, and
Fred Newman
; pianist and musical director
Richard Dworsky
with The Candyland Band (
Jeff Bailey
on bass, drummer
Bernie Dresel
,
Richard Kriehn
on mandolin and fiddle, and guitarist
Chris Siebold
); and the latest News from Lake Wobegon.
Tune in on your local public radio station or watch live online
(5pm to 7pm Central Time) at
prairiehome.org!
Becky Schlegel

When a college friend gave Becky Schlegel a couple of Reno and Smiley albums, the die was cast: She got hooked on bluegrass. She left her South Dakota home, moved to Minnesota, and became a favorite on the Upper Midwest music scene - named Bluegrass/Old-Time Artist of the Year at the Minnesota Music Awards four years running. After living in Nashville for several years, she's now back in Minnesota. Her many albums include 2014's Opry Lullaby (Lilly Ray Records).

Kim Parent

Kim Parent started out singing in school choirs and later in coffeehouses and for countless weddings. But Nashville became her goal. Since landing a publishing deal and moving to Music City in the mid-1990s, Kim has continued writing songs (recorded by T. Graham Brown and Jonell Mosser, among others) and this "singer's singer" has also found a niche backing up myriad artists. She has toured with Brooks and Dunn, Christopher Cross, and more. And visitors to the Grand Ole Opry might just spot her as one of the Opry background singers.

GQ

GQ started in 2011 when Katie Gillis picked Ali Hauger, Katie Macdonald, and Amanda McNutt to be part of a vocal jazz project at Towson University, where the four were students. Since then, this Baltimore-based female a cappella quartet has raked in awards and accolades for their sweet harmonies and innovative arrangements. They compete in a cappella and barbershop competitions, and their album, GQ, features a variety of genres, from folk and jazz to barbershop and original compositions.

The Limestones

The Limestones -a male a cappella group from St. Olaf College in Northfield, Minnesota - first formed in 1989. With repertoire ranging from pop and hip-hop to country and barbershop, these accomplished singers have performed throughout the Midwest for schools, businesses, and private functions. Their most recent pop album is 2013's Down To Earth. And late last year, they released a holiday CD: Jingle Bell Rock. The Limestones: Brandon Berger, Charlie Baird, Kaya Petersen, DK Tong, Chris Flicek, Ted Deitz, and Sebastian Surom.

Garrison Keillor

Garrison Keillor

was born in 1942 in Anoka, Minnesota. He went to work for Minnesota Public Radio in 1969, and on July 6, 1974, he hosted the first broadcast of

A Prairie Home Companion

in St. Paul. He is the host of

The Writer's Almanac

and the editor of the

Good Poems

series of anthologies from Viking.

Rich Dworsky and The Candyland Band - March 7, 2015

Richard Dworsky Keyboardist, composer, and arranger Richard Dworsky is APHC's music director. He leads the band, composes themes, improvises script underscores, and collaborates with such diverse guests as Yo-Yo Ma, James Taylor, Brad Paisley, Kristin Chenoweth, and Sheryl Crow. He has released many recordings of original material and has provided music for documentaries on HBO and PBS. Jeff Bailey Bassist Jeff Bailey has performed in a wide variety of musical settings as a musician, composer, and producer, working with jazz artists such as Captain Jack McDuff and Nachito Herrera. In addition, he heads up the bass department at McNally Smith College of Music, where he enjoys sharing his musical knowledge with up-and-coming musicians. Bernie Dresel Bernie Dresel has been in the percussion game since he got his first drum kit at the age of two. After graduating from the Eastman School of Music, he headed to Los Angeles. He's worked with countless artists, from Chaka Khan and Maynard Ferguson to David Byrne and Brian Wilson, and spent 15 years with the Brian Setzer Orchestra. He currently plays with Gordon Goodwin's Big Phat Band and heads up his own 12-piece funk band, BERN. Richard Kriehn When Richard Kriehn turned 10, his mom bought him a mandolin; at 19, he'd won the Buck White International Mandolin Contest. He went on to play with the Nashville Mandolin Ensemble and bluegrass group 1946. On the classical side, he has performed with numerous orchestras and was principal second violin for the Washington/Idaho Symphony. Chris Siebold Bluegrass to big band jazz, Chris Siebold knows his way around a guitar - or a bunch of other instruments, for that matter. Based in Chicago, he draws from a deep well of influences and styles, and has put his talents to work in ensembles such as Howard Levy's Acoustic Express and Kick the Cat. In 2010, he formed the band Psycles, whose album Live at Martyrs' was released the following year.

Tim Russell

One minute he's mild-mannered

Tim Russell

; the next he's George Bush or Julia Child or Barack Obama. We've yet to stump this man of many voices. Says fellow APHC actor Sue Scott, "He does a better Ira Glass than Ira Glass." A well-known Twin Cities radio personality and voice actor, Tim appeared in the Robert Altman film

A Prairie Home Companion

and the Coen brothers'

A Serious Man

. Tim has also been

reviewing films professionally for over 10 years

.

Sue Scott

On APHC, Sue Scott plays everything from ditzy teenagers to Guy Noir stunners to leathery crones who've smoked one pack of Camel straights too many. The Tucson, Arizona, native is well known for her extensive commercial and voice-over work on radio and television, as well as stage and movie roles, including the part of "Donna" in Robert Altman's A Prairie Home Companion.

Fred Newman

Sound effects man Fred Newman is an actor, writer, musician, and sound designer for film and TV. Turns out, no one is more surprised than Fred that he's made a career out of doing what he used to do behind the teacher's back -crossing his eyes, making sounds, and doing voices. He readily admits that, growing up, he was unceremoniously removed from several classrooms, "once by my bottom lip."