Silent, Steadfast, and Strong
hosted by Garrison Keillor
Show #1483
January 31, 2015
From Fitzgerald Theater | Saint Paul, MN
"Old Rosin the Beau"

"Old Rosin the Beau"

"Summit Avenue Rag"

"Summit Avenue Rag"

"The Grass is Really Greener" - Robbie Fulks

"The Grass is Really Greener" - Robbie Fulks

"The Sound of Sickness"

"The Sound of Sickness"

"I Will" - Garrison and Kate Beahen

"I Will" - Garrison and Kate Beahen

"When You're Here" - John Fullbright

"When You're Here" - John Fullbright

"Under the Crimson Leaves"

"Under the Crimson Leaves"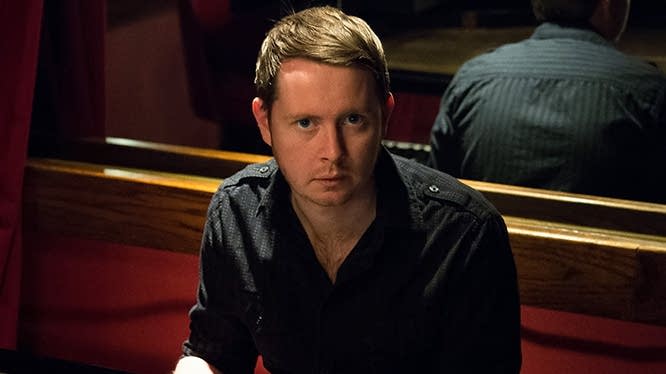 This week, we're sticking around Saint Paul, Minnesota for another live broadcast from the
Fitzgerald Theater
, with special guests country songwriter and singer
Robbie Fulks
, Oklahoma's own
John Fullbright
, and singer and actress
Kate Beahen
. Plus, the Royal Academy of Radio Actors,
Sue Scott, Tim Russell
, and
Fred Newman
; musical director and pianist
Richard Dworsky
with The Exchange Street Rangers (
Jeff Bailey
on bass, cellist
Sally Dorer
, drummer
Bernie Dresel
, and
Richard Kriehn
on mandolin and fiddle); and the latest News from Lake Wobegon. Tune in on your local public radio station or
watch the entire show live at prairiehome.org
! If you're in the Twin Cities,
join us after the show
for our final
January Jump Start concert
featuring Robbie Fulks and John Fullbright.
Robbie Fulks

It was Aunt Stella's banjo that first caught Robbie Fulks' attention. He was seven. From there, it was Aunt Mildred's fiddle, his dad's guitar, and any other instrument that crossed his path. For more than 30 years, this guitarist/singer/songwriter has called Chicago home. His singular brand of music may be hard to pigeonhole, but fans agree: once you've heard it, you're hooked. His dozen-plus recordings include Gone Away Backward (Bloodshot Records). Robbie Gjersoe, Aaron Till, and Chris Scruggs join Fulks for today's show.

John Fullbright

For a small town, Okemah, Oklahoma, has produced some big talent. There's Woody Guthrie, of course. And now singer-songwriter John Fullbright is making his mark. He was already a favorite at festival campgrounds before he was even out of high school. Then, in 2009, he burst upon the Southwest music scene with a recording called Live at the Blue Door. The latest from this Oklahoma Music Hall of Famer is 2014's Songs (Blue Dirt Records).

Kate Beahen

Originally from Anoka, Minnesota, actor and singer Kate Beahen earned a degree in music theater from Florida State University, spent a few years in New York, and is now based in Minneapolis. In the Twin Cities, she has appeared in productions at the Guthrie Theater, Theater Latte Da, the Ordway Center, and more. Kate also directs and teaches youth workshops across the state.

Garrison Keillor

Garrison Keillor

was born in 1942 in Anoka, Minnesota. He went to work for Minnesota Public Radio in 1969, and on July 6, 1974, he hosted the first broadcast of

A Prairie Home Companion

in St. Paul. He is the host of

The Writer's Almanac

and the editor of the

Good Poems

series of anthologies from Viking.

Richard Dworsky

Richard Dworsky Keyboardist, composer, and arranger Richard Dworsky is APHC's music director. He leads the band, composes themes, improvises script underscores, and collaborates with such diverse guests as Yo-Yo Ma, James Taylor, Brad Paisley, Kristin Chenoweth, and Sheryl Crow. He has released many recordings of original material and has provided music for documentaries on HBO and PBS. Jeff Bailey Bassist Jeff Bailey has performed in a wide variety of musical settings as a musician, composer, and producer, working with jazz artists such as Captain Jack McDuff and Nachito Herrera. In addition, he heads up the bass department at McNally Smith College of Music, where he enjoys sharing his musical knowledge with upcoming musicians. Sally Dorer Cellist Sally Dorer has performed throughout the United States as an orchestral and chamber musician. A member of the Minnesota Opera Orchestra, she has also performed with the Saint Paul Chamber Orchestra, and frequently can be heard with the Minnesota Orchestra and VocalEssence. Previously, she was a member of the New Mexico Symphony and the Colorado Music Festival Orchestra. She has served on the faculty of both Carleton College and Augsburg College. Bernie Dresel Bernie Dresel has been in the percussion game since he got his first drum kit at the age of two. After graduating from the Eastman School of Music, he headed to Los Angeles. He's worked with countless artists, from Chaka Khan and Maynard Ferguson to David Byrne and Brian Wilson, and spent 15 years with the Brian Setzer Orchestra. He currently plays with Gordon Goodwin's Big Phat Band and heads up his own 12-piece funk band, BERN. Richard Kriehn When Richard Kriehn turned 10, his mom bought him a mandolin; at 19, he'd won the Buck White International Mandolin Contest. He went on to play with the Nashville Mandolin Ensemble and bluegrass group 1946. On the classical side, he has performed with numerous orchestras and was principal second violin for the Washington/Idaho Symphony.

Tim Russell

One minute he's mild-mannered

Tim Russell

; the next he's George Bush or Julia Child or Barack Obama. We've yet to stump this man of many voices. Says fellow APHC actor Sue Scott, "He does a better Ira Glass than Ira Glass." A well-known Twin Cities radio personality and voice actor, Tim appeared in the Robert Altman film

A Prairie Home Companion

and the Coen brothers'

A Serious Man

. Tim has also been

reviewing films professionally for over 10 years

.

Sue Scott

On APHC, Sue Scott plays everything from ditzy teenagers to Guy Noir stunners to leathery crones who've smoked one pack of Camel straights too many. The Tucson, Arizona, native is well known for her extensive commercial and voice-over work on radio and television, as well as stage and movie roles, including the part of "Donna" in Robert Altman's A Prairie Home Companion.

Fred Newman

Sound effects man Fred Newman is an actor, writer, musician, and sound designer for film and TV. Turns out, no one is more surprised than Fred that he's made a career out of doing what he used to do behind the teacher's back -crossing his eyes, making sounds, and doing voices. He readily admits that, growing up, he was unceremoniously removed from several classrooms, "once by my bottom lip."