Rebroadcast with Leo Kottke and Suzy Bogguss
hosted by Garrison Keillor
From The Fitzgerald Theater | Saint Paul, MN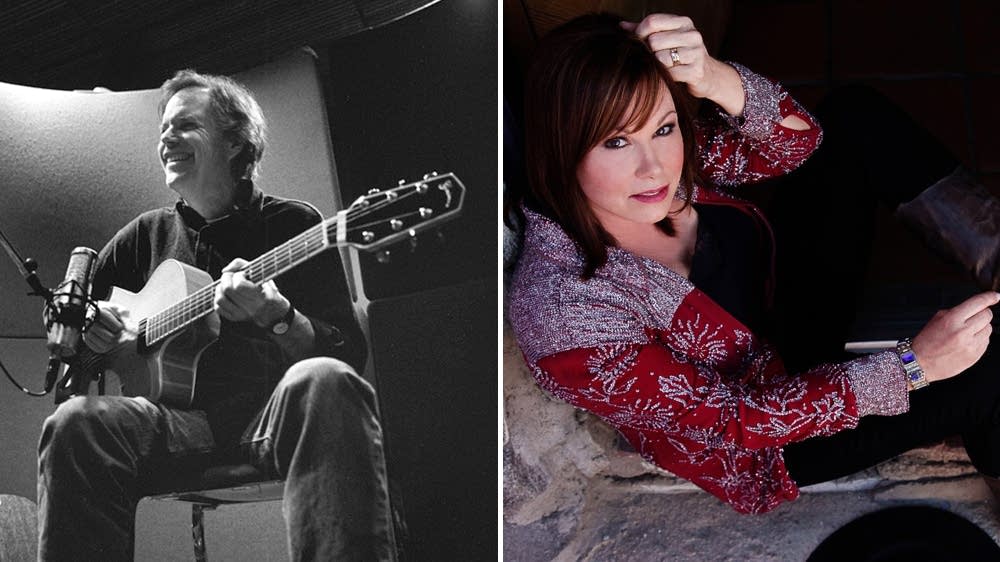 This week's classic rebroadcast: a look back to
October 2014
and a show originally from the
Fitzgerald Theater
in Saint Paul, Minnesota. Country star
Suzy Bogguss
stops by for Merle Haggard's "Sing Me Back Home" and her own "Hey Cinderella" and guitar hero
Leo Kottke
plays "Gewerbegebiet" and "Four Cents." Plus: Guy Noir fights to keep his office on the 12th floor of the Acme Building, a word from the Professional Organization of English Majors, and Rich Dworsky and the October Boys play "YOLO." In
Lake Wobegon
, Pastor Liz moves into the Lewises' cabin and the town watches a lunar eclipse.
Download this week's News from Lake Wobegon
Notes from
Suzy Bogguss
about this weekend's rebroadcast:
I always love the spontaneous collaborations when performing on APHC! Singing a Merle Haggard song with Garrison is particularly bittersweet for me now that Merle is gone. Here's a personal shot of me with guitar hero Leo Kottke -- we shared a manager for many years but rarely get to play in the same place.
Leo Kottke

With his quick wit and astounding virtuosity, guitarist Leo Kottke has amassed a huge and loyal following since making his debut album in 1969: 12-String Blues, recorded live at the Scholar coffeehouse in Minneapolis. Then came major-label releases Mudlark and the seminal 6- and 12-String Guitar, which has been reissued on CD three times since it first came out in the early 1970s. Among his dozens of albums are Try and Stop Me and Sixty Six Steps, a collaboration with Phish bassist Mike Gordon.

Suzy Bogguss

During her childhood in Aledo, Illinois, Suzy Bogguss loved music. She joined the church choir, played the piano and drums, and bought her first 12-string with the money she earned from babysitting. Since moving to Nashville in the mid-1980s, she has won acclaim in both country and contemporary music circles. Her latest CD, Lucky, is a collection of songs written by the great Merle Haggard. It was released earlier this year on the Loyal Dutchess label.

Garrison Keillor

Garrison Keillor was born in 1942 in Anoka, Minnesota. He went to work for Minnesota Public Radio in 1969, and on July 6, 1974, he hosted the first broadcast of A Prairie Home Companion in St. Paul. He is the host of The Writer's Almanac and the editor of the Good Poems series of anthologies from Viking.

Richard Dworsky

Richard Dworsky
Keyboardist, composer, and arranger Richard Dworsky is music director for A Prairie Home Companion, where he is often called upon to improvise on the spot - in styles ranging from classical to bluegrass and everything in between. He has accompanied Garrison Keillor on U.S. and European concert tours and has collaborated with numerous other performers, including Al Jarreau and Kristin Chenoweth.
Chris Brown
Originally from Albuquerque, drummer Chris Brown has been one of the most sought-after drummers in the South, since he arrived in Nashville -- via New York -- more than a decade ago. He has recorded and played with numerous musicians, including jazz pianist Beegie Adair and mandolin ace Sam Bush.
Richard Kriehn
When Richard Kriehn turned 10, his mom bought him a mandolin; at 19, he'd won the Buck White International Mandolin Contest. He went on to play with the Nashville Mandolin Ensemble and bluegrass group 1946. On the classical side, he has performed with numerous orchestras and was principal second violin for the Washington/Idaho Symphony.
Dean Magraw
Guitarist Dean Magraw studied at the University of Minnesota and the Berklee School of Music in Boston. His first recording, 1994's Broken Silence, won the NAIRD award for Best Acoustic Instrumental Album of the Year. Dean has since turned out an array of dazzling albums. For his latest, he joined forces with Hungarian guitarist Sandor Szabo to produce Reservoir (Acoustic Music Records).
Todd Parks
Bassist Todd Parks has toured and recorded with the Jerry Douglas Band, the Sam Bush Band, the Nashville Jazz Orchestra, and others. Born and raised in Atlanta, he earned his undergraduate and master's degrees in string performance and jazz studies from the University of Tennessee (Knoxville), where he also taught as an adjunct professor.

Tim Russell

One minute he's mild-mannered Tim Russell; the next he's George Bush or Julia Child or Barack Obama. We've yet to stump this man of many voices. Says fellow APHC actor Sue Scott, "He does a better Ira Glass than Ira Glass." A well-known Twin Cities radio personality and voice actor, Tim appeared in the Robert Altman film A Prairie Home Companion and the Coen brothers' A Serious Man.

Sue Scott

Since 1992, Prairie Home fans have heard Sue Scott play everything from well-intentioned moms and ditzy teenagers to Guy Noir stunners and leathery crones who've smoked one pack of Camel straights too many. She recently climbed back on stage in a variety of theater roles. She is well known for her commercial and voice-over work on radio and television, as well as movie roles, including the part of "Donna" in Robert Altman's A Prairie Home Companion.

Fred Newman

Sound effects man Fred Newman is an actor, writer, musician, and sound designer for film and TV. Turns out, no one is more surprised than Fred that he's made a career out of doing what he used to do behind the teacher's back -- crossing his eyes, making sounds, and doing voices. He readily admits that, growing up, he was unceremoniously removed from several classrooms, "once by my bottom lip."