Take a Giant Step
hosted by Garrison Keillor
Show #1539
February 27, 2016
From Fitzgerald Theater | Saint Paul, MN
The Devil is a Mighty Wind - Robin and Linda Williams

The Devil is a Mighty Wind - Robin and Linda Williams

Powdermilk / Turn Your Radio On

Powdermilk / Turn Your Radio On

Coffee script

Coffee script

The Whalebone Feathers - Peter Ostroushko and Dean Magraw

The Whalebone Feathers - Peter Ostroushko and Dean Magraw

Queen Bee - Taj Mahal

Queen Bee - Taj Mahal

Fitzgerald Theater

Fitzgerald Theater

Fred Farrell script

Fred Farrell script

Corrina - Taj Mahal

Corrina - Taj Mahal

Bertha's Kitty Boutique

Bertha's Kitty Boutique

Lianna - Peter Ostroushko and Dean Magraw

Lianna - Peter Ostroushko and Dean Magraw

The News from Lake Wobegon

The News from Lake Wobegon

My Home's Across the Blue Mountains - Robin and Linda Williams

My Home's Across the Blue Mountains - Robin and Linda Williams

On the Road to Mandalay (St. Paul)

On the Road to Mandalay (St. Paul)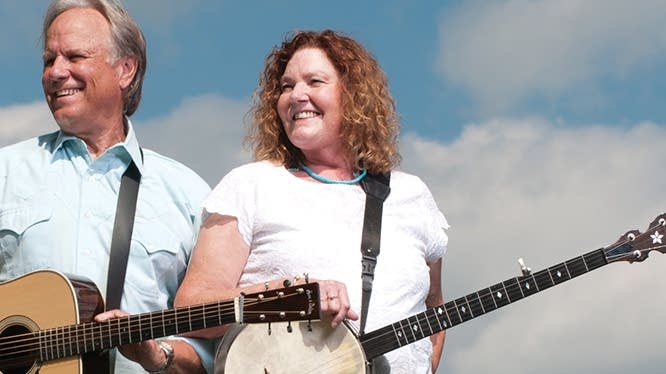 This week: pretty good friends from all over the place join us for the final live broadcast of our winter run at the
Fitzgerald Theater
in St. Paul, Minnesota. Blues and rhythm master
Taj Mahal
returns to the Fitz to fill the air with his rare and joyful sound; add the unparalleled duet of
Robin and Linda Williams
; four-, eight-, and six-string wrangling by
Peter Ostroushko
and
Dean Magraw
; and a few soon-to-be classics from tenor
Vern Sutton
. Presidential candidates, celebrities, blasts and bangs, kitty cats, and condors from our Royal Academy of Radio Actors,
Tim Russell, Sue Scott
, and Fred Newman; rock'n'roll backbeats, country two-steps, and perfect playoffs from the best band in radio - music director and pianist
Rich Dworsky
(Bernie Dresel on drums, bassist Larry Kohut,
Richard Kriehn
on mandolin and fiddle, and guitarist Chris Siebold); and an update on all the latest News from Lake Wobegon. Odds makers say we won't squeeze all this into two hours, but we say, "Ha!" Tune into your favorite public radio station or
watch live
(Saturday, 5pm Central)
at prairiehome.org
to find out!
Taj Mahal

For some 50 years, singer, songwriter, film composer, and multi-instrumentalist Taj Mahal has taken his global brand of the blues to music lovers worldwide. "Live communication through music - oh yeah, it's right up there with oxygen!" says Taj. A two-time Grammy-winner and Blues Hall of Fame inductee, he is also the recipient of the Americana Music Association's Lifetime Achievement for Performance award. Since his first album in 1968, he has released dozens of recordings, including 2015's double CD titled Taj Mahal and the Hula Blues Band: Live From Kauai.

Robin and Linda Williams

"Individually their voices can melt cheese, and in duet they can do all-purpose welding," Garrison Keillor has said of Robin and Linda Williams. Singing the music they love, be it bluegrass, folk, old-time, or acoustic country, these two have carved out a more than three-decade career that has taken them from Carnegie Hall to the Hollywood Bowl. They first appeared on A Prairie Home Companion in 1975, the same year they recorded their first album. Back 40 - marking 40 years on the road and 40 years of marriage - was released in 2013 on Red House Records.

Peter Ostroushko

Mandolinist, composer, arranger Peter Ostroushko, who made his first Prairie Home Companion appearance in 1974, grew up listening to tunes played at family get-togethers in the Ukrainian community of northeast Minneapolis. It's the music that provides the basis for many of his compositions - works that have been performed by the Saint Paul Chamber Orchestra and the Kremlin Chamber Orchestra, among others. Peter won an Emmy for the score of Minnesota: A History of the Land (Twin Cities Public Television). His recent recordings include The Mando Chronicles (Red House).

Dean Magraw

Guitarist Dean Magraw studied at the University of Minnesota and the Berklee School of Music in Boston. His first recording, 1994's Broken Silence, won the NAIRD award for Best Acoustic Instrumental Album of the Year. Dean has since turned out an array of dazzling albums. For his latest, Fire on the Nile (Red House Records), he joined forces with drummer Erik Kamau Gravatt. About Dean's musical virtuosity, comments range from "so liquid, lyrical and effortless, it's like listening to a dancer" to "the most savage agressor ever to rip the face off a 12-string!"

Vern Sutton

Vern Sutton has collaborated with major musical organizations as a singer, actor, director, and educator. He was a founding member of the Center Opera Company, which became the Minnesota Opera, and composers Dominick Argento, Robert Ward, Conrad Susa, Libby Larsen, and others have written for his voice. For 36 years, he taught at the University of Minnesota School of Music, and for four summers he was artistic director of Opera in the Ozarks. Vern was a guest on the very first broadcast of A Prairie Home Companion.