Dancin' Out on 43rd Street
hosted by Garrison Keillor
Show #1478
December 27, 2014
From The Town Hall | New York City, NY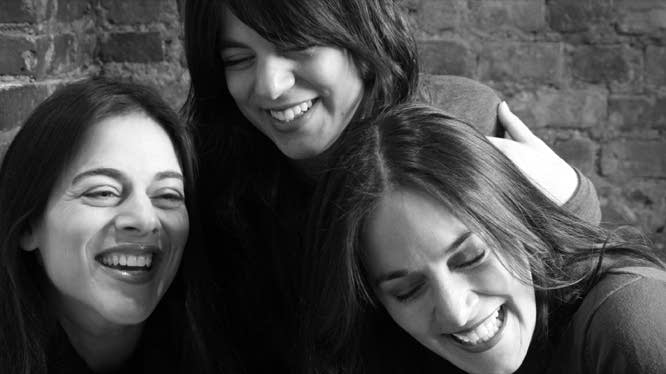 This week: a rebroadcast of a
December 2013
performance at The Town Hall in New York City.
Paul Shaffer
joins Richard Dworsky and our house band to play the instrumental classic "Nut Rocker,"
Ellie Dehn
performs "Ständchen," and
The DiGiallonardo Sisters
sing "When the Stars Go Blue." Plus, a John Lennon medley, and in Lake Wobegon, patrons at the Sidetrack Tap perform some impromptu satellite dish maintenance.
Paul Shaffer

For Paul Shaffer, the piano lessons he started as a six-year-old in Thunder Bay, Ontario, certainly paid off. He went on to some terrific gigs - among them, five years in the Saturday Night Live house band and musical director for David Letterman since 1982. The life and career of this musician, composer, producer, and author are chronicled in his 2009 memoir, We'll Be Here for the Rest of Our Lives: A Swingin' Showbiz Saga. Paul is the recipient of the Order of Canada, the country's highest civilian honor.

Ellie Dehn

Soprano Ellie Dehn has appeared in many of the world's leading opera houses, from the Metropolitan Opera to Teatro alla Scala and Bayerische Staatsoper. But her love of music started during her childhood in Anoka, Minnesota. She was raised in a musical home - the granddaughter of a Minnesota Orchestra flutist and the daughter of a piano teacher - and she went on to study at Oberlin Conservatory of Music and the Academy of Vocal Arts in Philadelphia.

The DiGiallonardo Sisters

The DiGiallonardo Sisters - Daniela, Nadia, and Christine - started singing together when they were kids Brooklyn. They still call Brooklyn home, and they still love stacking up those three-part harmonies. Now, Daniela teaches social studies at Brooklyn's Mark Twain Intermediate School for the Gifted & Talented; Nadia is a pianist, composer, arranger, and singer; and Christine is a singer and actor. The trio's debut album, Shout Sister Shout, was recorded with Rob Fisher live at the Virginia Arts Festival.

Garrison Keillor

Garrison Keillor

was born in 1942 in Anoka, Minnesota. He went to work for Minnesota Public Radio in 1969, and on July 6, 1974, he hosted the first broadcast of

A Prairie Home Companion

in St. Paul. He is the host of

The Writer's Almanac

and the editor of the

Good Poems

series of anthologies from Viking.

Richard Dworsky

Richard Dworsky Keyboardist, composer, and arranger Richard Dworsky is music director for A Prairie Home Companion. He has also accompanied Garrison Keillor on U.S. and European concert tours and has collaborated with numerous other performers, including Al Jarreau and singer/actress Kristin Chenoweth. Among his many CDs is So Near and Dear to Me (Prairie Home Productions). Jeff Carney Bassist Jeff Carney is always in demand - in Broadway orchestras, on jingles and film soundtracks, and as accompanist for jazz giants and popular music stars. A professor of bass and at the New School for Jazz and Contemporary Music, he is principal bassist with the New York Pops Orchestra at Carnegie Hall and has played with the New York Philharmonic and the San Francisco Symphony. Richard Kriehn When Richard Kriehn turned 10, his mom bought him a mandolin; at 19, he'd won the Buck White International Mandolin Contest. He went on to play with the Nashville Mandolin Ensemble and bluegrass group 1946. On the classical side, he has performed with numerous orchestras and was principal second violin for the Washington/Idaho Symphony. Dean Magraw Guitarist Dean Magraw studied at the University of Minnesota and the Berklee School of Music in Boston. His first recording, 1994's Broken Silence, won the NAIRD award for Best Acoustic Instrumental Album of the Year. Dean has since turned out a bunch of dazzling albums, including his latest, Reservoir (Acoustic Music Records), a collaboration with Sandor Szabo. Ray Marchica Mentions of drummer Ray Marchica are invariably peppered with words like "diverse," "versatile." and "respected." He has performed or recorded with everyone from Liza Minnelli to Little Richard; on Broadway, he's been the drummer for shows like Damn Yankees, A Chorus Line, and currently, Mamma Mia. His albums are In the Ring and A Different View, both on the Sons of Sound label.

Tim Russell

One minute he's mild-mannered

Tim Russell

; the next he's George Bush or Julia Child or Barack Obama. We've yet to stump this man of many voices. Says fellow APHC actor Sue Scott, "He does a better Ira Glass than Ira Glass." A well-known Twin Cities radio personality and voice actor, Tim appeared in the Robert Altman film

A Prairie Home Companion

and the Coen brothers'

A Serious Man

. Tim has also been

reviewing films professionally for over 10 years

.

Sue Scott

On APHC, Sue Scott plays everything from ditzy teenagers to Guy Noir stunners to leathery crones who've smoked one pack of Camel straights too many. The Tucson, Arizona, native is well known for her extensive commercial and voice-over work on radio and television, as well as stage and movie roles, including the part of "Donna" in Robert Altman's A Prairie Home Companion.

Fred Newman

Sound effects man Fred Newman is an actor, writer, musician, and sound designer for film and TV. Turns out, no one is more surprised than Fred that he's made a career out of doing what he used to do behind the teacher's back -crossing his eyes, making sounds, and doing voices. He readily admits that, growing up, he was unceremoniously removed from several classrooms, "once by my bottom lip."