Good Enough is Enough
hosted by Garrison Keillor
From Goshen College Music Center - Sauder Concert Hall | Goshen, IN
You're The Top

You're The Top

GK talks about the history of Mennonites

GK talks about the history of Mennonites

Shenandoah - Goshen College Chamber Choir

Shenandoah - Goshen College Chamber Choir

My Soul Cries Out - Goshen College Chamber Choir

My Soul Cries Out - Goshen College Chamber Choir

Rabbit - Lily & Madeleine

Rabbit - Lily & Madeleine

There is a Balm in Gilead

There is a Balm in Gilead

Paradise - Lily & Madeleine

Paradise - Lily & Madeleine

St. Anne's Reel - Ethan Setiawan

St. Anne's Reel - Ethan Setiawan

I Wish You'd Keep from Singing

I Wish You'd Keep from Singing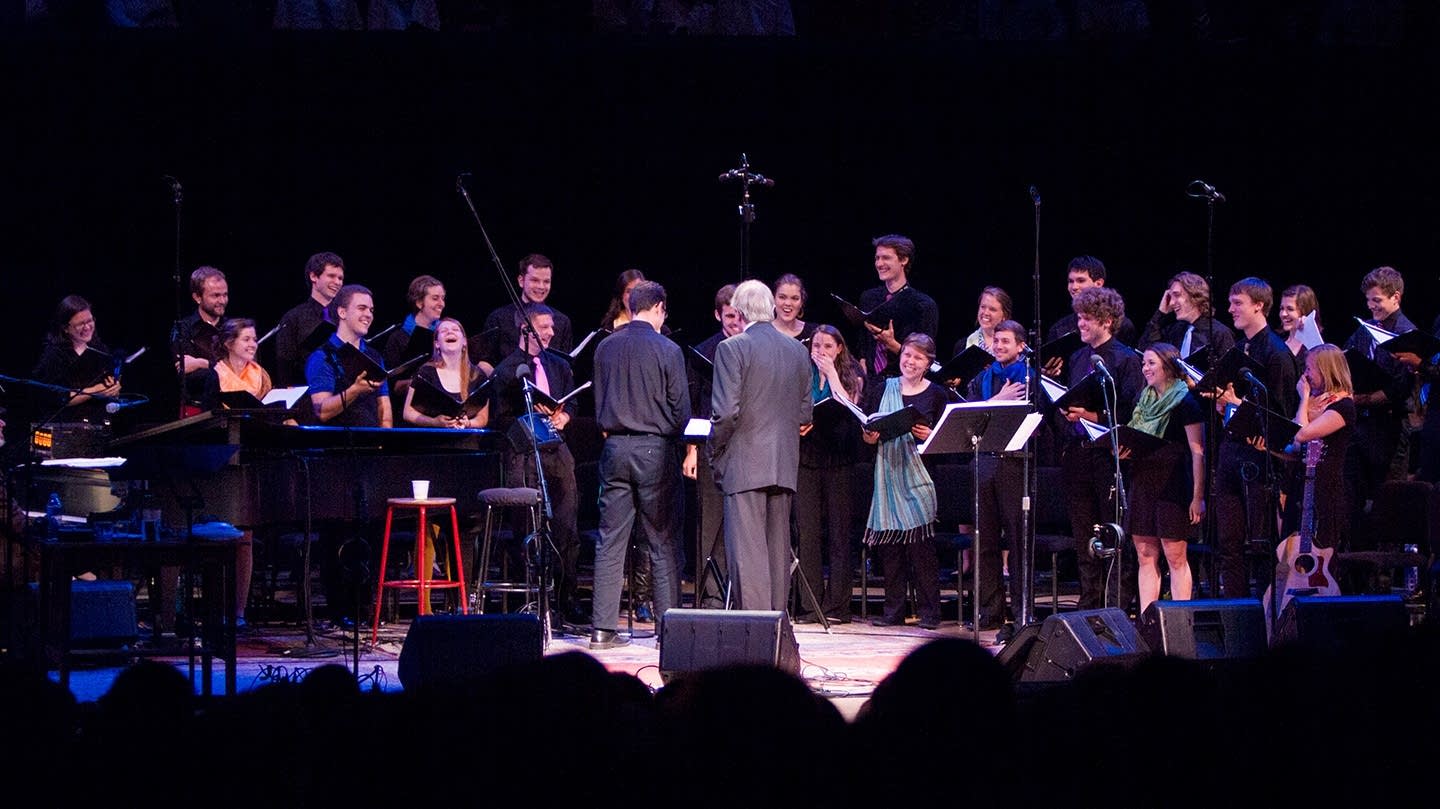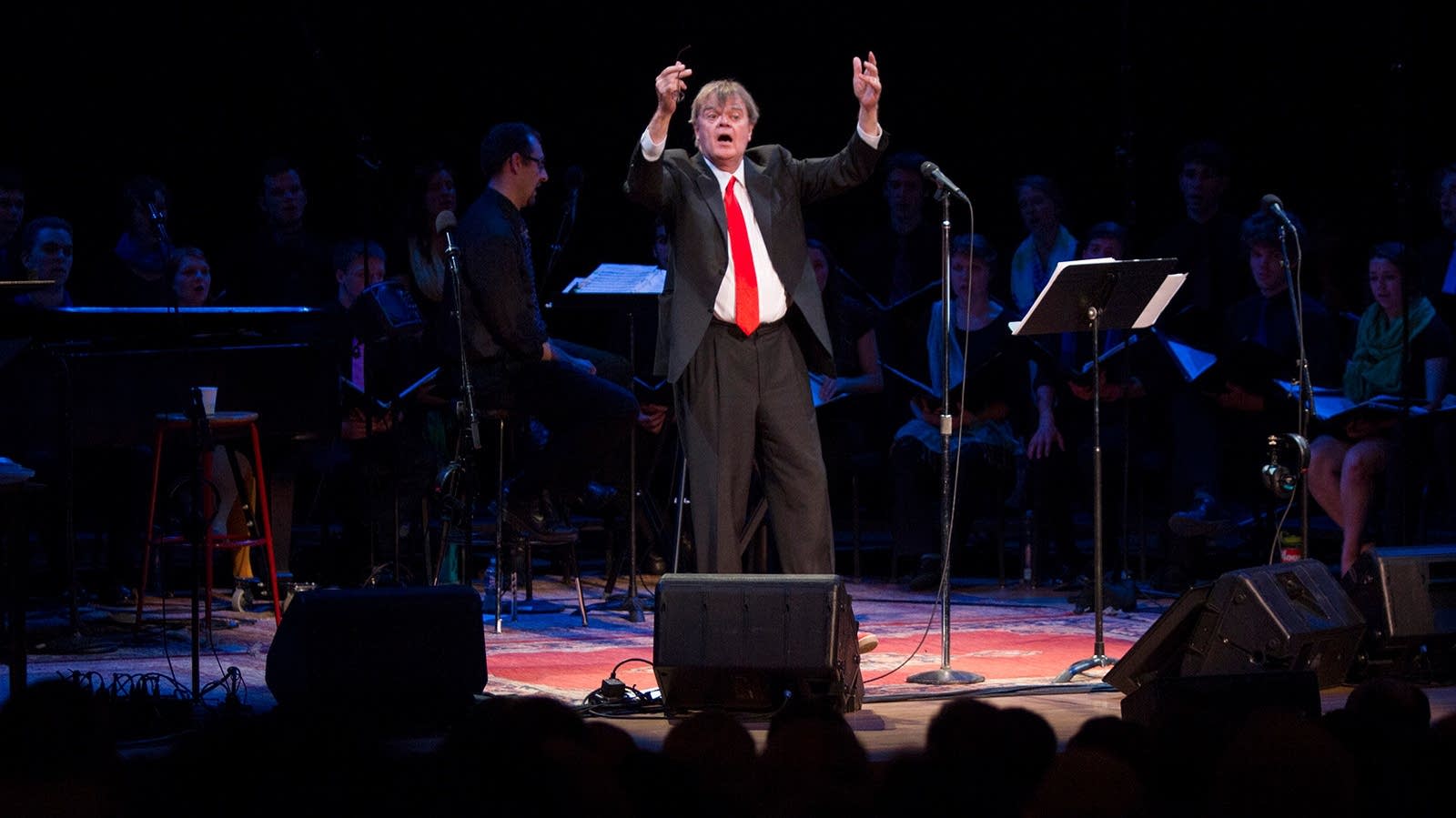 This week, we're heading to Goshen, Indiana, for a live broadcast from the
Sauder Concert Hall at Goshen College
. It's a singing show from a big town with a rich tradition of harmony and participation in song. The hometown
Goshen College Chamber Choir
will shore up Michiana's reputation for choral excellence with sacred and secular pieces. We're looking to entice the audience to sing along, and hoping to hear big voices from the farthest reaches of the hall. Indianapolis-born sister duo
Lily and Madeleine
will sing in breathtaking sibling harmony their songs of longing and heartache and paradise found. And Goshen College student
Ethan Setiawan
will show us why he recently became the youngest person to be named National Mandolin Champion. On top of it all: the Royal Academy of Radio Actors -
Tim Russell, Sue Scott
, and
Fred Newman
; music director and good-time pianist
Richard Dworsky
with triple-threat
Richard Kriehn
on mandolin and fiddle and guitar; and of course the latest News from Lake Wobegon.
Goshen College Chamber Choir

The Goshen College Chamber Choir is an auditioned group of 24 to 45 students performing secular and sacred music from the Medieval through Modern periods. The group is open to all majors and grade levels. In addition to performing with area and regional orchestras, the Chamber Choir does numerous solo concerts both on and off the Goshen, Indiana, campus during the school year, as well as participating in periodic tours throughout the continental United States and Canada. The Chamber Choir is under the direction of Dr. Scott Hochstetler.

Lily and Madeleine

When Indianapolis sisters Lily & Madeleine Jurkiewicz first started making music together, it didn't cross their minds that they could make a living at it. But now they find themselves in an acclaimed full-fledged career. After a video the two posted on UTube attracted a lot of attention, the teen singer-songwriters released their first full-length record, Lily & Madeleine, in October of 2013. A year later, they had second album, Fumes (Asthmatic Kitty Records), which Madeleine calls "a perfect reflection of this stage of our lives."

Ethan Setiawan

Last September, Ethan Setiawan outplayed 22 other pickers to take top prize at the National Mandolin Championship, held annually at the Walnut Valley Festival in Winfield, Kansas. Just 17, he's one of the youngest mando champs in the festival's history. This coming September, Ethan will begin working on a degree in mandolin performance at Berklee College of Music in Boston. His band Theory Expats just released their first CD, What a Way to Start Your Day.

Garrison Keillor

Garrison Keillor

was born in 1942 in Anoka, Minnesota. He went to work for Minnesota Public Radio in 1969, and on July 6, 1974, he hosted the first broadcast of

A Prairie Home Companion

in St. Paul. He is the host of

The Writer's Almanac

and the editor of the

Good Poems

series of anthologies from Viking.

Richard Dworsky

Keyboardist, composer, and arranger Richard Dworsky is APHC's music director. He leads the band, composes themes, improvises script underscores, and collaborates with such diverse guests as Yo-Yo Ma, James Taylor, Brad Paisley, Kristin Chenoweth, and Sheryl Crow. He has provided music for documentaries on HBO and PBS, and has released many recordings of original material, including his latest, All In Due Time.

Richard Kriehn

When Richard Kriehn turned 10, his mom bought him a mandolin; at 19, he'd won the Buck White International Mandolin Contest. He went on to play with the Nashville Mandolin Ensemble and bluegrass group 1946. On the classical side, he has performed with numerous orchestras and was principal second violin for the Washington/Idaho Symphony.

Tim Russell

One minute he's mild-mannered

Tim Russell

; the next he's George Bush or Julia Child or Barack Obama. We've yet to stump this man of many voices. Says fellow APHC actor Sue Scott, "He does a better Ira Glass than Ira Glass." A well-known Twin Cities radio personality and voice actor, Tim appeared in the Robert Altman film

A Prairie Home Companion

and the Coen brothers'

A Serious Man

. Tim has also been

reviewing films professionally for over 10 years

.

Sue Scott

On APHC, Sue Scott plays everything from ditzy teenagers to Guy Noir stunners to leathery crones who've smoked one pack of Camel straights too many. The Tucson, Arizona, native is well known for her extensive commercial and voice-over work on radio and television, as well as stage and movie roles, including the part of "Donna" in Robert Altman's A Prairie Home Companion.

Fred Newman

Sound effects man Fred Newman is an actor, writer, musician, and sound designer for film and TV. Turns out, no one is more surprised than Fred that he's made a career out of doing what he used to do behind the teacher's back -crossing his eyes, making sounds, and doing voices. He readily admits that, growing up, he was unceremoniously removed from several classrooms, "once by my bottom lip."