Hit the Ground Running
hosted by Garrison Keillor
Show #1486
February 21, 2015
From Fitzgerald Theater | Saint Paul, MN
"Let's Have a Party"

"Let's Have a Party"

"Bags and Quarters" - Steel City Jug Slammers

"Bags and Quarters" - Steel City Jug Slammers

"I Got Lucky" - Emily Miller

"I Got Lucky" - Emily Miller

"Thursday's Child" - Aoife O'Donovan

"Thursday's Child" - Aoife O'Donovan

The News from Lake Wobegon

The News from Lake Wobegon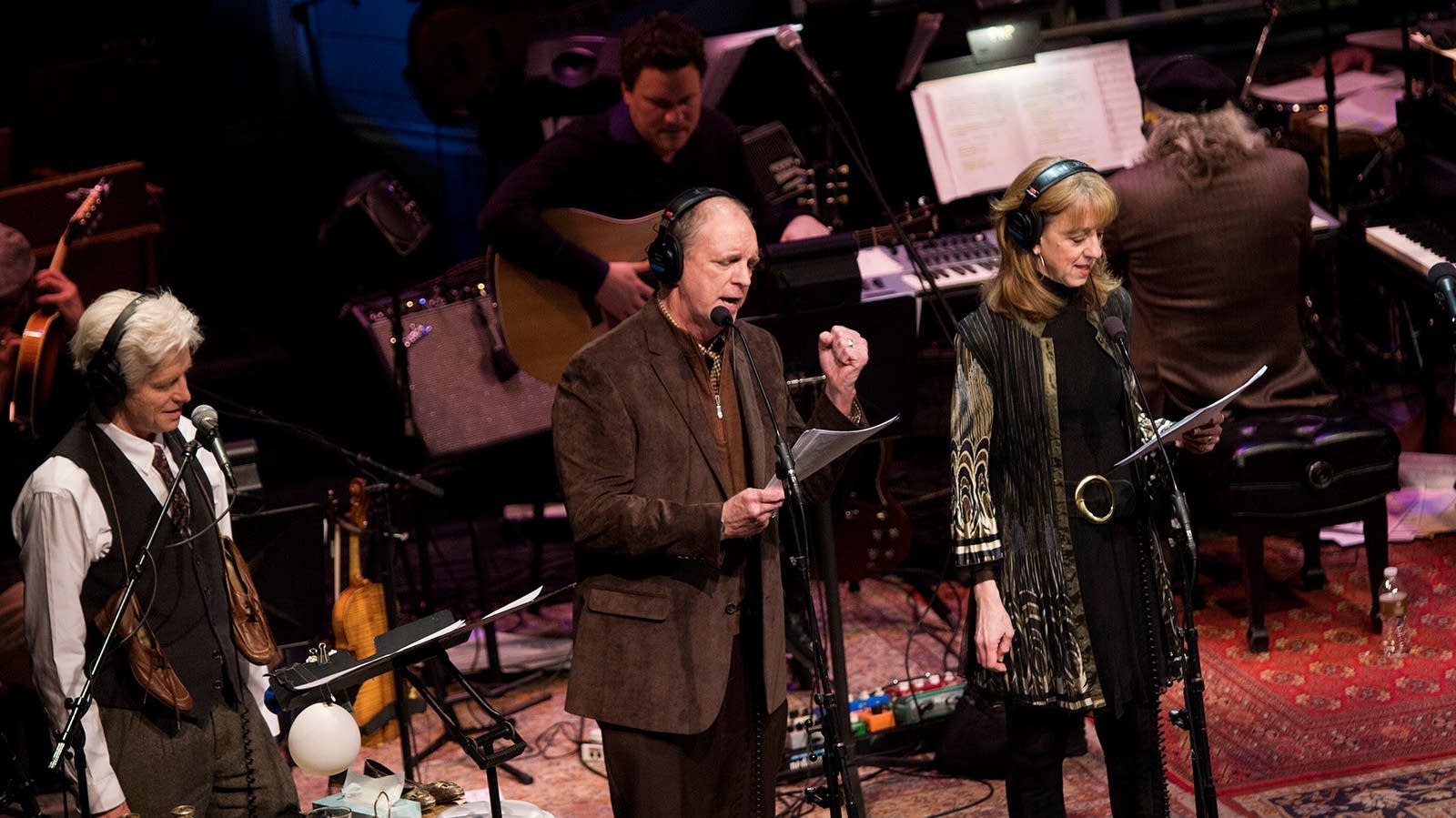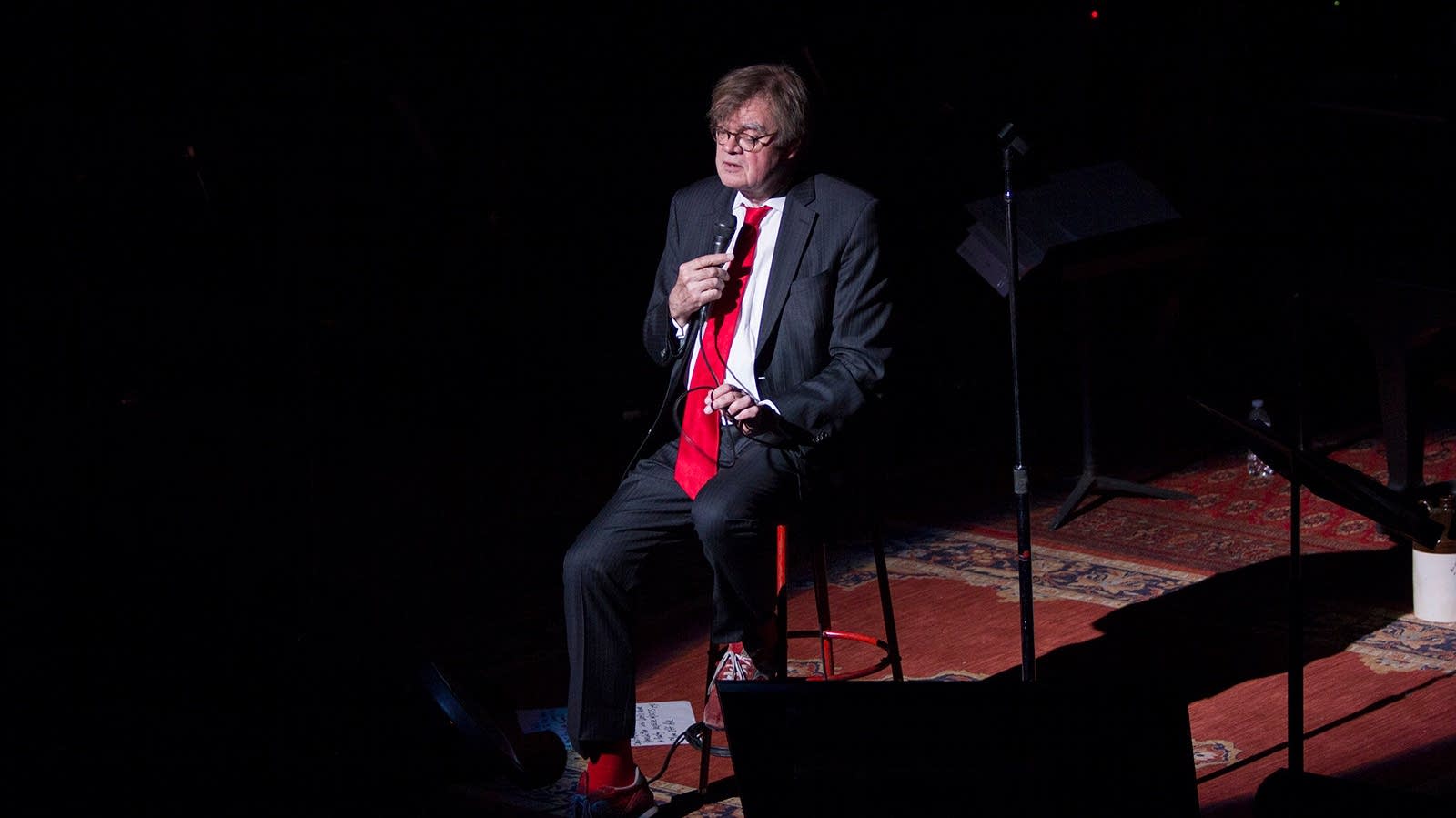 This week, our host is back at the helm, fresh from burning off a few vacation days he'd built up over 40 years, for a live broadcast from the
Fitzgerald Theater
in St. Paul with special guests, sizzling vocalist and songwriter
Aoife O'Donovan
, singer and fiddler
Emily Miller
, and old-time juke-joint band the
Steel City Jug Slammers
. Plus, the Royal Academy of Radio Actors,
Tim Russell, Sue Scott
, and
Fred Newman
; our pianist and music director
Rich Dworsky
with The Exchange Street Quartet (drummer
Bernie Dresel
, bassist Larry Kohut,
Richard Kriehn
on mandolin and fiddle, and
Chris Siebold
on guitar); and an update on the last few weeks worth of News from Lake Wobegon.
Aoife O'Donovan

Growing up in a musical family, Aoife O'Donovan took an interest in the American folk tradition. And after graduating from the New England Conservatory of Music, she formed the progressive bluegrass band Crooked Still and the trio Sometymes Why. She recently collaborated with Sara Watkins and Sarah Jarosz to create the "I'm With Her" tour, which took the trio to the U.K., Europe, and across the U.S. Aoife's latest recording, In the Magic Hour, was released earlier this year on Yep Roc Records.

Emily Miller

From the start, singer and fiddler Emily Miller seemed destined to a career in music. Raised by journalist parents in a home that was always ringing with the sounds of early country and old-time, Emily began performing in the Miller Family Band as they moved from Kansas to Chicago to Hong Kong. These days, you can also hear Emily in her country band, the Sweetback Sisters, as well as in a duo with her husband, Jesse Milnes.

Steel City Jug Slammers

For 33 years, the Battle of the Jug Bands has been an annual event in the Twin Cities, with musicians nationwide flocking to Minneapolis to vie for the coveted "Waffle Iron" grand prize. Earlier this month, Birmingham, Alabama's own Steel City Jug Slammers emerged victorious. Band members Ramblin' Ricky Tate, Washtub Jay, Corey Wayne, Jed Atkins, Zac Peoples, and Byron Barry Tate spent years busking (solo or in various configurations) in New Orleans and other cities before forming the Slammers in 2013. Their second CD, Steel City Jug Slammers, was released last summer.

Garrison Keillor

Garrison Keillor

was born in 1942 in Anoka, Minnesota. He went to work for Minnesota Public Radio in 1969, and on July 6, 1974, he hosted the first broadcast of

A Prairie Home Companion

in St. Paul. He is the host of

The Writer's Almanac

and the editor of the

Good Poems

series of anthologies from Viking.

Richard Dworsky

Richard Dworsky Keyboardist, composer, and arranger Richard Dworsky is APHC's music director. He leads the band, composes themes, improvises script underscores, and collaborates with such diverse guests as Yo-Yo Ma, James Taylor, Brad Paisley, Kristin Chenoweth, and Sheryl Crow. He has released many recordings of original material and has provided music for documentaries on HBO and PBS. Richard Kriehn When Richard Kriehn turned 10, his mom bought him a mandolin; at 19, he'd won the Buck White International Mandolin Contest. He went on to play with the Nashville Mandolin Ensemble and bluegrass group 1946. On the classical side, he has performed with numerous orchestras and was principal second violin for the Washington/Idaho Symphony. Bernie Dresel Bernie Dresel has been in the percussion game since he got his first drum kit at the age of two. After graduating from the Eastman School of Music, he headed to Los Angeles. He's worked with countless artists, from Chaka Khan and Maynard Ferguson to David Byrne and Brian Wilson, and spent 15 years with the Brian Setzer Orchestra. He currently plays with Gordon Goodwin's Big Phat Band and heads up his own 12-piece funk band, BERN. Larry Kohut Bassist Larry Kohut has played on dozens of albums and many film scores, as well as performing with jazz artists such as Patricia Barber, Mel Torme, Vincent Colaiuta, and Tony Bennett. In addition, he is an adjunct faculty member at Columbia College Chicago, where he teaches acoustic and electric bass. Chris Siebold Bluegrass to big band jazz, Chris Siebold knows his way around a guitar - or a bunch of other instruments, for that matter. Based in Chicago, he draws from a deep well of influences and styles, and has put his talents to work in ensembles such as Howard Levy's Acoustic Express and Kick the Cat. In 2010, he formed the band Psycles, whose album Live at Martyrs' was released the following year.

Tim Russell

One minute he's mild-mannered

Tim Russell

; the next he's George Bush or Julia Child or Barack Obama. We've yet to stump this man of many voices. Says fellow APHC actor Sue Scott, "He does a better Ira Glass than Ira Glass." A well-known Twin Cities radio personality and voice actor, Tim appeared in the Robert Altman film

A Prairie Home Companion

and the Coen brothers'

A Serious Man

. Tim has also been

reviewing films professionally for over 10 years

.

Sue Scott

On APHC, Sue Scott plays everything from ditzy teenagers to Guy Noir stunners to leathery crones who've smoked one pack of Camel straights too many. The Tucson, Arizona, native is well known for her extensive commercial and voice-over work on radio and television, as well as stage and movie roles, including the part of "Donna" in Robert Altman's A Prairie Home Companion.

Fred Newman

Sound effects man Fred Newman is an actor, writer, musician, and sound designer for film and TV. Turns out, no one is more surprised than Fred that he's made a career out of doing what he used to do behind the teacher's back -crossing his eyes, making sounds, and doing voices. He readily admits that, growing up, he was unceremoniously removed from several classrooms, "once by my bottom lip."