Friends Shall Gather 'Round
hosted by Chris Thile
Show #1485
February 14, 2015
From Fitzgerald Theater | Saint Paul, MN
"Sweet Little Miss Blue Eyes"

"Sweet Little Miss Blue Eyes"

"Black is the Color" - Rhiannon Giddens

"Black is the Color" - Rhiannon Giddens

Bluegrass birds and bees / "Hymn of Ordinary Motion"

Bluegrass birds and bees / "Hymn of Ordinary Motion"

"'Til the End of the World Rolls 'Round" - Jerry Douglas presents the Earls of Leicester

"'Til the End of the World Rolls 'Round" - Jerry Douglas presents the Earls of Leicester

"Songs on the Mandolin" - Chris Thile

"Songs on the Mandolin" - Chris Thile

E Major Prelude from the Partita No. 3 for Solo Violin - Chris Thile

E Major Prelude from the Partita No. 3 for Solo Violin - Chris Thile

A story from Elna Baker

A story from Elna Baker

"Last Kind Words" - Rhiannon Giddens

"Last Kind Words" - Rhiannon Giddens

"Shuckin' the Corn" - Jerry Douglas and the Earls of Leicester

"Shuckin' the Corn" - Jerry Douglas and the Earls of Leicester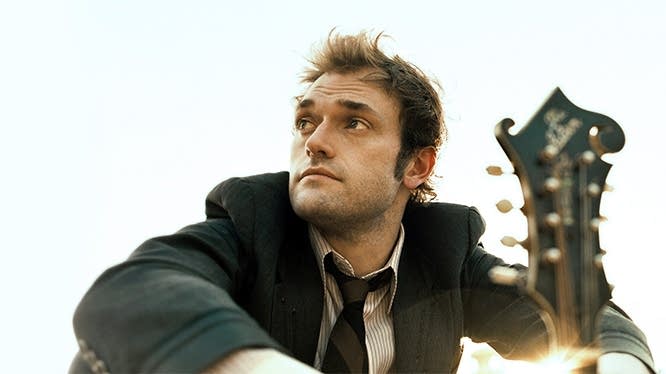 This week:
Chris Thile
returns to the
Fitzgerald Theater
for his second turn as our guest host, with special guests, bluegrass all-stars
Jerry Douglas and The Earls of Leicester
; singer, violinist, and banjoist
Rhiannon Giddens
; and storyteller
Elna Baker
. Plus, a little support from our Royal Academy of Radio Actors,
Sue Scott, Tim Russell
, and
Fred Newman
, and music director and pianist
Richard Dworsky
.
Tune in on your local public radio station or watch live (5pm - 7pm CT) at prairiehome.org!
Prairie Home has been a pretty dependable show and now and then it likes to do something entirely different. Chris Thile is a gifted artist and a great musical enthusiast of far-ranging interests. He is a great choice to host two shows in February, along with music director Rich Dworsky and the Acting Company, and I look forward to sitting at home and listening to them." - Garrison Keillor
Chris Thile

Chris Thile made his first appearance on A Prairie Home Companion in 1996. He was 15 and had already been playing mandolin for a decade. He'd also started Nickel Creek with Sara and Sean Watkins, and released his first solo recording, 1994's Leading Off. This Grammy winner now collaborates with many musicians in myriad styles and leads acoustic quintet Punch Brothers. Thile's solo albums include Bach: Sonatas and Partitas, Vol. 1 (Nonesuch).

Jerry Douglas presents the Earls of Leicester

Mention a Dobro and Jerry Douglas immediately comes to mind. The 14-time Grammy winner and three-time Country Music Association Musician of the Year is internationally recognized as the world's best on the instrument. Now Jerry Douglas presents the Earls of Leicester. Named, in a witty twist, for Earl Scruggs and Lester Flatt, this all-star band pays 21st-century tribute to a group of mid-20th-century bluegrass pioneers. Their debut CD, The Earls of Leicester (Rounder) was released last fall and just took the Grammy for Best Bluegrass Album. Jerry Douglas (Dobro), Shawn Camp (guitar), Johnny Warren (fiddle), Charlie Cushman (banjo), Barry Bales (bass), Jeff White (mandolin).

Rhiannon Giddens

Singer, songwriter, multi-instrumentalist Rhiannon Giddens, who grew up in the Piedmont region of North Carolina, is an Oberlin Conservatory of Music grad who fell in love with old-time music. She went on to form the groundbreaking, Grammy-winning Carolina Chocolate Drops, whose music highlights the central role African-Americans played in Southern string-band tradition. Her debut solo album, Tomorrow Is My Turn, was just released on the Nonesuch label. Joining Rhiannon for this performance: Hubby Jenkins, Malcolm Parson, Rowan Corbett, Jason Sypher, and Jamie Dick.

Elna Baker

Elna Baker is a writer, storyteller, and comedian whose reflections on coming of age as a Mormon have been featured on public radio shows like The Moth, This American Life, and Studio 360, and at comedy clubs throughout New York City. She has also written for Elle, Glamour, and The Onion. About her 2009 memoir, The New York Regional Mormon Singles Halloween Dance (Penguin), People magazine said: "Baker is both self-absorbed and generous, whip-smart and naive; she apologizes for none of it."

Tim Russell

One minute he's mild-mannered

Tim Russell

; the next he's George Bush or Julia Child or Barack Obama. We've yet to stump this man of many voices. Says fellow APHC actor Sue Scott, "He does a better Ira Glass than Ira Glass." A well-known Twin Cities radio personality and voice actor, Tim appeared in the Robert Altman film

A Prairie Home Companion

and the Coen brothers'

A Serious Man

. Tim has also been

reviewing films professionally for over 10 years

.

Sue Scott

On APHC, Sue Scott plays everything from ditzy teenagers to Guy Noir stunners to leathery crones who've smoked one pack of Camel straights too many. The Tucson, Arizona, native is well known for her extensive commercial and voice-over work on radio and television, as well as stage and movie roles, including the part of "Donna" in Robert Altman's A Prairie Home Companion.

Fred Newman

Sound effects man Fred Newman is an actor, writer, musician, and sound designer for film and TV. Turns out, no one is more surprised than Fred that he's made a career out of doing what he used to do behind the teacher's back -crossing his eyes, making sounds, and doing voices. He readily admits that, growing up, he was unceremoniously removed from several classrooms, "once by my bottom lip."

Richard Dworsky

Keyboardist, composer, and arranger Richard Dworsky is APHC's music director. He leads the band, composes themes, improvises script underscores, and collaborates with such diverse guests as Yo-Yo Ma, James Taylor, Brad Paisley, Kristin Chenoweth, and Sheryl Crow. He has provided music for documentaries on HBO and PBS, and has released many recordings of original material, including his latest, All In Due Time.