'Tis Winter Now
hosted by Garrison Keillor
Show #1477
December 20, 2014
From Fitzgerald Theater | Saint Paul, MN
"Light of the Stable"

"Light of the Stable"

"Henay Mah Tov"

"Henay Mah Tov"

Christmas monologue, "El Hambo"

Christmas monologue, "El Hambo"

Dejlig er Den Himmel, Jeg Ar Sa Glad, Ihr Kinderlein Kommet, Still Still Still

Dejlig er Den Himmel, Jeg Ar Sa Glad, Ihr Kinderlein Kommet, Still Still Still

"Ringen I Klockor"

"Ringen I Klockor"

"Christmas in Vermont" - Heather Masse

"Christmas in Vermont" - Heather Masse

"Santa Claus is Coming to Town"

"Santa Claus is Coming to Town"

Short Attention Span Christmas Medley

Short Attention Span Christmas Medley

"Christmas Time's A-Comin'"

"Christmas Time's A-Comin'"

"Miles and Miles"

"Miles and Miles"

The News from Lake Wobegon

The News from Lake Wobegon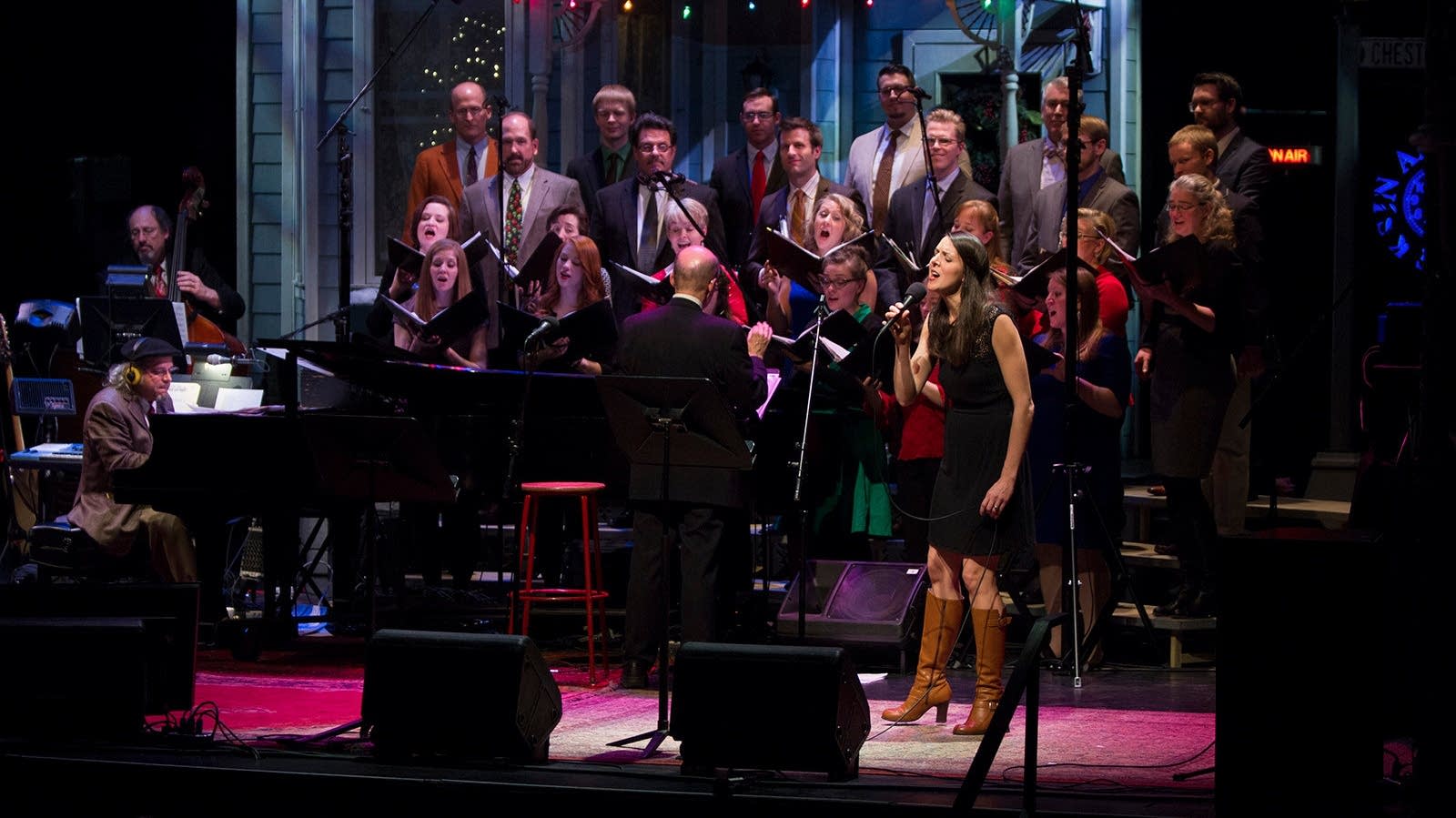 This week: it's our final live broadcast of 2014, from the
Fitzgerald Theater
on Exchange Street in Saint Paul, Minnesota, with our house choir, the
VocalEssence Ensemble Singers
with violinist
Sara Pajunen
, and vocalists
Heather Masse
and Lynn Peterson. Plus, the Royal Academy of Radio Actors,
Tim Russell, Sue Scott
, and
Fred Newman
; pianist and musical director
Richard Dworsky
with
Richard Kriehn
on mandolin and fiddle, guitarist
Dean Magraw
, and
Gary Raynor
on bass; and the latest News from Lake Wobegon
.
Philip Brunelle

Since 1991, the VocalEssence Ensemble Singers - the 32-voice core of the full VocalEssence Chorus - have toured widely and garnered acclaim at every stop. The Oxford Times (UK) wrote, "VocalEssence have a blend that could - and should - be the envy of every choir in the business." Under the direction of founder and artistic director Philip Brunelle, the Minneapolis-based group has released a number of recordings, including From the Land of Sky Blue Waters (Clarion), a CD in honor of Minnesota's choral heritage.

Heather Masse

Growing up in rural Maine, Heather Masse sang hymns and folk songs around home with her family. Now based in New York, this New England Conservatory of Music alum is a one-third of the Juno Award-winning Canadian trio The Wailin' Jennys. Lock My Heart is her recording with piano legend Dick Hyman. A new album, August Love Song - on which she joins forces with trombone great Roswell Rudd - was recently released on Red House Records.

Lynn Peterson

Singer-songwriter-science geek Lynn Peterson is a native Minnesotan whose career took her to New York City, where she spent eight years as a performer, composer, and studio vocalist, before returning to the Twin Cities. And the science geek part? She studied chemistry as an undergrad and now continues graduate work focused on chemistry and sustainability. Her Norwegian roots and love of Norway are inspiration for an upcoming recording project: Songs of the Sognefjord.

Garrison Keillor

Garrison Keillor

was born in 1942 in Anoka, Minnesota. He went to work for Minnesota Public Radio in 1969, and on July 6, 1974, he hosted the first broadcast of

A Prairie Home Companion

in St. Paul. He is the host of

The Writer's Almanac

and the editor of the

Good Poems

series of anthologies from Viking.

Rich Dworsky and the band - December 20, 2014

Richard Dworsky Keyboardist, composer, and arranger Richard Dworsky is APHC's music director. He leads the band, composes themes, improvises script underscores, and collaborates with such diverse guests as Yo-Yo Ma, James Taylor, Brad Paisley, Kristin Chenoweth, and Sheryl Crow. He has released many recordings of original material and has provided music for documentaries on HBO and PBS. Richard Kriehn When Richard Kriehn turned 10, his mom bought him a mandolin; at 19, he'd won the Buck White International Mandolin Contest. He went on to play with the Nashville Mandolin Ensemble and bluegrass group 1946. On the classical side, he has performed with numerous orchestras and was principal second violin for the Washington/Idaho Symphony. Dean Magraw Guitarist Dean Magraw studied at the University of Minnesota and the Berklee School of Music in Boston. His first recording, 1994's Broken Silence, won the NAIRD award for Best Acoustic Instrumental Album of the Year. Dean has since turned out an array of dazzling albums. For his latest, he joined forces with drummer Erik Kamau Gravatt to produce Fire on the Nile (Red House Records). Gary Raynor A Minnesota resident since 1977, bassist Gary Raynor has performed with the Count Basie band and Sammy Davis Jr., with whom he toured for several years. He has been first call for dozens of touring Broadway shows, including the first presentation of The Lion King. Gary teaches at the McNally Smith College of Music in St. Paul.

Tim Russell

One minute he's mild-mannered

Tim Russell

; the next he's George Bush or Julia Child or Barack Obama. We've yet to stump this man of many voices. Says fellow APHC actor Sue Scott, "He does a better Ira Glass than Ira Glass." A well-known Twin Cities radio personality and voice actor, Tim appeared in the Robert Altman film

A Prairie Home Companion

and the Coen brothers'

A Serious Man

. Tim has also been

reviewing films professionally for over 10 years

.

Sue Scott

On APHC, Sue Scott plays everything from ditzy teenagers to Guy Noir stunners to leathery crones who've smoked one pack of Camel straights too many. The Tucson, Arizona, native is well known for her extensive commercial and voice-over work on radio and television, as well as stage and movie roles, including the part of "Donna" in Robert Altman's A Prairie Home Companion.

Fred Newman

Sound effects man Fred Newman is an actor, writer, musician, and sound designer for film and TV. Turns out, no one is more surprised than Fred that he's made a career out of doing what he used to do behind the teacher's back -crossing his eyes, making sounds, and doing voices. He readily admits that, growing up, he was unceremoniously removed from several classrooms, "once by my bottom lip."