Borta Bra, Men Hemma Bäst
hosted by Garrison Keillor
From The Town Hall | New York City, NY
Fisher's Coffee

Fisher's Coffee

Carl Linnaeus Polones - Väsen

Carl Linnaeus Polones - Väsen

Baseball script

Baseball script

Beautiful Dreamer - Heather Masse

Beautiful Dreamer - Heather Masse

My Love is Like a Red, Red Rose

My Love is Like a Red, Red Rose

Garrison Keillor reads Jim Harrison's "The River"

Garrison Keillor reads Jim Harrison's "The River"

They Say It's Spring - Heather Masse

They Say It's Spring - Heather Masse

The News from Lake Wobegon

The News from Lake Wobegon

Better Git it In Your Soul - Rob Fisher and the Coffee Club Orchestra

Better Git it In Your Soul - Rob Fisher and the Coffee Club Orchestra

Slängpolska efter Byss-Calle - Väsen

Slängpolska efter Byss-Calle - Väsen

Little Joe from Chicago - Rob Fisher and the Coffee Club Orchestra

Little Joe from Chicago - Rob Fisher and the Coffee Club Orchestra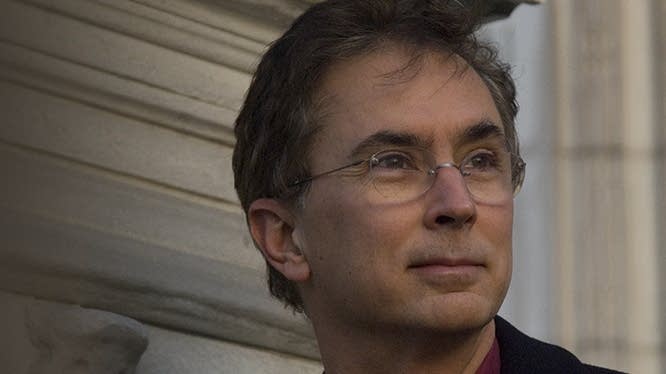 This week: we return to live broadcasts with the first show of a three-weekend stand at our East Coast home away from home,
The Town Hall
on West 43rd Street in New York City.
Väsen
are tuning up their many strings for a blast of mind-bending music from across the North Sea and the North Atlantic,
Heather Masse
is making her way down from upstate to join the host on a few duets, and our friend
Rob Fisher
returns with the
Coffee Club Orchestra
and a roster of tunes sure to bring down the house at the old Town Meeting hall. Plus: radio drama and election-year intrigue from the Royal Academy of Radio Actors,
Lila Newman
,
Tim Russell, Sue Scott
, and Fred Newman; our music director and pianist
Richard Dworsky
with
Richard Kriehn
on mandolin and fiddle and Chris Siebold on guitar; and an update on the latest News from Lake Wobegon, where signs of spring are just beginning to appear. Tune in on your local public radio station or
watch live
(5pm to 7pm, Saturday)
at prairiehome.org!
Väsen

Since forming more than 25 years ago, Väsen has become Sweden's leading acoustic trio, taking their exciting brand of music to far-flung corners of the globe. As one reviewer quipped, "This music could be the most significant Swedish export since the Vikings." With Olov Johansson on nyckelharpa, Mikael Marin on viola, and Roger Tallroth on guitar, the group was named 2015's "Band of the year" at the Folk & Världsmusikgalan (Folk and World Music Gala) in Stockholm. Their most recent album is Väsen Live pa Gamla Bion (NorthSide).

Heather Masse

Growing up in rural Maine, Heather Masse sang hymns and folk songs around home with her family. Now based in New York, this New England Conservatory of Music alum is a one-third of the Juno Award-winning Canadian trio The Wailin' Jennys. Lock My Heart is her recording with piano legend Dick Hyman. A new album, August Love Song - on which she joins forces with trombone great Roswell Rudd - was recently released on Red House Records.

Rob Fisher

In 1989, the Coffee Club Orchestra - led by Rob Fisher -formed as the house band for Garrison Keillor's New York-based radio show, The American Radio Company. For four seasons, the group treated listeners to their stylish brand of classic jazz. Rob Fisher is an internationally recognized authority on American music and musical theater. For his work on the Tony Award-winning Encores! series at New York's City Center, he was presented the Lucille Lortel Award for Outstanding Special Achievement.

Garrison Keillor

Garrison Keillor

was born in 1942 in Anoka, Minnesota. He went to work for Minnesota Public Radio in 1969, and on July 6, 1974, he hosted the first broadcast of

A Prairie Home Companion

in St. Paul. He is the host of

The Writer's Almanac

and the editor of the

Good Poems

series of anthologies from Viking.

Rich Dworsky and the band - April 2, 2016

Richard Dworsky Keyboardist, composer, and arranger Richard Dworsky is APHC's music director. He leads the band, composes themes, improvises script underscores, and collaborates with such diverse guests as Yo-Yo Ma, James Taylor, Brad Paisley, Kristin Chenoweth, and Sheryl Crow. He has provided music for documentaries on HBO and PBS, and has released many recordings of original material, including his latest, All In Due Time. Richard Kriehn When Richard Kriehn turned 10, his mom bought him a mandolin; at 19, he'd won the Buck White International Mandolin Contest. He went on to play with the Nashville Mandolin Ensemble and bluegrass group 1946. On the classical side, he has performed with numerous orchestras and was principal second violin for the Washington/Idaho Symphony. Chris Siebold Bluegrass to big band jazz, Chris Siebold knows his way around a guitar - or a bunch of other instruments, for that matter. Based in Chicago, he draws from a deep well of influences and styles, and has put his talents to work in ensembles such as Howard Levy's Acoustic Express and Kick the Cat. In 2010, he formed the band Psycles, whose album Live at Martyrs' was released the following year.

Lila Newman

In 2005, Lila Newman left her parents' New York City home and headed to the Windy City to attend the University of Chicago. She went on to receive her MFA in Acting from Drama Centre London, with study at the Vakhtangov Institute in Moscow. Now back in New York, she is an actor, writer, musician, and comedian - "Sometimes all of that at the same time," she says. Among her many writing projects, Lila is currently working on a play about Ora Nichols, a pioneer of golden age radio sound effects.

Tim Russell

One minute he's mild-mannered

Tim Russell

; the next he's George Bush or Julia Child or Barack Obama. We've yet to stump this man of many voices. Says fellow APHC actor Sue Scott, "He does a better Ira Glass than Ira Glass." A well-known Twin Cities radio personality and voice actor, Tim appeared in the Robert Altman film

A Prairie Home Companion

and the Coen brothers'

A Serious Man

. Tim has also been

reviewing films professionally for over 10 years

.

Sue Scott

On APHC, Sue Scott plays everything from ditzy teenagers to Guy Noir stunners to leathery crones who've smoked one pack of Camel straights too many. The Tucson, Arizona, native is well known for her extensive commercial and voice-over work on radio and television, as well as stage and movie roles, including the part of "Donna" in Robert Altman's A Prairie Home Companion.

Fred Newman

Sound effects man Fred Newman is an actor, writer, musician, and sound designer for film and TV. Turns out, no one is more surprised than Fred that he's made a career out of doing what he used to do behind the teacher's back -crossing his eyes, making sounds, and doing voices. He readily admits that, growing up, he was unceremoniously removed from several classrooms, "once by my bottom lip."