Crossing Waters
hosted by Garrison Keillor
Show #1523
November 7, 2015
From Sanford Center | Bemidji, MN
Deer Hunting song

Deer Hunting song

Back on Track

Back on Track

A Mighty Fortress is Our God / The Church's One Foundation

A Mighty Fortress is Our God / The Church's One Foundation

Sermonette - Dakota Dave Hull

Sermonette - Dakota Dave Hull

Victory Rag - Dakota Dave Hull

Victory Rag - Dakota Dave Hull

Old School - Elvin Bishop

Old School - Elvin Bishop

Battle Hymn of the Republic

Battle Hymn of the Republic

Garrison talks with Marsh Muirhead

Garrison talks with Marsh Muirhead

Fooled Around and Fell in Love - Elvin Bishop

Fooled Around and Fell in Love - Elvin Bishop

Bemidji limericks

Bemidji limericks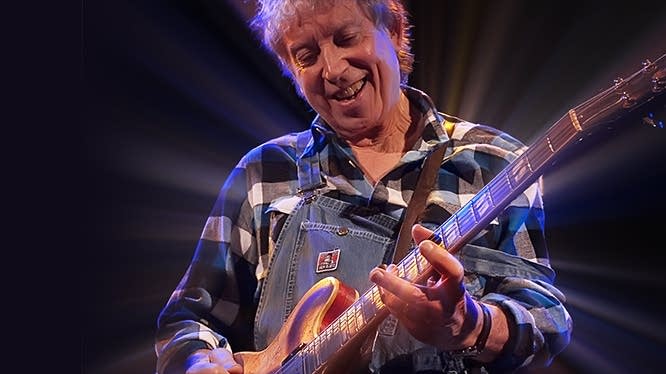 This week: we're heading to Bemidji, Minnesota for a live broadcast from the
Sanford Center
, up near the headwaters of the Mississippi River.
Elvin Bishop
will be along with his Big Fun Trio (featuring Bob Welsh and Willy Jordan) to bring a little southern electric blues to the northwoods; our friend
Dakota Dave Hull
, originally from just down the road in Fargo, adds his masterful acoustic guitar playing; and dentist, pilot, flight instructor, writer, poet (and more)
Marsh Muirhead
joins us. Plus: scripts and Beltrami County scenes from our Royal Academy of Radio Actors -
Tim Russell, Sue Scott
, and
Fred Newman
- and radio-ready rock and roll from pianist and music director
Rich Dworsky
and The November Boys (Bernie Dresel on drums, bassist Larry Kohut,
Richard Kriehn
on mandolin and fiddle, and guitarist Chris Siebold). All that and an update on all the latest News from Lake Wobegon - tune in this Saturday evening!
Elvin Bishop

As a kid in Tulsa in the 1950s, Elvin Bishop could - if the conditions were just right - pick up WLAC, Nashville. He was captivated by Jimmy Reed's piercing harmonica sounds coming over the airwaves. The blues cast a spell on him - one that's never lifted. A founding member of Chicago's groundbreaking Paul Butterfield Blues Band, he went solo in 1968, moved to the Bay Area, and continued a music career now into its fifth decade. His 20-some recordings include Can't Even Do Wrong Right (Alligator Records). Willy Jordan Jr., drums; Bob Welsh, guitar.

Dakota Dave Hull

Fargo native Dakota Dave Hull strummed his first guitar chord when he was about 10. He's still at it. After moving to the Twin Cities in the late '60s, he became a key player on the West Bank music scene. Now, with his infectious blend of jazz, ragtime, folk, blues, Western swing, and vintage pop, he entertains audiences coast to coast and beyond. Among his recordings is 2013's Under the North Star (Arabica Records). A new project is in the works: two CDs of instrumental guitar music from the American tradition - one sacred, the other secular.

Marsh Muirhead

Marsh Muirhead is a man of many talents - writer, photographer, pilot and flight instructor, retired bodybuilder, career dentist, and more. He lives the banks of the Mississippi near Bemidji, Minnesota, a place, he maintains, is a perfect spot to observe the idiosyncrasies of life, as well as the beauty of nature. His books include his 2013 collection of haiku, Her Cold Martini, and Key West Explained: A Guide for the Traveler, both published by The Island Journal Press.

Garrison Keillor

Garrison Keillor

was born in 1942 in Anoka, Minnesota. He went to work for Minnesota Public Radio in 1969, and on July 6, 1974, he hosted the first broadcast of

A Prairie Home Companion

in St. Paul. He is the host of

The Writer's Almanac

and the editor of the

Good Poems

series of anthologies from Viking.

Rich Dworsky and The November Boys - November 7, 2015

Richard Dworsky Keyboardist, composer, and arranger Richard Dworsky is APHC's music director. He leads the band, composes themes, improvises script underscores, and collaborates with such diverse guests as Yo-Yo Ma, James Taylor, Brad Paisley, Kristin Chenoweth, and Sheryl Crow. He has released many recordings of original material and has provided music for documentaries on HBO and PBS. Bernie Dresel Bernie Dresel has been in the percussion game since he got his first drum kit at the age of two. After graduating from the Eastman School of Music, he headed to Los Angeles. He's worked with countless artists, from Chaka Khan and Maynard Ferguson to David Byrne and Brian Wilson, and spent 15 years with the Brian Setzer Orchestra. He currently plays with Gordon Goodwin's Big Phat Band and heads up his own 12-piece funk band, BERN. Larry Kohut Bassist Larry Kohut has played on dozens of albums and many film scores, as well as performing with jazz artists such as Patricia Barber, Mel Torme, Vincent Colaiuta, and Tony Bennett. In addition, he is an adjunct faculty member at Columbia College Chicago, where he teaches acoustic and electric bass. Richard Kriehn When Richard Kriehn turned 10, his mom bought him a mandolin; at 19, he'd won the Buck White International Mandolin Contest. He went on to play with the Nashville Mandolin Ensemble and bluegrass group 1946. On the classical side, he has performed with numerous orchestras and was principal second violin for the Washington/Idaho Symphony. Chris Siebold Bluegrass to big band jazz, Chris Siebold knows his way around a guitar - or a bunch of other instruments, for that matter. Based in Chicago, he draws from a deep well of influences and styles, and has put his talents to work in ensembles such as Howard Levy's Acoustic Express and Kick the Cat. In 2010, he formed the band Psycles, whose album Live at Martyrs' was released the following year.

Tim Russell

One minute he's mild-mannered

Tim Russell

; the next he's George Bush or Julia Child or Barack Obama. We've yet to stump this man of many voices. Says fellow APHC actor Sue Scott, "He does a better Ira Glass than Ira Glass." A well-known Twin Cities radio personality and voice actor, Tim appeared in the Robert Altman film

A Prairie Home Companion

and the Coen brothers'

A Serious Man

. Tim has also been

reviewing films professionally for over 10 years

.

Sue Scott

On APHC, Sue Scott plays everything from ditzy teenagers to Guy Noir stunners to leathery crones who've smoked one pack of Camel straights too many. The Tucson, Arizona, native is well known for her extensive commercial and voice-over work on radio and television, as well as stage and movie roles, including the part of "Donna" in Robert Altman's A Prairie Home Companion.

Fred Newman

Sound effects man Fred Newman is an actor, writer, musician, and sound designer for film and TV. Turns out, no one is more surprised than Fred that he's made a career out of doing what he used to do behind the teacher's back -crossing his eyes, making sounds, and doing voices. He readily admits that, growing up, he was unceremoniously removed from several classrooms, "once by my bottom lip."