Speramus Meliora
hosted by Garrison Keillor
From The Fox Theatre | Detroit, MI
Detroit (My Girl)

Detroit (My Girl)

Tahmila Saba - The National Arab Orchestra

Tahmila Saba - The National Arab Orchestra

Waylee Law Yidrun - The National Arab Orchestra

Waylee Law Yidrun - The National Arab Orchestra

I'm Getting Round

I'm Getting Round

Powdermilk Biscuit Theme / Hala

Powdermilk Biscuit Theme / Hala

Smartphone (Please Mr. Postman)

Smartphone (Please Mr. Postman)

Five poems from Jim Daniels

Five poems from Jim Daniels

Daytimer - The KDJ Trio

Daytimer - The KDJ Trio

Do You Love Me? - Christine DiGiallonardo

Do You Love Me? - Christine DiGiallonardo

Btindam - The National Arab Orchestra

Btindam - The National Arab Orchestra

Footprints - The KDJ Trio

Footprints - The KDJ Trio

Pharmaceuticals

Pharmaceuticals

Two poems from Jim Daniels

Two poems from Jim Daniels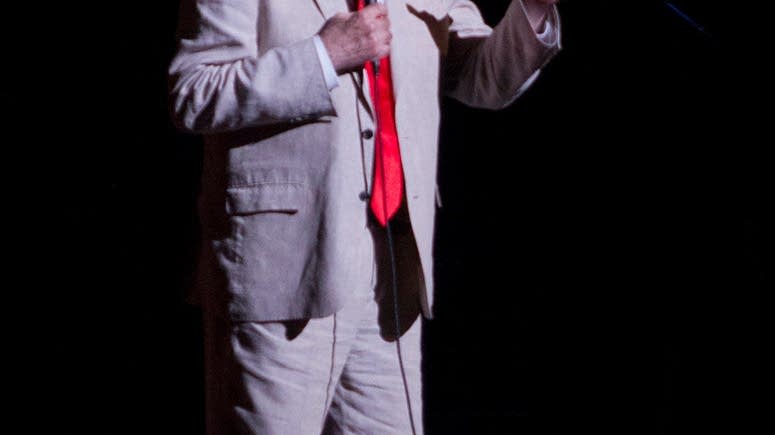 This week: we're rolling into Detroit, Michigan, for a live broadcast from the 313's grand old picture palace, the
Fox Theatre
. The
National Arab Orchestra Takht Ensemble
will join us, directed by
Michael Ibrahim
and featuring singers
Usama Baalbaki
and
Ghada Derbas
. Broadway belter
Christine DiGiallonardo
will go note for note with the host in duets, and add a Brooklyn twist to this week's scripts. The young jazz musicians of the
KDJ Trio
will give us a taste of what's next from the Motor City sound. And poet
Jim Daniels
will read a few pieces informed by his experiences growing up in and around Detroit. Plus: our Royal Academy of Radio Actors,
Tim Russell, Sue Scott
, and
Fred Newman
, will bend reality with their character impressions, and realistic animal sounds and explosions; radio rumble and backbeats from
Rich Dworsky
and the Internal Combustion Combo (
Bernie Dresel
, Larry Kohut,
Richard Kriehn
, and
Chris Siebold
); and an update on the latest News from Lake Wobegon, the tiny town that time forgot and the decades cannot improve. Find us down on the Public Radio end of the dial or tune in online this Saturday.
National Arab Orchestra Takht Ensemble

National Arab Orchestra founder and conductor Michael Ibrahim formed his first takht (traditional Arab chamber group) in 2009 while he was a music student at Eastern Michigan University. A Michigan-born Arab-American, he began studying oud at age 10 and soon became fascinated with Arab music and culture. The National Arab Orchestra promotes music through education and performance, with an emphasis on preserving the musical traditions of the Arab World. Vocalists: Ghada Derbas and Usama Baalbaki.

Christine DiGiallonardo

New York-based vocalist Christine DiGiallonardo is at home singing in early-music chamber ensembles as well as jazz and rock bands. She performs solo and with her sisters, Daniela and Nadia, as The DiGiallonardo Sisters, and her voice can be heard on commercial jingles for Aquafresh, Mr. Clean, Playtex, and Febreze. Her theater credits include Carousel (Live From Lincoln Center), Lady, Be Good! (City Center Encores!), The Sound of Music (Carnegie Hall), and My Fair Lady (Avery Fisher Hall).

KDJ Trio

The KDJ Trio is Kameron Johnson on piano, his brother Donavon Johnson on drums, and Jonathon S. Muir-Cotton on bass. Since 2010, the teens have performed in venues across the Detroit area, including Baker's Keyboard Lounge, the world's longest-running jazz club. In addition, each participates in other jazz and classical music programs. The KDJ Trio began through the Sphinx Organization, a Detroit-based nonprofit whose mission is "to transform lives through the power of diversity in the arts."

Jim Daniels

Since 1981, Jim Daniels has taught creative writing at Pittsburgh's Carnegie Mellon University. But his youth was spent in Detroit, a city that still holds a prominent spot in his written work - in the stories in Eight Mile High (Michigan State University Press), in poems like "The Geography of Detroit" and "Factory Love," and in his screenplay Mr. Pleasant. He is the recipient of the Brittingham Prize for Poetry and the Binghamton University Milt Kessler Poetry Book Award, among other honors. Birth Marks (BOA Editions) is his 14th collection of poems.

Garrison Keillor

Garrison Keillor

was born in 1942 in Anoka, Minnesota. He went to work for Minnesota Public Radio in 1969, and on July 6, 1974, he hosted the first broadcast of

A Prairie Home Companion

in St. Paul. He is the host of

The Writer's Almanac

and the editor of the

Good Poems

series of anthologies from Viking.

Rich Dworsky and the Internal Combustion Combo - May 30, 2015

Richard Dworsky Keyboardist, composer, and arranger Richard Dworsky is APHC's music director. He leads the band, composes themes, improvises script underscores, and collaborates with such diverse guests as Yo-Yo Ma, James Taylor, Brad Paisley, Kristin Chenoweth, and Sheryl Crow. He has released many recordings of original material and has provided music for documentaries on HBO and PBS. Bernie Dresel Bernie Dresel has been in the percussion game since he got his first drum kit at the age of two. After graduating from the Eastman School of Music, he headed to Los Angeles. He's worked with countless artists, from Chaka Khan and Maynard Ferguson to David Byrne and Brian Wilson, and spent 15 years with the Brian Setzer Orchestra. He currently plays with Gordon Goodwin's Big Phat Band and heads up his own 12-piece funk band, BERN. Larry Kohut Bassist Larry Kohut has played on dozens of albums and many film scores, as well as performing with jazz artists such as Patricia Barber, Mel Torme, Vincent Colaiuta, and Tony Bennett. In addition, he is an adjunct faculty member at Columbia College Chicago, where he teaches acoustic and electric bass. Richard Kriehn When Richard Kriehn turned 10, his mom bought him a mandolin; at 19, he'd won the Buck White International Mandolin Contest. He went on to play with the Nashville Mandolin Ensemble and bluegrass group 1946. On the classical side, he has performed with numerous orchestras and was principal second violin for the Washington/Idaho Symphony. Chris Siebold Bluegrass to big band jazz, Chris Siebold knows his way around a guitar - or a bunch of other instruments, for that matter. Based in Chicago, he draws from a deep well of influences and styles, and has put his talents to work in ensembles such as Howard Levy's Acoustic Express and Kick the Cat. In 2010, he formed the band Psycles, whose album Live at Martyrs' was released the following year.

Tim Russell

One minute he's mild-mannered

Tim Russell

; the next he's George Bush or Julia Child or Barack Obama. We've yet to stump this man of many voices. Says fellow APHC actor Sue Scott, "He does a better Ira Glass than Ira Glass." A well-known Twin Cities radio personality and voice actor, Tim appeared in the Robert Altman film

A Prairie Home Companion

and the Coen brothers'

A Serious Man

. Tim has also been

reviewing films professionally for over 10 years

.

Sue Scott

On APHC, Sue Scott plays everything from ditzy teenagers to Guy Noir stunners to leathery crones who've smoked one pack of Camel straights too many. The Tucson, Arizona, native is well known for her extensive commercial and voice-over work on radio and television, as well as stage and movie roles, including the part of "Donna" in Robert Altman's A Prairie Home Companion.

Fred Newman

Sound effects man Fred Newman is an actor, writer, musician, and sound designer for film and TV. Turns out, no one is more surprised than Fred that he's made a career out of doing what he used to do behind the teacher's back -crossing his eyes, making sounds, and doing voices. He readily admits that, growing up, he was unceremoniously removed from several classrooms, "once by my bottom lip."