Tristesse Suspendue
hosted by Garrison Keillor
Show #1362
October 13, 2012
From The Fitzgerald Theater | Saint Paul, Minnesota
"Ask the Actors" - 10/13/2012

"Ask the Actors" - 10/13/2012

"Dark Matter"

"Dark Matter"

"Second Chance"

"Second Chance"

"Bertha's Kitty Boutique"

"Bertha's Kitty Boutique"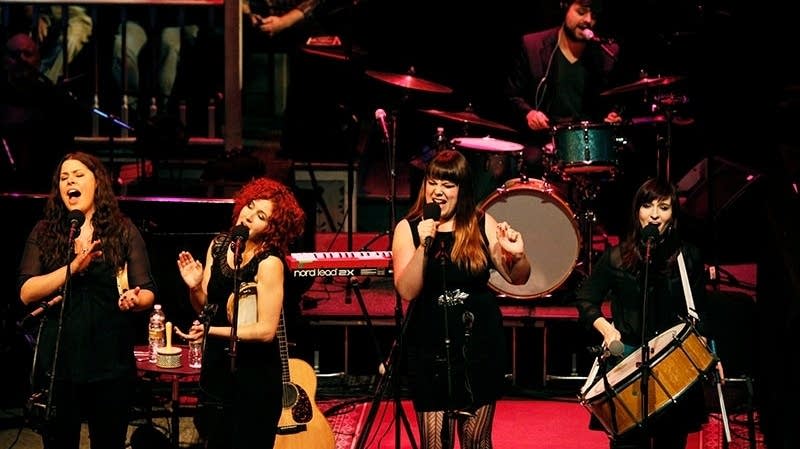 This week on
A Prairie Home Companion
, it's a live broadcast performance from
The Fitzgerald Theater
in Saint Paul, Minnesota. With special guests, French-pop girl group
Chic Gamine
, blues songstress
Hilary Thavis
, and vocalist Holly Jones. Plus, the Royal Academy of Radio Actors;
Tim Russell, Sue Scott
, and sound effects man Steve Kramer,
Dean Magraw
sits in with
The Guy's All-Star Shoe Band
, and the latest News from Lake Wobegon.
Chic Gamine

Hailing from Winnipeg and Montreal, vocal quintet

Chic Gamine

first got together five years ago. Since then, their fresh new sound - Motown to French pop - has captivated music lovers and earned the group a Juno Award for their self-titled debut album. Their second CD,

City City

, came out in 2010, and their first official U.S. release is due out later this year. Chic Gamine is

Alexa Dirks

,

Andrina Turenne

,

Annick Bremault

,

Ariane Jean

, and

Sacha Daoud

.

Hilary Thavis

Funny how things come together. Born in Rome, Italy, to parents from Minnesota, Hilary Thavis grew up loving music - especially folk music - from Woody Guthrie to Italian folk singers like Fabrizio De Andre and Francesco De Gregori. But it was the blues that ultimately captured her attention. Trouble & Truth is the 2011 recording from her band Gaia Groove. Now making her home in the Twin Cities, Hilary is working on a solo album of original songs.

Dean Magraw

Composer, arranger, producer, guitarist

Dean Magraw

studied at the University of Minnesota and the Berklee School of Music in Boston. His first recording,

Broken Silence

, came out in 1994 and won the NAIRD award for Best Acoustic Instrumental Album of the Year. Dean has since turned out a bunch of dazzling albums, including his latest,

How the Light Gets In

(Red House), a collaboration with renowned tabla player Marcus Wise.