Magic in the Place
hosted by Garrison Keillor
From Ryman Auditorium | Nashville, TN
The Times They Are A-Changin' - GK and Christine DiGiallonardo

The Times They Are A-Changin' - GK and Christine DiGiallonardo

No Doubt About It - Ricky Skaggs and Sharon White

No Doubt About It - Ricky Skaggs and Sharon White

When I'm Good and Gone - Ricky Skaggs and Sharon White

When I'm Good and Gone - Ricky Skaggs and Sharon White

Tennessee Waltz

Tennessee Waltz

I've Always Been Crazy - Stuart Duncan

I've Always Been Crazy - Stuart Duncan

The Worst is Yet to Come - Keb' Mo'

The Worst is Yet to Come - Keb' Mo'

Ode to Johnny Gimble / Cheyenne / Cherokee Shuffle

Ode to Johnny Gimble / Cheyenne / Cherokee Shuffle

Breaking Up is Hard to Do

Breaking Up is Hard to Do

Infinite Eyes - Keb' Mo' and Ricky Skaggs

Infinite Eyes - Keb' Mo' and Ricky Skaggs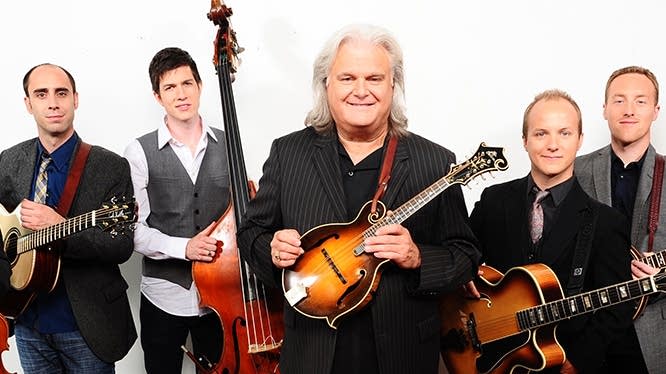 This week: We head to Nashville, Tennessee for a live broadcast from the
Ryman Auditorium
"The Mother Church of Country Music," where the afternoon sun streams through the stained glass windows and casts everyone in a good light. Bluegrass statesman
Ricky Skaggs
will be there along with his wife, singer
Sharon White
, and his band
Kentucky Thunder
- featuring harmonies and hot solos that'll make you wanna holler. Bluesman
Keb' Mo'
will join us to bring the sultry sounds of the Mississippi Delta to the banks of the Cumberland.
Stuart Duncan
will add his flawless fiddling to the band, and singer
Christine DiGillanardo
will sing duets with the host, and songs of old that were performed at the Ryman back when it was a gospel house. Plus, the Royal Academy of Radio Actors,
Tim Russell, Sue Scott
, and
Fred Newman
; music director and pianist
Rich Dworsky
with
Richard Kriehn
on mandolin and fiddle;
Chris Siebold
, guitar;
Todd Parks
, bass, and
Chris Brown
on drums. The latest News from Lake Wobegon plus a script here, and a faithful sponsor there, and we'll see you on the radio.
Ricky Skaggs and Sharon White with Kentucky Thunder

In the early 1970s, 17-year-old Ricky Skaggs - already an accomplished singer and mandolin player - was invited to join the band of the legendary Ralph Stanley. Since then, Skaggs has built a reputation rarely equaled in the world of bluegrass music. Meanwhile, Sharon White was a youngster when she started performing with her family's band, The Whites. Married since 1981, Ricky and Sharon have often been encouraged to record an album of duets. They finally did: Hearts Like Ours was released last fall on Skaggs Family Records. Kentucky Thunder is: Andy Leftwich (fiddle), Paul Brewster (guitar), Cody Kilby (guitar), Eddie Faris (guitar), Mark Fain (bass), Russ Carson (banjo), Bob Mummert (drums), Tommy White (steel guitar).

Keb' Mo'

Keb' Mo' - born Kevin Moore in South Central Los Angeles - was raised on music of the Baptist Church and the contemporary R&B and blues of the 1960s. Since his early days touring with ex-Jefferson Starship vocalist and violinist Papa John Creach, this singer-songwriter-instrumentalist-actor has racked up a dozen solo albums, as well as winning three Grammy Awards in the category of Best Contemporary Blues Album. His latest recording, BLUESAmericana, was released last year on the Kind of Blue Music label.

Stuart Duncan

Multi-instrumentalist Stuart Duncan took up fiddle at age seven. Since then, he has chalked up a career that includes two Grammys, a slew of Academy of Country Music Awards, and being named the International Bluegrass Music Association's Fiddle Player of the Year nine times. He was a founding member of the Nashville Bluegrass Band and is perennially one of Nashville's most sought-after session musicians, performing on thousands of recordings.

Christine DiGiallonardo

New York-based vocalist Christine DiGiallonardo is at home singing in early-music chamber ensembles as well as jazz and rock bands. She performs solo and with her sisters, Daniela and Nadia, as The DiGiallonardo Sisters, and her voice can be heard on commercial jingles for Aquafresh, Mr. Clean, Playtex, and Febreze. Her theater credits include Carousel (Live From Lincoln Center), Lady, Be Good! (City Center Encores!), The Sound of Music (Carnegie Hall), and My Fair Lady (Avery Fisher Hall).

Garrison Keillor

Garrison Keillor

was born in 1942 in Anoka, Minnesota. He went to work for Minnesota Public Radio in 1969, and on July 6, 1974, he hosted the first broadcast of

A Prairie Home Companion

in St. Paul. He is the host of

The Writer's Almanac

and the editor of the

Good Poems

series of anthologies from Viking.

Rich Dworsky and the band - May 9, 2015

Richard Dworsky Keyboardist, composer, and arranger Richard Dworsky is APHC's music director. He leads the band, composes themes, improvises script underscores, and collaborates with such diverse guests as Yo-Yo Ma, James Taylor, Brad Paisley, Kristin Chenoweth, and Sheryl Crow. He has released many recordings of original material and has provided music for documentaries on HBO and PBS. Chris Brown Originally from Albuquerque, drummer Chris Brown has been one of the most sought-after drummers in the South, since he arrived in Nashville - via New York - more than a decade ago. He has recorded and played with numerous musicians, including jazz pianist Beegie Adair and mandolinist Sam Bush. Richard Kriehn When Richard Kriehn turned 10, his mom bought him a mandolin; at 19, he'd won the Buck White International Mandolin Contest. He went on to play with the Nashville Mandolin Ensemble and bluegrass group 1946. On the classical side, he has performed with numerous orchestras and was principal second violin for the Washington/Idaho Symphony. Todd Parks Bassist Todd Parks has toured and recorded with the Jerry Douglas Band, the Sam Bush Band, the Nashville Jazz Orchestra, and others. Born and raised in Atlanta, he earned his undergraduate and master's degrees in string performance and jazz studies from the University of Tennessee (Knoxville), where he has also taught as an adjunct professor. Chris Siebold Bluegrass to big band jazz, Chris Siebold knows his way around a guitar - and a bunch of other instruments, for that matter. Based in Chicago, he draws from a deep well of influences and styles, and has put his talents to work in ensembles such as Howard Levy's Acoustic Express and Kick the Cat. In 2010, he formed the band Psycles, whose album Live at Martyrs' was released the following year.

Tim Russell

One minute he's mild-mannered

Tim Russell

; the next he's George Bush or Julia Child or Barack Obama. We've yet to stump this man of many voices. Says fellow APHC actor Sue Scott, "He does a better Ira Glass than Ira Glass." A well-known Twin Cities radio personality and voice actor, Tim appeared in the Robert Altman film

A Prairie Home Companion

and the Coen brothers'

A Serious Man

. Tim has also been

reviewing films professionally for over 10 years

.

Sue Scott

On APHC, Sue Scott plays everything from ditzy teenagers to Guy Noir stunners to leathery crones who've smoked one pack of Camel straights too many. The Tucson, Arizona, native is well known for her extensive commercial and voice-over work on radio and television, as well as stage and movie roles, including the part of "Donna" in Robert Altman's A Prairie Home Companion.

Fred Newman

Sound effects man Fred Newman is an actor, writer, musician, and sound designer for film and TV. Turns out, no one is more surprised than Fred that he's made a career out of doing what he used to do behind the teacher's back -crossing his eyes, making sounds, and doing voices. He readily admits that, growing up, he was unceremoniously removed from several classrooms, "once by my bottom lip."