Home on the River
hosted by Garrison Keillor
Show #1466
October 4, 2014
From Fitzgerald Theater | Saint Paul, MN
"They Called it Music" - The Gibson Brothers

"They Called it Music" - The Gibson Brothers

"Rat Catcher"

"Rat Catcher"

The Lives of the Cowboys

The Lives of the Cowboys

"B'Sefer Chayim"

"B'Sefer Chayim"

Garrison talks with Jeff Forester

Garrison talks with Jeff Forester

"I've Got a Thing for You" - Ellis

"I've Got a Thing for You" - Ellis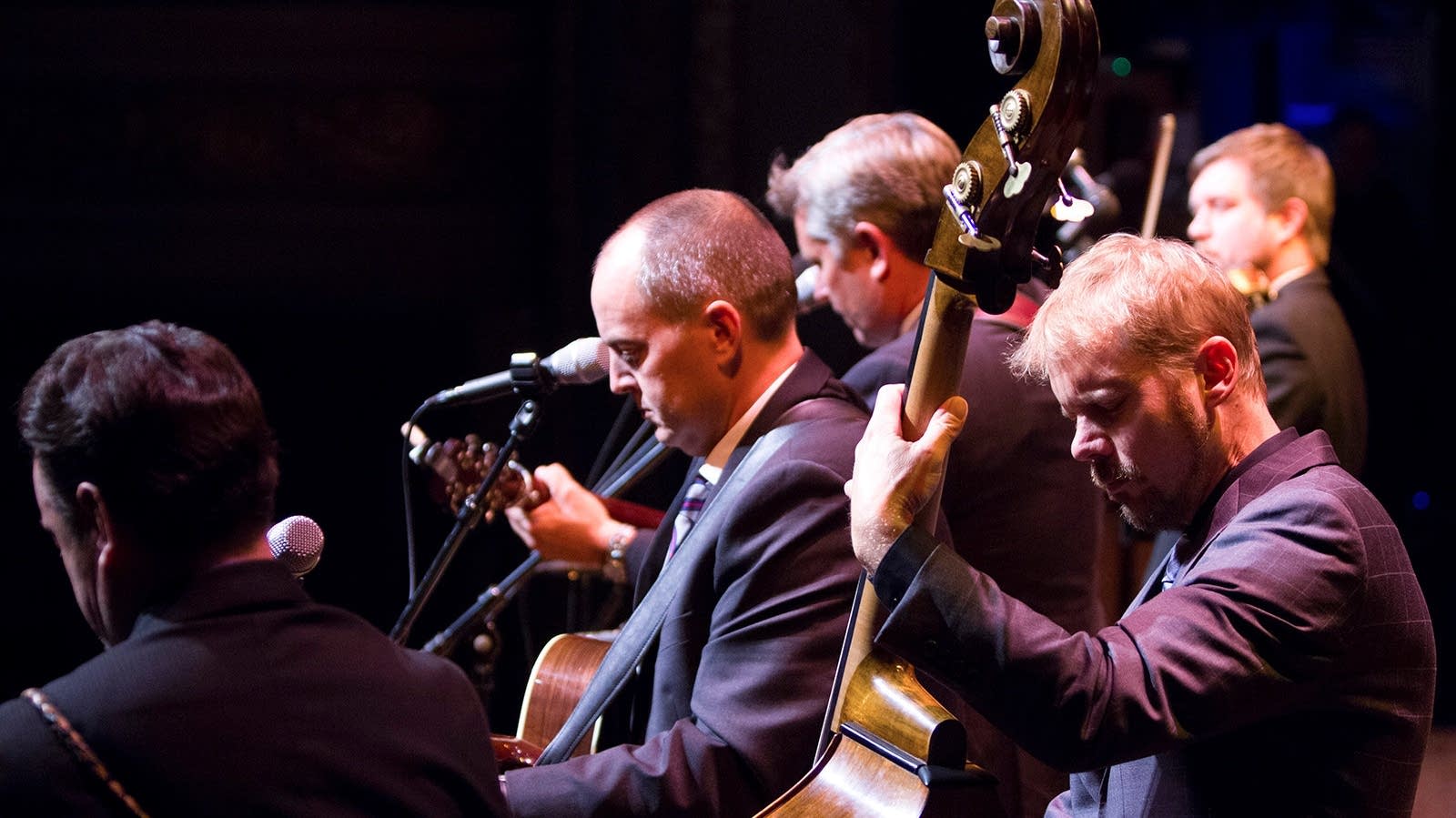 This week, we're back with a live broadcast from our home base, the
Fitzgerald Theater
in Saint Paul, Minnesota. With special guests, the world-class bluegrass of
The Gibson Brothers
, and feel-good folksinger
Ellis
. Also with us, the Royal Academy of Radio Actors,
Tim Russell, Sue Scott
, and
Fred Newman
; pianist and musical director
Richard Dworsky
and The October Boys (
Richard Kriehn
on mandolin and fiddle,
Dean Magraw
on guitar,
Chris Brown
on drums, and
Todd Parks
on bass); and the latest News from Lake Wobegon.
The Gibson Brothers

The Gibson Brothers - siblings Eric and Leigh - have twice been honored with the International Bluegrass Music Association's Entertainer of the Year Award. Raised on a dairy farm near Ellenburg Depot, New York, the two started playing an old banjo and guitar their father had. Soon they were performing their music in church, and these days they are tops when it comes to brother duos in bluegrass. Their latest CD, Brotherhood (Rounder Records), covers the songs of legendary brother duos like Jim & Jesse, the Louvins, the Everly Brothers, and more. The band: Eric Gibson (banjo), Leigh Gibson (guitar), Mike Barber (bass), Clayton Campbell (fiddle), Jesse Brock (mandolin).

Ellis

Described by one reviewer as a "smart writer with a unique folk/rock style," Ellis is a Texas native who moved to Minneapolis at the age of 16 and quickly built a strong local following singing at open mics. She also quickly dropped her often-mispronounced last name (Bergeron). Now, with a catalog of nine albums since the mid-1990s, word of this talented folk musician has spread nationwide. Ellis's latest recording, The Guest House, is scheduled for release in February.

Garrison Keillor

Garrison Keillor

was born in 1942 in Anoka, Minnesota. He went to work for Minnesota Public Radio in 1969, and on July 6, 1974, he hosted the first broadcast of

A Prairie Home Companion

in St. Paul. He is the host of

The Writer's Almanac

and the editor of the

Good Poems

series of anthologies from Viking.

Rchard Dworsky and The October Boys - October 4, 2014

Richard Dworsky
Keyboardist, composer, and arranger Richard Dworsky is music director for A Prairie Home Companion, where he is often called upon to improvise on the spot - in styles ranging from classical to bluegrass and everything in between. He has accompanied Garrison Keillor on U.S. and European concert tours and has collaborated with numerous other performers, including Al Jarreau and Kristin Chenoweth.

Chris Brown
Originally from Albuquerque, drummer Chris Brown has been one of the most sought-after drummers in the South since he arrived in Nashville - via New York - more than a decade ago. He has recorded and played with numerous musicians, including jazz pianist Beegie Adair and mandolin ace Sam Bush.

Richard Kriehn
When Richard Kriehn turned 10, his mom bought him a mandolin; at 19, he'd won the Buck White International Mandolin Contest. He went on to play with the Nashville Mandolin Ensemble and bluegrass group 1946. On the classical side, he has performed with numerous orchestras and was principal second violin for the Washington/Idaho Symphony.

Dean Magraw
Guitarist Dean Magraw studied at the University of Minnesota and the Berklee School of Music in Boston. His first recording, 1994's Broken Silence, won the NAIRD award for Best Acoustic Instrumental Album of the Year. Dean has since turned out an array of dazzling albums. For his latest, he joined forces with Hungarian guitarist Sandor Szabo to produce Reservoir (Acoustic Music Records).

Todd Parks
Bassist Todd Parks has toured and recorded with the Jerry Douglas Band, the Sam Bush Band, the Nashville Jazz Orchestra, and others. Born and raised in Atlanta, he earned his undergraduate and Master's degrees in String Performance and Jazz Studies from the University of Tennessee (Knoxville), where he also taught as an adjunct professor.

Tim Russell

One minute he's mild-mannered

Tim Russell

; the next he's George Bush or Julia Child or Barack Obama. We've yet to stump this man of many voices. Says fellow APHC actor Sue Scott, "He does a better Ira Glass than Ira Glass." A well-known Twin Cities radio personality and voice actor, Tim appeared in the Robert Altman film

A Prairie Home Companion

and the Coen brothers'

A Serious Man

. Tim has also been

reviewing films professionally for over 10 years

.

Sue Scott

On APHC, Sue Scott plays everything from ditzy teenagers to Guy Noir stunners to leathery crones who've smoked one pack of Camel straights too many. The Tucson, Arizona, native is well known for her extensive commercial and voice-over work on radio and television, as well as stage and movie roles, including the part of "Donna" in Robert Altman's A Prairie Home Companion.

Fred Newman

Sound effects man Fred Newman is an actor, writer, musician, and sound designer for film and TV. Turns out, no one is more surprised than Fred that he's made a career out of doing what he used to do behind the teacher's back -crossing his eyes, making sounds, and doing voices. He readily admits that, growing up, he was unceremoniously removed from several classrooms, "once by my bottom lip."