Solid Kicks and Red Hot Licks - Season Opener and Street Dance
hosted by Garrison Keillor
Show #1464
September 20, 2014
From The Fitzgerald Theater | St. Paul, MN
Ragged But Right

Ragged But Right

Corned Beef on Rye - Howard Levy

Corned Beef on Rye - Howard Levy

Colleen Malone - Hot Rize

Colleen Malone - Hot Rize

Powdermilk Biscuit Theme

Powdermilk Biscuit Theme

Wrong Road Again - Sara Watkins

Wrong Road Again - Sara Watkins

Don't This Road Look Rough and Rocky

Don't This Road Look Rough and Rocky

At the End of a Long, Lonely Day - Lynn Peterson

At the End of a Long, Lonely Day - Lynn Peterson

The Lives of the Cowboys

The Lives of the Cowboys

The News from Lake Wobegon

The News from Lake Wobegon

When We're Gone, Long Gone

When We're Gone, Long Gone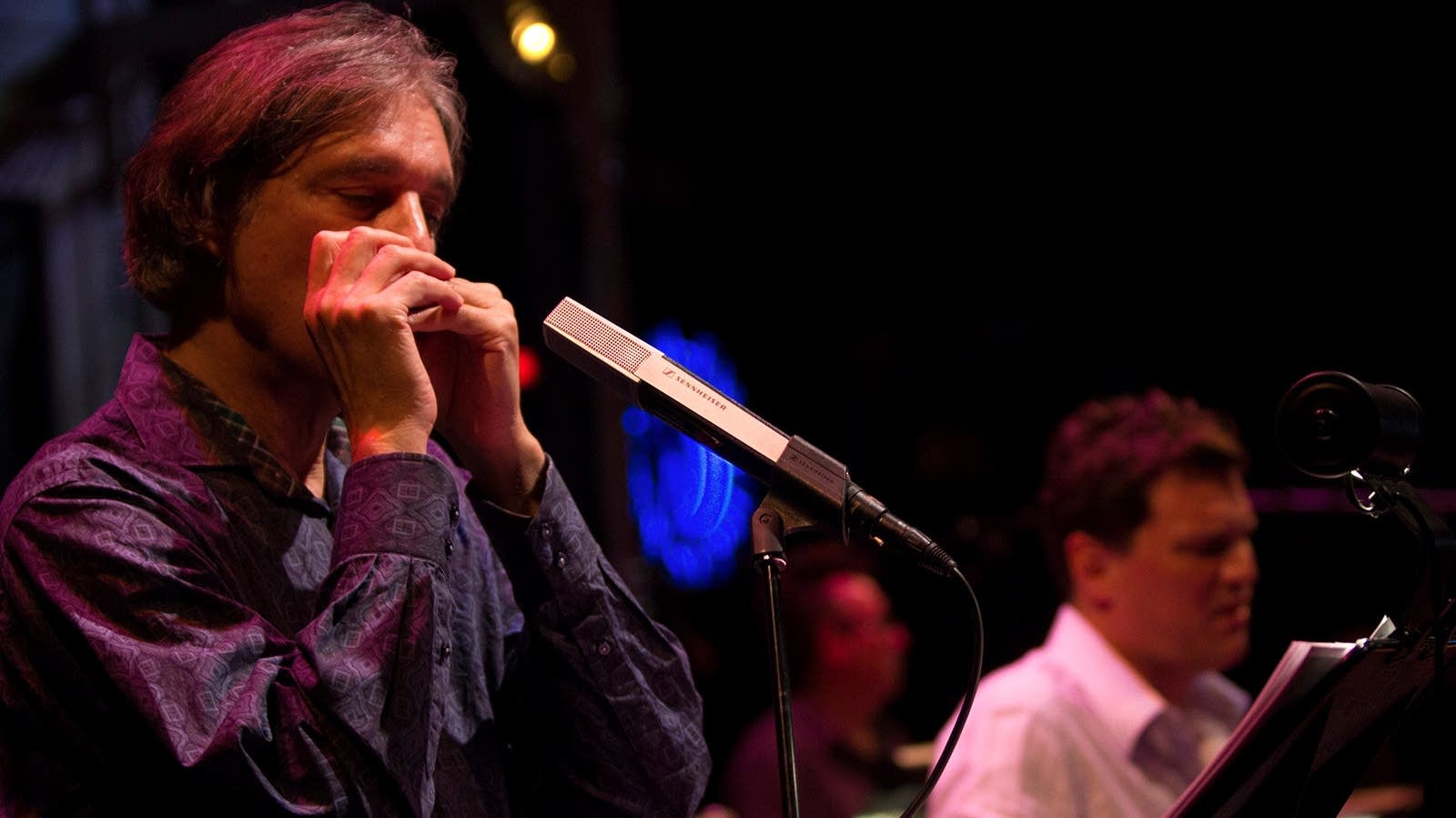 This week, our brand new season kicks off with a live broadcast from the
Fitzgerald Theater
in Saint Paul, Minnesota, followed by our annual
Meatloaf Supper and Street Dance
. With special guests, pioneering bluegrass quartet
Hot Rize
, songwriter and fiddler
Sara Watkins
, harmonica revolutionary
Howard Levy
, and singer Lynn Peterson. Plus, the Royal Academy of Radio Actors,
Tim Russell, Sue Scott
, and
Fred Newman
; The Exchange Street Band (pianist and musical director
Rich Dworsky
, with
Richard Kriehn
on mandolin and fiddle,
Bernie Dresel
on drums,
Chris Siebold
on guitar, and
Larry Steen
on bass); and the latest News from Lake Wobegon. Join us on the radio, out in front of the Fitz, or online for our
live video stream of the show
!
Street Dance Information
Join Garrison and the gang for meatloaf and mashed potatoes, live music, and contests for valuable prizes. Come at 5:00 p.m., grab a seat on the street in front of the
Fitzgerald Theater
and listen to the live broadcast from inside the Fitz. A $5.00 meatloaf supper will be served at 6:00 p.m. and there will be music, dancing, and contests in the street from 7:00 p.m. to 10:00 p.m.
The street dance is free and open to the public.
Hot Rize

Hot Rize first formed 36 years ago, a traditional-yet-progressive Colorado bluegrass band that took the International Bluegrass Music Association's first Entertainer of the Year honors in 1990, the same year the group all but disbanded. Now they're back in full force - complete with a brand-new recording, When I'm Free (Thirty Tigers), scheduled for release at the end of September. Tim O'Brien (fiddle, mandolin), Pete Wernick (banjo), Bryan Sutton (guitar), and Nick Forster (bass).

Sara Watkins

Singer-songwriter and fiddle player Sara Watkins - along with her brother Sean and mandolinist Chris Thile - was a founding member of the Grammy-winning progressive bluegrass group Nickel Creek. In 2015, Sara and Sean released their "family-band-of-sorts project," Watkins Family Hour, and then embarked on a tour that included stops at Conan, NPR's Tiny Desk Concert, and the Newport Folk Festival. Sara's latest recording: Young in All the Wrong Ways (New West Records).

Howard Levy

Multi-instrumentalist Howard Levy is perhaps best known for developing a fully chromatic harmonica style on a standard 10-hole diatonic instrument. Anyone who's ever picked up a little Hohner Marine Band can appreciate the feat. The musical adventures of this Chicago-based Grammy winner include journeys into jazz, pop, rock, Latin, classical, folk, blues, country, and more. He has appeared on hundreds of recordings. His own latest is First Takes (Balkan Samba Records), a dazzling collection of improvisational compositions - recorded in one single four-hour session.

Lynn Peterson

Singer-songwriter-science geek Lynn Peterson is a native Minnesotan whose career took her to New York City, where she spent eight years as a performer, composer, and studio vocalist, before returning to the Twin Cities. And the science geek part? She studied chemistry as an undergrad and now continues graduate work focused on chemistry and sustainability. Her Norwegian roots and love of Norway are inspiration for an upcoming recording project: Songs of the Sognefjord.

Garrison Keillor

Garrison Keillor

was born in 1942 in Anoka, Minnesota. He went to work for Minnesota Public Radio in 1969, and on July 6, 1974, he hosted the first broadcast of

A Prairie Home Companion

in St. Paul. He is the host of

The Writer's Almanac

and the editor of the

Good Poems

series of anthologies from Viking.

Richard Dworsky

Richard Dworsky Keyboardist, composer, and arranger Richard Dworsky is music director for A Prairie Home Companion, where he is often called upon to improvise on the spot - in styles ranging from classical to bluegrass and everything in between. He has accompanied Garrison Keillor on U.S. and European concert tours and has collaborated with numerous other performers, including Al Jarreau and Kristin Chenoweth. Bernie Dresel Bernie Dresel has been in the percussion game since he got his first drum kit at the age of two. After graduating from the Eastman School of Music, he headed to Los Angeles. He's worked with countless artists, from Chaka Khan and Maynard Ferguson to David Byrne and Brian Wilson, and spent 15 years with the Brian Setzer Orchestra. He currently plays with Gordon Goodwin's Big Phat Band and heads up his own 12-piece funk band, BERN. Richard Kriehn When Richard Kriehn turned 10, his mom bought him a mandolin; at 19, he'd won the Buck White International Mandolin Contest. He went on to play with the Nashville Mandolin Ensemble and bluegrass group 1946. On the classical side, he has performed with numerous orchestras and was principal second violin for the Washington/Idaho Symphony. Chris Siebold From bluegrass to big band jazz, Chris Siebold knows his way around a guitar - or bass or banjo or mandolin or a bunch of other instruments, for that matter. Based in Chicago, he draws from a deep well of influences and styles, and has put his talents to work in ensembles such as Howard Levy's Acoustic Express and Kick the Cat. In 2010, he formed the band Psycles, a large and extremely versatile group whose album Live at Martyrs' was released the following year. Larry Steen In high school, Larry Steen focused on the bass so he could be cool and play in a rock band ("There were enough guitar players!"). His mastery of the instrument led to studies at the University of Miami, California Institute of the Arts, and Berklee College of Music, and to performing or recording with top artists like Ella Fitzgerald, Rosemary Clooney, Steve Vai and Stevie Wonder. The Larry Steen World Jazz Ensemble fuses music concepts from far-flung corners of the globe.

Tim Russell

One minute he's mild-mannered

Tim Russell

; the next he's George Bush or Julia Child or Barack Obama. We've yet to stump this man of many voices. Says fellow APHC actor Sue Scott, "He does a better Ira Glass than Ira Glass." A well-known Twin Cities radio personality and voice actor, Tim appeared in the Robert Altman film

A Prairie Home Companion

and the Coen brothers'

A Serious Man

. Tim has also been

reviewing films professionally for over 10 years

.

Sue Scott

On APHC, Sue Scott plays everything from ditzy teenagers to Guy Noir stunners to leathery crones who've smoked one pack of Camel straights too many. The Tucson, Arizona, native is well known for her extensive commercial and voice-over work on radio and television, as well as stage and movie roles, including the part of "Donna" in Robert Altman's A Prairie Home Companion.

Fred Newman

Sound effects man Fred Newman is an actor, writer, musician, and sound designer for film and TV. Turns out, no one is more surprised than Fred that he's made a career out of doing what he used to do behind the teacher's back -crossing his eyes, making sounds, and doing voices. He readily admits that, growing up, he was unceremoniously removed from several classrooms, "once by my bottom lip."