Back Where it All Began
hosted by Garrison Keillor
From Macalester College | Saint Paul, MN
Tishomingo Blues/Hello Love

Tishomingo Blues/Hello Love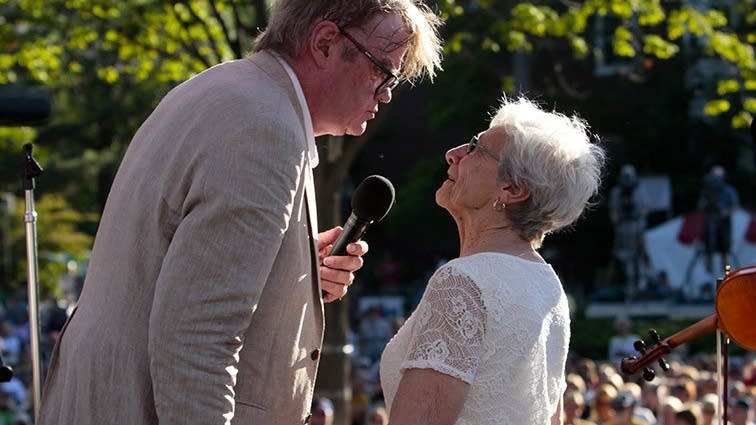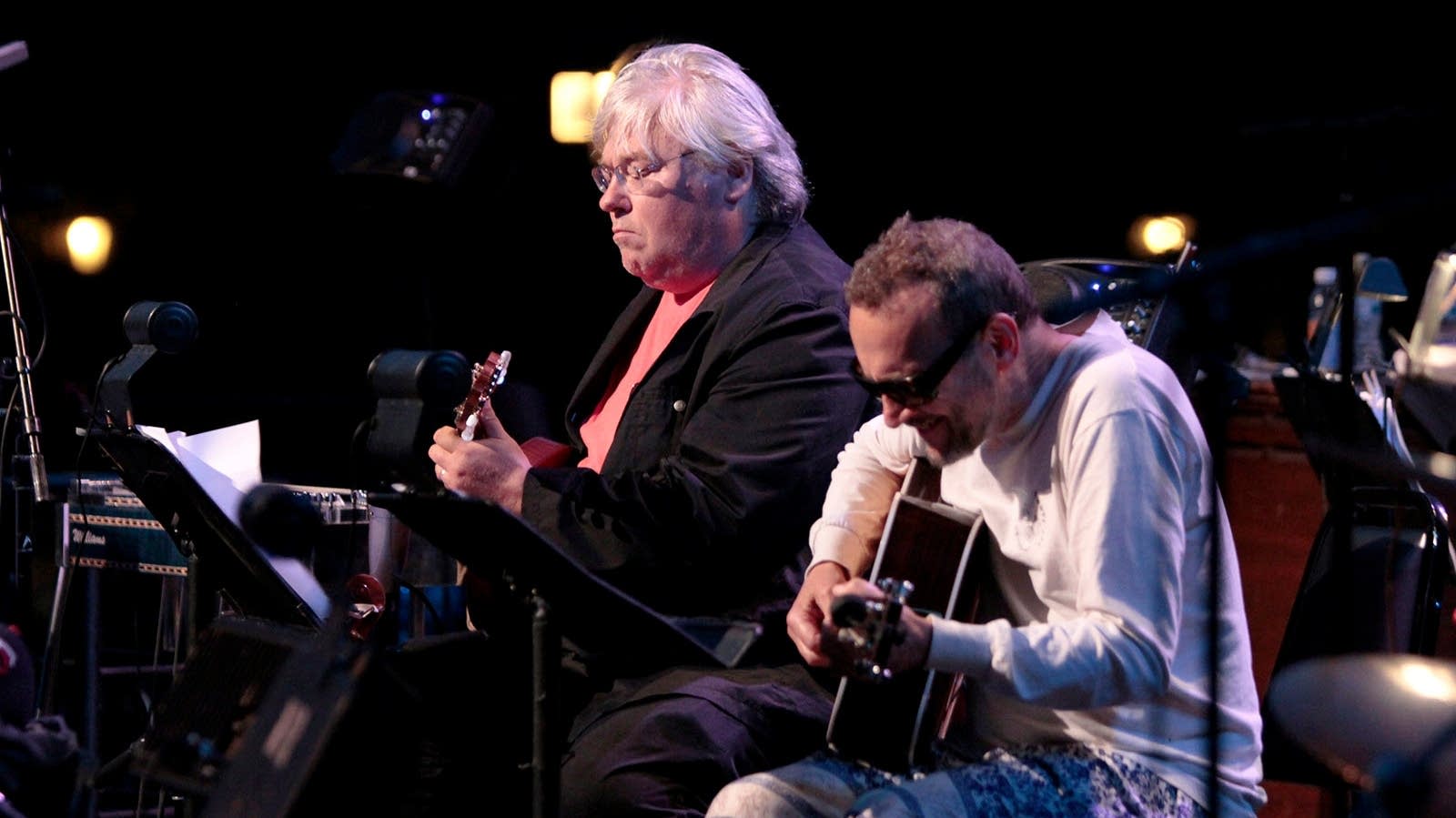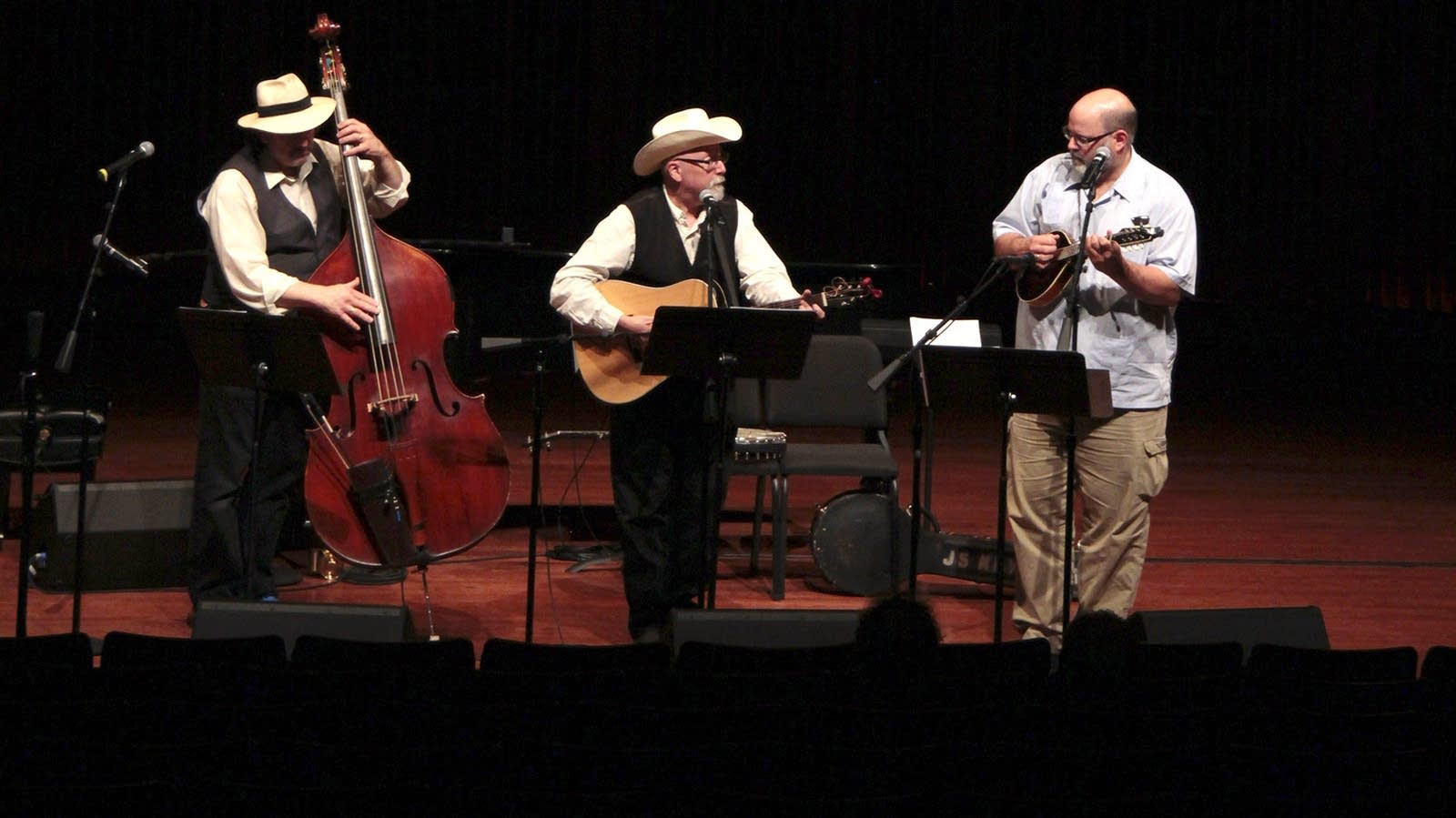 This week, we're celebrating the
40th Anniversary
of our very first show at
Macalester College
in Saint Paul, Minnesota with a
festival
and a special three-hour live broadcast. We'll have a host of
rock'n'roll, blues, folk, soul, and country musicians
on hand, plus, a few big sing-alongs, the Old Regulars of the Powdermilk Biscuit Band, the Royal Academy of Radio Actors, an extra-wide version of The Guy's All-Star Shoe Band, and the latest News from Lake Wobegon. Join us
in-person
,
on the radio
, and
online
for a whole weekend of family fun, stories, and songs!
Philip Brunelle

Philip Brunelle is an internationally renowned conductor, choral scholar, and performer. He is also the founder and artistic director of Minneapolis-based VocalEssence, one of America's premier choral arts organizations. His many awards include the Royal Order of the Polar Star from the King of Sweden and Commander of the Royal Norwegian Order of Merit. In July of 1974, Philip appeared on the very first live broadcast of A Prairie Home Companion.

Sam Bush

Sam Bush was just 11 when he got his first mandolin. By the time he was 17, he had won the title of National Junior Fiddle Champion for three years running. And he had made his recording debut, Poor Richard's Almanac. Founder of cutting-edge bands like New Grass Revival and Strength in Numbers, he has also been the go-to sideman for Lyle Lovett, the Flecktones, and dozens of others. The most recent of his solo albums is Circles Around Me (Sugar Hill Records).

Dan Chouinard

Pianist/accordionist

Dan Chouinard

is a Twin Cities native who creates programs that blend history and music. Among these is

Cafe Europa

, about a bicycle trip he took from Naples to Normandy - accordion strapped to his bike - in search of Minnesota World War II stories. More recently,

Steerage Song

reflected on the thousands of immigrants who passed through Ellis Island. Dan's recordings include

The Siren's Song: Wodehouse and Kern on Broadway

, his second volume of P.G. Wodehouse songs, both with soprano Maria Jette.

Iris DeMent

Iris DeMent was born on the Arkansas Delta and grew up in California the youngest of 14 children. Her dad played fiddle; her mother dreamed of singing on the Grand Ole Opry. For a family that saw its share of hard times, music was a necessity of life, not just a pastime. Since launching her career in the early 1990s, Iris has become one of the most celebrated artists of her generation. Her latest CD, The Trackless Woods (Flariella Records), features poems by the Russian writer Anna Akhmatova set to Iris's melodies.

Pat Donohue

Grammy™-nominated Pat Donohue (guitar) is a native and resident of St. Paul, Minnesota. He is a National Fingerpicking Guitar Champion and an innovative songwriter, with several albums to his credit on Red House Records and Bluesky Records.

Nodody's Fault

a new album by Pat Donohue is coming out soon. His songs have been recorded by Chet Atkins, Suzy Bogguss, and Kenny Rogers. His latest recording is American Guitar (Bluesky). He has performed on A Prairie Home Companion for seven years. More information about Pat and his music can be found at

www.patdonohue.com

.

Bob Douglas

Texas-born Bob Douglas has lived in Minnesota since his college days. In the early years of A Prairie Home Companion, Bob did mandolin duties, sang harmony, and played spoons on the show with the Powdermilk Biscuit Band and the New Prairie Ramblers. Recently retired from the University of St. Thomas in St. Paul, he currently performs with the Blood Washed Band, the Show'd Up Band, and the Tune Jerks.

Stuart Duncan

Multi-instrumentalist Stuart Duncan took up fiddle at age seven. Since then, he has chalked up a career that includes two Grammys, a slew of Academy of Country Music Awards, and being named the International Bluegrass Music Association's Fiddle Player of the Year nine times. He was a founding member of the Nashville Bluegrass Band and is perennially one of Nashville's most sought-after session musicians, performing on thousands of recordings.

Richard Dworsky

Keyboardist, composer, and arranger Richard Dworsky is APHC's music director. He leads the band, composes themes, improvises script underscores, and collaborates with such diverse guests as Yo-Yo Ma, James Taylor, Brad Paisley, Kristin Chenoweth, and Sheryl Crow. He has provided music for documentaries on HBO and PBS, and has released many recordings of original material, including his latest, All In Due Time.

Janis Hardy

Mezzo-soprano Janis Hardy has performed major roles at leading opera houses around the country, including the Houston Grand Opera, San Francisco Opera, and Minnesota Opera, where she created roles in more than 20 world premieres. She has been a soloist with the Minnesota Orchestra, the Saint Paul Chamber Orchestra, and VocalEssence with Philip Brunelle. And she has mentored numerous students as Associate Professor of Music at St. Olaf College.

Dakota Dave Hull

Fargo native Dakota Dave Hull strummed his first guitar chord when he was about 10. He's still at it. After moving to the Twin Cities in the late '60s, he became a key player on the West Bank music scene. Now, with his infectious blend of jazz, ragtime, folk, blues, Western swing, and vintage pop, he entertains audiences coast to coast and beyond. Among his recordings is 2013's Under the North Star (Arabica Records). A new project is in the works: two CDs of instrumental guitar music from the American tradition - one sacred, the other secular.

Maria Jette

Versatile soprano Maria Jette can sing dozens of operatic roles. She also performs pop songs, chamber music, oratorio, and show tunes. She has appeared with orchestras nationwide, including the Los Angeles Chamber Orchestra, New York Chamber Symphony, Saint Paul Chamber Orchestra, and Minnesota Orchestra. Among her recordings are two albums of P.G. Wodehouse songs, with pianist/accordionist Dan Chouinard: In Our Little Paradise: Songs of P.G. Wodehouse and The Siren's Song: Wodehouse & Kern on Broadway.

Richard Kriehn

When Richard Kriehn turned 10, his mom bought him a mandolin; at 19, he'd won the Buck White International Mandolin Contest. He went on to play with the Nashville Mandolin Ensemble and bluegrass group 1946. On the classical side, he has performed with numerous orchestras and was principal second violin for the Washington/Idaho Symphony.

Howard Levy

Multi-instrumentalist Howard Levy is perhaps best known for developing a fully chromatic harmonica style on a standard 10-hole diatonic instrument. Anyone who's ever picked up a little Hohner Marine Band can appreciate the feat. The musical adventures of this Chicago-based Grammy winner include journeys into jazz, pop, rock, Latin, classical, folk, blues, country, and more. He has appeared on hundreds of recordings. His own latest is First Takes (Balkan Samba Records), a dazzling collection of improvisational compositions - recorded in one single four-hour session.

Macalester College Pipe Band

Dean Magraw

Guitarist Dean Magraw studied at the University of Minnesota and the Berklee School of Music in Boston. His first recording, 1994's Broken Silence, won the NAIRD award for Best Acoustic Instrumental Album of the Year. Dean has since turned out an array of dazzling albums. For his latest, Fire on the Nile (Red House Records), he joined forces with drummer Erik Kamau Gravatt. About Dean's musical virtuosity, comments range from "so liquid, lyrical and effortless, it's like listening to a dancer" to "the most savage agressor ever to rip the face off a 12-string!"

Heather Masse

Growing up in rural Maine, Heather Masse sang hymns and folk songs around home with her family. Now based in New York, this New England Conservatory of Music alum is a one-third of the Juno Award-winning Canadian trio The Wailin' Jennys. Lock My Heart is her recording with piano legend Dick Hyman. A new album, August Love Song - on which she joins forces with trombone great Roswell Rudd - was recently released on Red House Records.

Joe Newberry

Missouri native and North Carolina transplant Joe Newberry has made music most of his life. He grew up in a family full of singers and dancers, took up the guitar and banjo as a teenager, and learned fiddle tunes from great Missouri fiddlers. He plays with Bruce Molsky and Rafe Stefanini as the Jumpsteady Boys, in a duo with mandolinist Mike Compton, and in a quartet with old-time music legends Bill Hicks, Mike Craver, and Jim Watson. Joe's solo recording, Two Hands, is on the 5-String Productions label.

Fred Newman

Sound effects man Fred Newman is an actor, writer, musician, and sound designer for film and TV. Turns out, no one is more surprised than Fred that he's made a career out of doing what he used to do behind the teacher's back -crossing his eyes, making sounds, and doing voices. He readily admits that, growing up, he was unceremoniously removed from several classrooms, "once by my bottom lip."

Dan Newton

After winning the Nebraska State Accordion Contest at the Czech Festival in Wilber in 1987, Dan "Daddy Squeeze" Newton moved to Minnesota and has been wowing Twin Cities music lovers ever since. Equally at home playing Celtic, Tex-Mex, Cajun, blues, jazz, Scandinavian, French musette, polka, and pop, Dan heads up a bunch of different groups, including Jumbo Ya Ya, the Rockin' Pinecones, and the incomparable Cafe Accordion Orchestra, whose latest recording is La Zingara.

Peter Ostroushko

Mandolinist, composer, arranger Peter Ostroushko, who made his first Prairie Home Companion appearance in 1974, grew up listening to tunes played at family get-togethers in the Ukrainian community of northeast Minneapolis. It's the music that provides the basis for many of his compositions - works that have been performed by the Saint Paul Chamber Orchestra and the Kremlin Chamber Orchestra, among others. Peter won an Emmy for the score of Minnesota: A History of the Land (Twin Cities Public Television). His recent recordings include The Mando Chronicles (Red House).

Lynn Peterson

Singer-songwriter-science geek Lynn Peterson is a native Minnesotan whose career took her to New York City, where she spent eight years as a performer, composer, and studio vocalist, before returning to the Twin Cities. And the science geek part? She studied chemistry as an undergrad and now continues graduate work focused on chemistry and sustainability. Her Norwegian roots and love of Norway are inspiration for an upcoming recording project: Songs of the Sognefjord.

Gary Raynor

A Minnesota resident since 1977, Gary Raynor (bass) toured with Sammy Davis Jr., performed with the Count Basie Band, the Rupert's Orchestra, and dozens of Broadway touring shows - including the first presentation of The Lion King. He regularly performs at local jazz clubs. Raynor is featured on Janet Jackson's hit single "Again" and the original Rio Nido album, I Like to Riff. Gary teaches across the street from the Fitzgerald at McNally Smith College of Music.

Tim Russell

One minute he's mild-mannered

Tim Russell

; the next he's George Bush or Julia Child or Barack Obama. We've yet to stump this man of many voices. Says fellow APHC actor Sue Scott, "He does a better Ira Glass than Ira Glass." A well-known Twin Cities radio personality and voice actor, Tim appeared in the Robert Altman film

A Prairie Home Companion

and the Coen brothers'

A Serious Man

. Tim has also been

reviewing films professionally for over 10 years

.

Sue Scott

On APHC, Sue Scott plays everything from ditzy teenagers to Guy Noir stunners to leathery crones who've smoked one pack of Camel straights too many. The Tucson, Arizona, native is well known for her extensive commercial and voice-over work on radio and television, as well as stage and movie roles, including the part of "Donna" in Robert Altman's A Prairie Home Companion.

Jearlyn Steele

Growing up in Indiana, Jearlyn Steele sang with her siblings as The Steele Children. One by one, they moved to Minnesota and started singing together again. Now music is the family business. Jearlyn has recorded and performed with Prince, George Clinton, Mavis Staples, and others. She also hosts Steele Talkin', a Sunday-night radio show that originates on WCCO in Minneapolis. Her most recent solo CD is Jearlyn Steele Sings Songs from A Prairie Home Companion.

Jevetta Steele

Growing up in Indiana,

Jearlyn and Jevetta Steele

sang with their siblings as The Steele Children. One by one, they moved to Minnesota and started singing together again. Now music is the family business.

Jevetta's performance of "Calling You," from the film

Baghdad Cafe

, was nominated for an Academy Award. Her solo albums include 2006's

My Heart

.

Vern Sutton

Vern Sutton has collaborated with major musical organizations as a singer, actor, director, and educator. He was a founding member of the Center Opera Company, which became the Minnesota Opera, and composers Dominick Argento, Robert Ward, Conrad Susa, Libby Larsen, and others have written for his voice. For 36 years, he taught at the University of Minnesota School of Music, and for four summers he was artistic director of Opera in the Ozarks. Vern was a guest on the very first broadcast of A Prairie Home Companion.

Max Baca & Los Texmaniacs

Max Baca & Los Texmaniacs take traditional conjunto sounds to another level, mixing in blues, R&B, and Texas rock. Baca, who founded the Grammy-winning group in 1997, calls it "hip music that everybody in the world can relate to." True enough; just ask audiences from San Antonio to Spain, Austin to Afghanistan and beyond. Their latest album is Americano Groove, on the Line in the Sound label. The band: Max Baca, bajo sexto; Joshua Baca, accordion and harmonica; Fernando Martinez, electric guitar; Noel Hernandez, bass; Lorenzo Martinez, drums; Danny Martinez, percussion, drums.

Butch Thompson

Pianist and clarinetist Butch Thompson is known worldwide as a master of ragtime, stride, and classic jazz. Born and raised in Marine-on-St. Croix, Minnesota, Butch was already playing Christmas carols on his mother's upright piano by age three, and he led his first professional jazz group as a teenager. For 12 years, he was A Prairie Home Companion's house pianist, dating back to the show's second broadcast, in July 1974. Butch's many albums include Vicksburg Blues, with guitarist Pat Donohue (Red House Records).

The Wailin' Jennys

When The Wailin' Jennys first got together in 2002, it was supposed to be a one-time gig. But the collaboration proved a huge success, and this Juno Award-winning trio continues to wow audiences across North America and beyond. "This is about as good as contemporary folk gets," one music critic wrote. It has been 11 years since they released 40 Days, their first full-length recording. The latest CD from Ruth Moody, Nicky Mehta, and Heather Masse is 2011's Bright Morning Stars (Red House Records).

Gillian Welch

In the early 1990s, Gillian Welch met Dave Rawlings at the Berklee College of Music in Boston while the two were students waiting to audition for the country-band class. Over the past two decades, they have carved out a highly successful career, with a Lifetime Achievement Award from the Americana Music Association and recordings that include Welch's Grammy-nominated The Harrow & The Harvest and the Dave Rawlings Machine release Nashville Obsolete (Acony Records).

Robin and Linda Williams

"Individually their voices can melt cheese, and in duet they can do all-purpose welding," Garrison Keillor has said of Robin and Linda Williams. Singing the music they love, be it bluegrass, folk, old-time, or acoustic country, these two have carved out a more than three-decade career that has taken them from Carnegie Hall to the Hollywood Bowl. They first appeared on A Prairie Home Companion in 1975, the same year they recorded their first album. Back 40 - marking 40 years on the road and 40 years of marriage - was released in 2013 on Red House Records.