Mingle, Merge, Mill, Jostle Gently, and Flock Together
hosted by Garrison Keillor
Show #1461
August 30, 2014
From Minnesota State Fair Grandstand | Falcon Heights, MN
The Lives of the Cowboys

The Lives of the Cowboys

Midway of Love - Jearlyn and Jevetta Steele

Midway of Love - Jearlyn and Jevetta Steele

Wild Mountain Thyme

Wild Mountain Thyme

Garrison talks with Kathy Skiba and Jeni Haler

Garrison talks with Kathy Skiba and Jeni Haler

Clay Pigeons - Aoife O'Donovan

Clay Pigeons - Aoife O'Donovan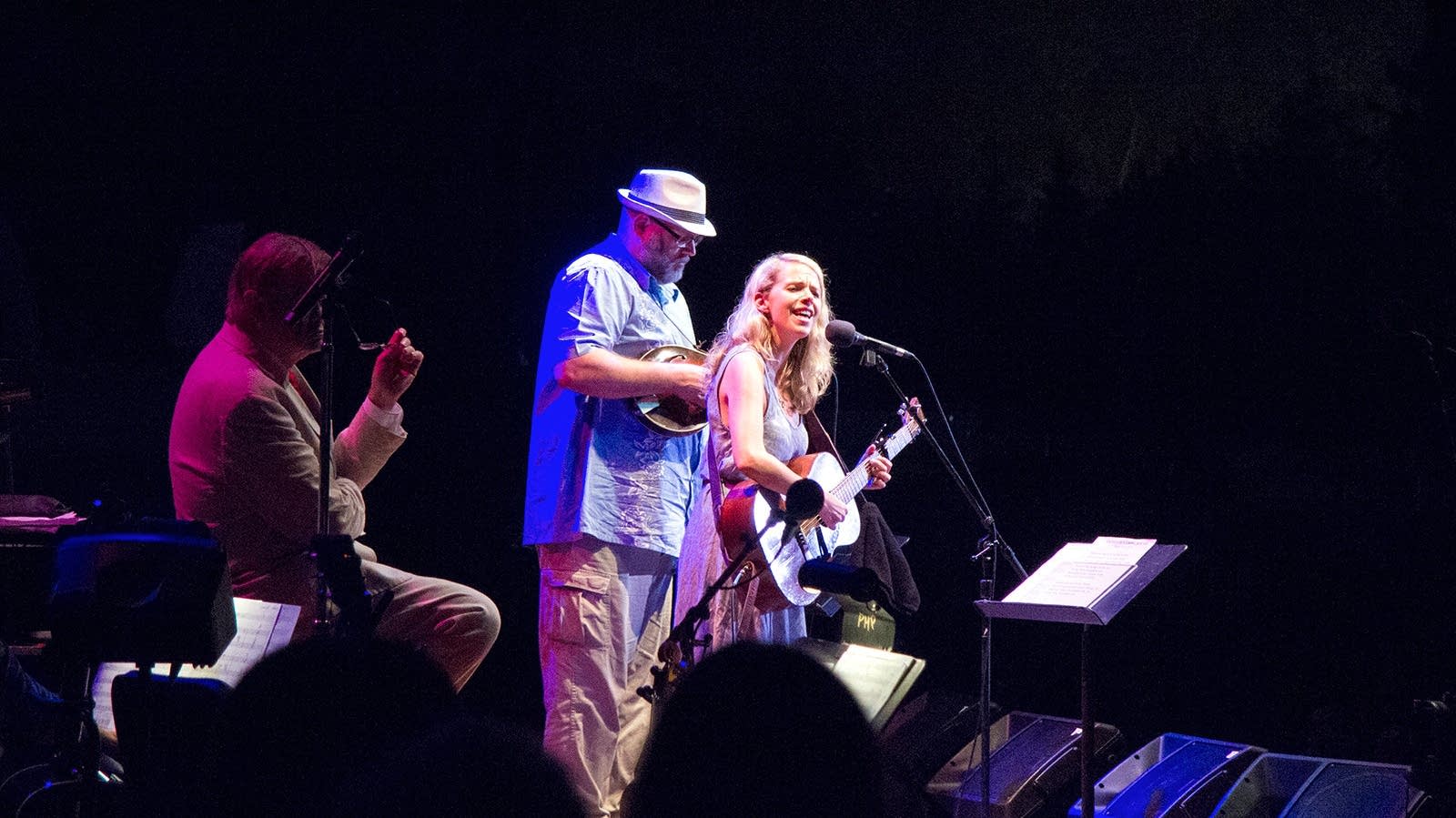 This week, our cast and crew are readjusting to Central Time after the
2014 APHC cruise
and gearing up for our return to the
Minnesota State Fair grandstand
(recorded Friday, August 29th for broadcast the next evening). With special guests, transcendent vocalist
Aoife O'Donovan
, and the North Star State's singing sisters
Jearlyn and Jevetta Steele
. Also with us, the Royal Academy of Radio Actors,
Tim Russell, Sue Scott
, and
Fred Newman
; pianist and musical director
Richard Dworsky
, with
Richard Kriehn
on mandolin and fiddle, our horn section,
Kenni Holmen
,
Michael B. Nelson
, and
Steve Strand
, drummer
JT Bates
, bassist
Jeff Carney
, and guitarist
Armand Hirsch
. All that, plus Pronto Pups, prize-winning pies, the Mighty Midway, butter sculptures, fireworks, and the latest News from Lake Wobegon.
Aoife O'Donovan

Growing up in a musical family, Aoife O'Donovan took an interest in the American folk tradition. And after graduating from the New England Conservatory of Music, she formed the progressive bluegrass band Crooked Still and the trio Sometymes Why. She recently collaborated with Sara Watkins and Sarah Jarosz to create the "I'm With Her" tour, which took the trio to the U.K., Europe, and across the U.S. Aoife's latest recording, In the Magic Hour, was released earlier this year on Yep Roc Records.

Jearlyn Steele

Growing up in Indiana, Jearlyn and Jevetta Steele sang with their siblings as The Steele Children. One by one, they moved to Minnesota and started singing together again. Now music is the family business. Jearlyn also hosts Steele Talkin', a Sunday-night radio show on WCCO, Minneapolis. Her most recent solo CD is Jearlyn Steele Sings Songs from A Prairie Home Companion. Jevetta's performance of "Calling You," from the film Baghdad Cafe, was nominated for an Academy Award. Her solo albums include 2006's My Heart.

Garrison Keillor

Garrison Keillor

was born in 1942 in Anoka, Minnesota. He went to work for Minnesota Public Radio in 1969, and on July 6, 1974, he hosted the first broadcast of

A Prairie Home Companion

in St. Paul. He is the host of

The Writer's Almanac

and the editor of the

Good Poems

series of anthologies from Viking.

Richard Dworsky

Richard Dworsky Keyboardist, composer, and arranger Richard Dworsky is music director for A Prairie Home Companion, where he is often called upon to improvise on the spot - in styles ranging from classical to bluegrass and everything in between. He has accompanied Garrison Keillor on U.S. and European concert tours and has collaborated with numerous other performers. JT Bates JT Bates started playing drums when he was seven. By the time he was 15, he was sitting in with his dad's big band. Since then, he has backed up countless musicians, as well as working with a number of Twin Cities-based bands, including Fat Kid Wednesdays and Poor Line Condition. Jeff Carney Bassist Jeff Carneyis always in demand - in Broadway orchestras, on jingles and film soundtracks, and as accompanist for jazz giants and popular music stars. A professor of bass and at the New School for Jazz and Contemporary Music, he is principal bassist with the New York Pops Orchestra at Carnegie Hall. Armand Hirsch Twentysomething guitarist Armand Hirsch has been a touring musician since he was just 14, working with Bobby McFerrin, Hank Jones, McCoy Tyner, Herbie Hancock, and others. While his primary focus is jazz, his Armand Hirsch Trio has branched out into electronica, modern gospel, acoustic pop, and more. Kenni Holmen Saxophonist Kenni Holmen is a member of the Hornheads, a Twin Cities horn ensemble, and he's one of the area's most active recording and touring musicians. He has performed or recorded with the Saint Paul Chamber Orchestra, the Glen Miller Orchestra, Gladys Knight, and the Reverend Billy Graham, to name a few. Richard Kriehn When Richard Kriehn turned 10, his mom bought him a mandolin; at 19, he'd won the Buck White International Mandolin Contest. He went on to play with the Nashville Mandolin Ensemble and bluegrass group 1946. On the classical side, he has performed with numerous orchestras and was principal second violin for the Washington/Idaho Symphony. Michael B. Nelson Michael B. Nelson is the leader, arranger, and trombonist for the Hornheads. In addition to appearing on more than a hundred CDs, he has performed with the likes of Doc Severinsen, Chaka Khan, and Lenny Kravitz, and has composed and arranged for Prince and other artists. Steve Strand Trumpeter Steve Strand has done commercial jingles for the Minnesota Twins, Macy's, ESPN, and the Minnesota Wild. More visibly, he does trumpet and flugelhorn duty with the Hornheads horn ensemble. He has toured and/or recorded with Prince, Chaka Kahn, The Steeles, and many others.

Tim Russell

One minute he's mild-mannered

Tim Russell

; the next he's George Bush or Julia Child or Barack Obama. We've yet to stump this man of many voices. Says fellow APHC actor Sue Scott, "He does a better Ira Glass than Ira Glass." A well-known Twin Cities radio personality and voice actor, Tim appeared in the Robert Altman film

A Prairie Home Companion

and the Coen brothers'

A Serious Man

. Tim has also been

reviewing films professionally for over 10 years

.

Sue Scott

On APHC, Sue Scott plays everything from ditzy teenagers to Guy Noir stunners to leathery crones who've smoked one pack of Camel straights too many. The Tucson, Arizona, native is well known for her extensive commercial and voice-over work on radio and television, as well as stage and movie roles, including the part of "Donna" in Robert Altman's A Prairie Home Companion.

Fred Newman

Sound effects man Fred Newman is an actor, writer, musician, and sound designer for film and TV. Turns out, no one is more surprised than Fred that he's made a career out of doing what he used to do behind the teacher's back -crossing his eyes, making sounds, and doing voices. He readily admits that, growing up, he was unceremoniously removed from several classrooms, "once by my bottom lip."