No Need for Saving
hosted by Garrison Keillor
From Blossom Center for the Performing Arts | Cuyahoga Falls, OH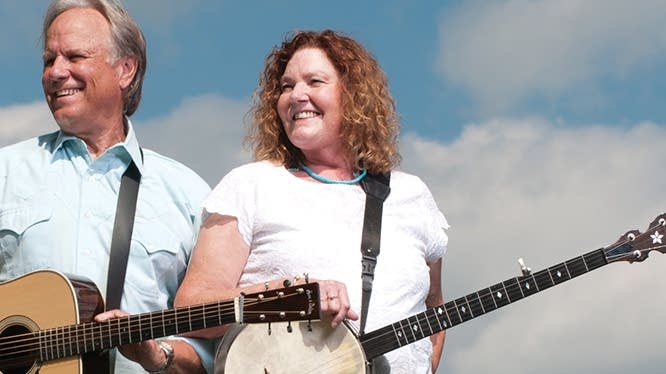 Jorma Kaukonen

Guitarist Jorma Kaukonen may be best known as a charter member of the Jefferson Airplane and the equally legendary (and still-touring) Hot Tuna. But these days, thousands of guitarists also know him as the founder of Fur Peace Ranch Guitar Camp, located in the Appalachian foothills of southeastern Ohio. It is the business Jorma and Vanessa Kaukonen started in 1998 - a place where music enthusiasts gather for classes offered by some of the best guitarists to ever pick up a six-string. Along with the other members of the Jefferson Airplane, Kaukonen is a 1996 inductee in the Rock and Roll Hall of Fame. The latest of his more than a dozen solo albums is Stars in My Crown (Red House Records).

The Wailin' Jennys

When The Wailin' Jennys first got together in 2002, it was supposed to be a one-time gig. But the collaboration proved a huge success, and this Juno Award-winning trio continues to wow audiences across North America and beyond. "This is about as good as contemporary folk gets," one music critic wrote. It has been 11 years since they released 40 Days, their first full-length recording. The latest CD from Ruth Moody, Nicky Mehta, and Heather Masse is 2011's Bright Morning Stars (Red House Records).

Robin and Linda Williams

"Individually their voices can melt cheese, and in duet they can do all-purpose welding," Garrison Keillor has said of Robin and Linda Williams. Singing the music they love, be it bluegrass, folk, old-time, or acoustic country, these two have carved out a more than three-decade career that has taken them from Carnegie Hall to the Hollywood Bowl. They first appeared on A Prairie Home Companion in 1975, the same year they recorded their first album. Back 40 - marking 40 years on the road and 40 years of marriage - was released in 2013 on Red House Records.

Garrison Keillor

Garrison Keillor

was born in 1942 in Anoka, Minnesota. He went to work for Minnesota Public Radio in 1969, and on July 6, 1974, he hosted the first broadcast of

A Prairie Home Companion

in St. Paul. He is the host of

The Writer's Almanac

and the editor of the

Good Poems

series of anthologies from Viking.

The Guy's All-Star Shoe Band - June 21, 2008

Tim Russell

One minute he's mild-mannered

Tim Russell

; the next he's George Bush or Julia Child or Barack Obama. We've yet to stump this man of many voices. Says fellow APHC actor Sue Scott, "He does a better Ira Glass than Ira Glass." A well-known Twin Cities radio personality and voice actor, Tim appeared in the Robert Altman film

A Prairie Home Companion

and the Coen brothers'

A Serious Man

. Tim has also been

reviewing films professionally for over 10 years

.

Sue Scott

On APHC, Sue Scott plays everything from ditzy teenagers to Guy Noir stunners to leathery crones who've smoked one pack of Camel straights too many. The Tucson, Arizona, native is well known for her extensive commercial and voice-over work on radio and television, as well as stage and movie roles, including the part of "Donna" in Robert Altman's A Prairie Home Companion.

Fred Newman

Sound effects man Fred Newman is an actor, writer, musician, and sound designer for film and TV. Turns out, no one is more surprised than Fred that he's made a career out of doing what he used to do behind the teacher's back -crossing his eyes, making sounds, and doing voices. He readily admits that, growing up, he was unceremoniously removed from several classrooms, "once by my bottom lip."