So Far, So Near
hosted by Garrison Keillor
Show #1480
January 10, 2015
From The Nourse Theater | San Francisco, CA
"Folsom Prison Blues (Stuck in Minnesota)"

"Folsom Prison Blues (Stuck in Minnesota)"

Woman in Black, North Beach 1963, Late Night - Joseph Stroud

Woman in Black, North Beach 1963, Late Night - Joseph Stroud

The Lives of the Cowboys

The Lives of the Cowboys

"Keepin' it Between the Lines (Old School)" - Peter Rowan Bluegrass Band

"Keepin' it Between the Lines (Old School)" - Peter Rowan Bluegrass Band

"Oh Babe, It Ain't No Lie"

"Oh Babe, It Ain't No Lie"

"Molasses" - T Sisters

"Molasses" - T Sisters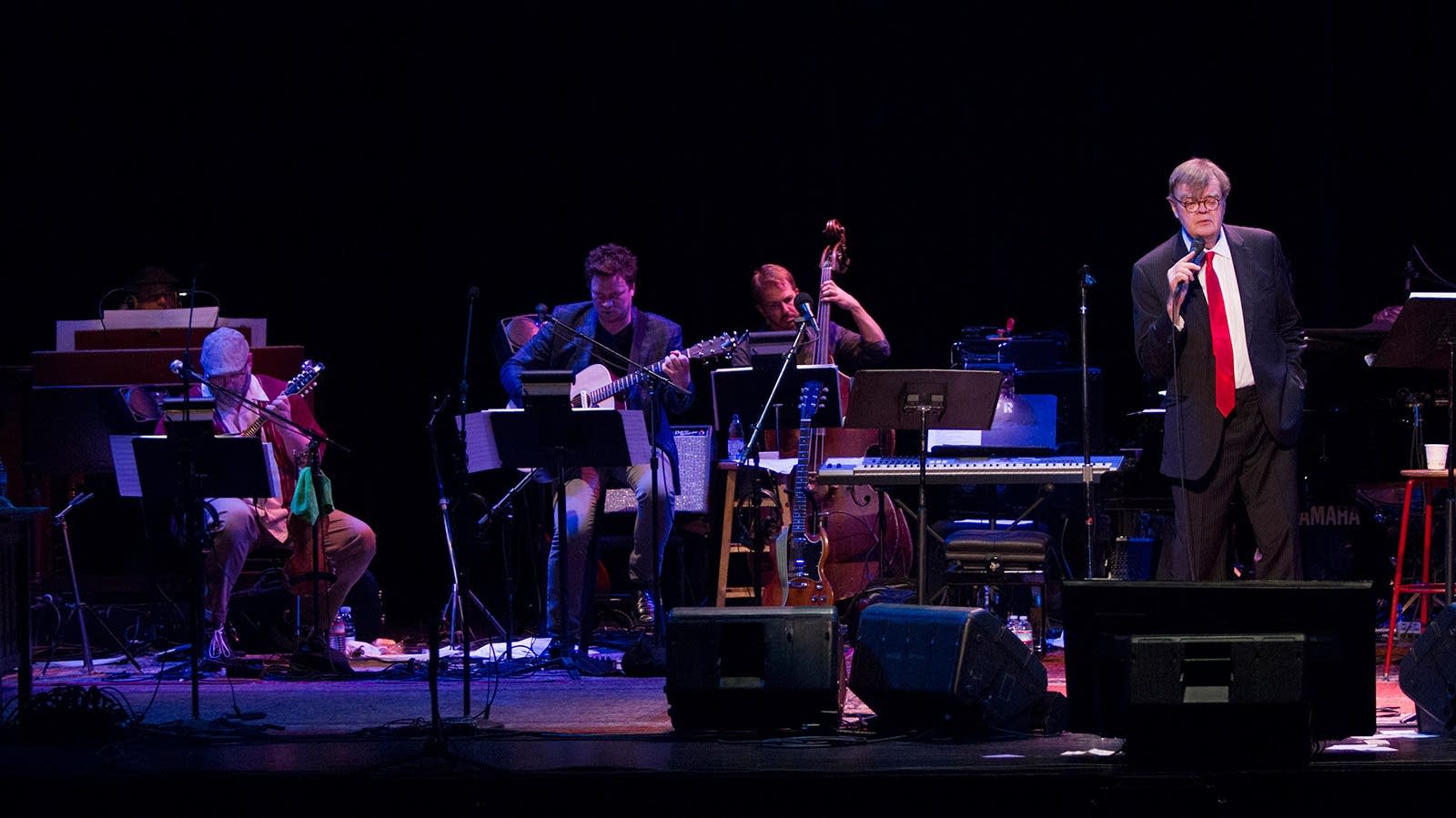 This week, we're live from the
Nourse Theater
in San Francisco, California, with special guests the
Peter Rowan Bluegrass Band
, sibling harmonizers
T Sisters
, and poet Joseph Stroud. Plus, the Royal Academy of Radio Actors,
Tim Russell, Sue Scott
,
Jeri Lynn Cohen
, and
Fred Newman
; pianist and musical director
Richard Dworsky
and the Inner Sunset Quartet (Jonathan Dresel on drums,
Richard Kriehn
on mandolin and fiddle, guitarist
Chris Siebold
, and
Larry Steen
on bass); and the latest News from Lake Wobegon.
Peter Rowan

With bands like Bill Monroe's Blue Grass Boys, Sea Train, Muleskinner, Old & In the Way, and The Free Mexican Air Force, Peter Rowan has certainly put his stamp on music of the past half century. He has recorded dozens and dozens of albums - as part of various groups and as a solo too. The most recent is 2014's Dharma Blues (Omnivore). The band: Paul Knight (bass), Keith Little (banjo), Blaine Sprouse (fiddle), and Mike Witcher (dobro).

T Sisters

The T Sisters really are sisters - Erika, Rachel, and Chloe Tietjen, who began singing together when they were little girls, "making up songs and writing plays together in the attic of our grandparents' house." Now, this Oakland-based trio showcases seamless harmonies on their debut full-length album, 2014's Kindred Lines (Spruce and Maple Music), almost all original songs, with shades of folk, jazz, bluegrass, blues, gospel, and more. Steve Height (bass), Daniel Mark (mandolin).

Joseph Stroud

The San Diego Union-Tribune called California-based poet Joseph Stroud "a virtuoso of quietly luminous moments," with poems and prose poems "attuned to the incandescent, the heartbreaking paradise of this very life." The recipient of a Pushcart Prize and the prestigious Witter Bynner Fellowship from the Library of Congress, Stroud has published several collections, including Country of Light, a finalist for the 2005 Northern California Book Critics Award, and Of This World: New and Selected Poems (Copper Canyon Press).

Garrison Keillor

Garrison Keillor

was born in 1942 in Anoka, Minnesota. He went to work for Minnesota Public Radio in 1969, and on July 6, 1974, he hosted the first broadcast of

A Prairie Home Companion

in St. Paul. He is the host of

The Writer's Almanac

and the editor of the

Good Poems

series of anthologies from Viking.

Richard Dworsky

Richard Dworsky Keyboardist, composer, and arranger Richard Dworsky is APHC's music director. He leads the band, composes themes, improvises script underscores, and collaborates with such diverse guests as Yo-Yo Ma, James Taylor, Brad Paisley, Kristin Chenoweth, and Sheryl Crow. He has released many recordings of original material and has provided music for documentaries on HBO and PBS. Jonathan Dresel Jonathan Dresel's interest in percussion has taken him from a first-place trophy at his first big drum competition (he was all of eight years old) to a degree from the University of Miami's Frost School of Music to a five-night-a-week gig with the house band on ABC's Jimmy Kimmel Live. He has also performed with Joe Walsh, Carole King, Sheryl Crow, LeAnn Rimes, Kenny Rogers, Michael McDonald, and many more. Richard Kriehn When Richard Kriehn turned 10, his mom bought him a mandolin; at 19, he'd won the Buck White International Mandolin Contest. He went on to play with the Nashville Mandolin Ensemble and bluegrass group 1946. On the classical side, he has performed with numerous orchestras and was principal second violin for the Washington/Idaho Symphony. Chris Siebold Bluegrass to big band jazz, Chris Siebold knows his way around a guitar - or a bunch of other instruments, for that matter. Based in Chicago, he draws from a deep well of influences and styles, and has put his talents to work in ensembles such as Howard Levy's Acoustic Express and Kick the Cat. In 2010, he formed the band Psycles, a large and extremely versatile group whose album Live at Martyrs' was released the following year. Larry Steen In high school, Larry Steen took up the bass so he could be cool and play in a rock band. Turns out, his mastery of the instrument has led to performances with renowned artists like Stevie Wonder, Gladys Knight, Dionne Warwick, Mel Torme, and others. Currently, Larry co-leads Sip of Soul, a soul-R&B project with his wife, vocalist Nikki Steen.

Tim Russell

One minute he's mild-mannered

Tim Russell

; the next he's George Bush or Julia Child or Barack Obama. We've yet to stump this man of many voices. Says fellow APHC actor Sue Scott, "He does a better Ira Glass than Ira Glass." A well-known Twin Cities radio personality and voice actor, Tim appeared in the Robert Altman film

A Prairie Home Companion

and the Coen brothers'

A Serious Man

. Tim has also been

reviewing films professionally for over 10 years

.

Sue Scott

On APHC, Sue Scott plays everything from ditzy teenagers to Guy Noir stunners to leathery crones who've smoked one pack of Camel straights too many. The Tucson, Arizona, native is well known for her extensive commercial and voice-over work on radio and television, as well as stage and movie roles, including the part of "Donna" in Robert Altman's A Prairie Home Companion.

Jeri Lynn Cohen

Over the past 30 years, folks in the Bay Area have seen San Francisco-based actor Jeri Lynn Cohen in myriad productions - with companies like the Magic Theatre, Jewish Theatre, Aurora Theatre, Berkeley Repertory Theatre, and San Francisco Mime Troupe. She's appeared on stages from California to New York, in plays, films and videos, not to mention numerous voice-over gigs.

Fred Newman

Sound effects man Fred Newman is an actor, writer, musician, and sound designer for film and TV. Turns out, no one is more surprised than Fred that he's made a career out of doing what he used to do behind the teacher's back -crossing his eyes, making sounds, and doing voices. He readily admits that, growing up, he was unceremoniously removed from several classrooms, "once by my bottom lip."