Down in the Emerald Valley
hosted by Garrison Keillor
Show #1460
August 23, 2014
From Cuthbert Amphitheatre | Eugene, Oregon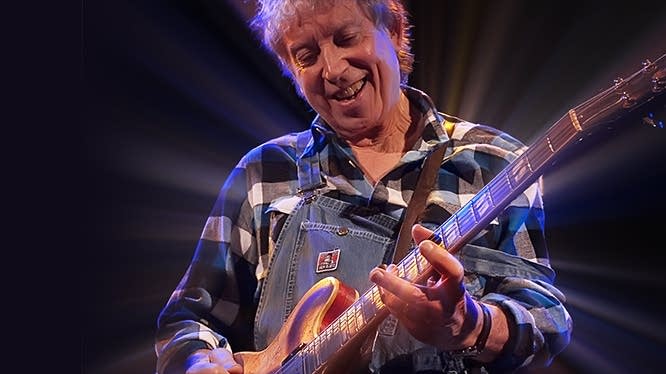 Elvin Bishop

As a kid in Tulsa in the 1950s, Elvin Bishop could - if the conditions were just right - pick up WLAC, Nashville. He was captivated by Jimmy Reed's piercing harmonica sounds coming over the airwaves. The blues cast a spell on him - one that's never lifted. A founding member of Chicago's groundbreaking Paul Butterfield Blues Band, he went solo in 1968, moved to the Bay Area, and continued a music career now into its fifth decade. His 20-some recordings include Can't Even Do Wrong Right (Alligator Records).

Sam Bush

Sam Bush was just 11 when he got his first mandolin. By the time he was 17, he had won the title of National Junior Fiddle Champion for three years running. And he had made his recording debut, Poor Richard's Almanac. Founder of cutting-edge bands like New Grass Revival and Strength in Numbers, he has also been the go-to sideman for Lyle Lovett, the Flecktones, and dozens of others. The most recent of his solo albums is Circles Around Me (Sugar Hill Records).

Portland Cello Project

Cello repertoire. Bach comes to mind, of course. Elgar, Britten, Kodaly. But OutKast? Jay-Z? Kanye West? Why not? Portland Cello Project - PCP to their growing ranks of fans - makes a point of picking music you wouldn't normally hear coming out of a cello: folk, pop, blues, jazz, indie rock, hip-hop, and more. "Whatever will confuse and delight the audience the most," quips artistic director Douglas Jenkins. Homage, PCP's new album, was released earlier this spring. Joining Jenkins for today's program: Gideon Freudmann, Anna Fritz, Skip vonKuske, Kevin Jackson, and Galen Cohen.