Roads Well Travelled
hosted by Garrison Keillor
From Ted Constant Convocation Center | Norfolk, Virginia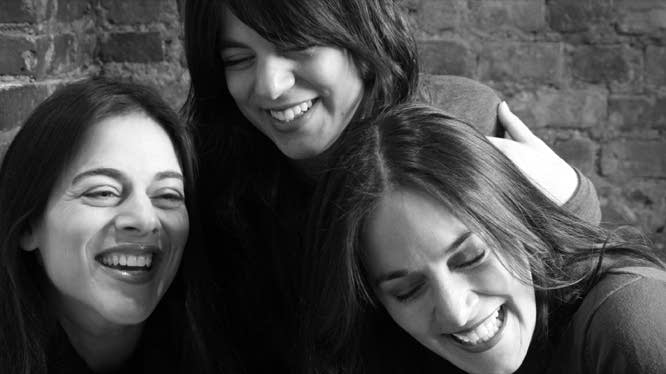 This week on
A Prairie Home Companion
with Garrison Keillor, it's a live broadcast performance from the
Ted Constant Convocation Center
in Norfolk, Virginia. With special guests,
Doyle Lawson and Quicksilver
, the
U.S. Fleet Forces Band
,
Rob Fisher
,
Robin and Linda Williams
,
Joe Newberry
and
the DiGiallonardo Sisters
. Plus, the Royal Academy of Radio Actors,
Tim Russell, Sue Scott
, and
Fred Newman
,
Howard Levy
sits in on harmonica with
The Guy's All-Star Shoe Band
, and the latest News from Lake Wobegon.
The DiGiallonardo Sisters

The DiGiallonardo Sisters - Daniela, Nadia, and Christine - started singing together when they were kids Brooklyn. They still call Brooklyn home, and they still love stacking up those three-part harmonies. Now, Daniela teaches social studies at Brooklyn's Mark Twain Intermediate School for the Gifted & Talented; Nadia is a pianist, composer, arranger, and singer; and Christine is a singer and actor. The trio's debut album, Shout Sister Shout, was recorded with Rob Fisher live at the Virginia Arts Festival.

Rob Fisher

Rob Fisher is an internationally recognized authority on American music and musical theater. He has been a guest of virtually every major orchestra in the U.S. as conductor or pianist, and he has made numerous appearances on the Lyrics & Lyricists series at the 92nd Street Y. For his work on the Tony Award-winning Encores! series at New York's City Center, he was presented the Lucille Lortel Award for Outstanding Special Achievement.

Doyle Lawson and Quicksilver

As a youngster in East Tennessee, Doyle Lawson couldn't wait for Saturday nights when he'd hear Bill Monroe on the Grand Ole Opry. At age 11, he taught himself to play the mandolin, and in his teens, he got a job playing banjo with Jimmy Martin. He started Quicksilver in 1979. Last year, Doyle Lawson was inducted into the International Bluegrass Music Hall of Fame. His dozens of albums include 2013's Roads Well Traveled (Mountain Home). The band: Jason Barie (fiddle), Dustin Pyrtle (guitar), Joe Dean (banjo), Josh Swift (dobro), and Eli Johnston (bass).

Joe Newberry

Missouri native and North Carolina transplant Joe Newberry has made music most of his life. He grew up in a family full of singers and dancers, took up the guitar and banjo as a teenager, and learned fiddle tunes from great Missouri fiddlers. He plays with Bruce Molsky and Rafe Stefanini as the Jumpsteady Boys, in a duo with mandolinist Mike Compton, and in a quartet with old-time music legends Bill Hicks, Mike Craver, and Jim Watson. Joe's solo recording, Two Hands, is on the 5-String Productions label.

Robin and Linda Williams

"Individually their voices can melt cheese, and in duet they can do all-purpose welding," Garrison Keillor has said of Robin and Linda Williams. Singing the music they love, be it bluegrass, folk, old-time, or acoustic country, these two have carved out a more than three-decade career that has taken them from Carnegie Hall to the Hollywood Bowl. They first appeared on A Prairie Home Companion in 1975, the same year they recorded their first album. Back 40 - marking 40 years on the road and 40 years of marriage - was released in 2013 on Red House Records.

U.S. Fleet Forces Band

Established in 1945, the U.S. Fleet Forces Band is the musical representative for the Commander, U.S. Fleet Forces Command. The largest of the Navy's 11 Fleet Bands, this unit performs hundreds of engagements annually, providing musical support for ships, military bases, foreign dignitaries, and many community relations events. The band, under the direction of Lieutenant C.S. White, is staffed by some of the Navy's finest musicians.