Back to the Sun
hosted by Garrison Keillor
From The Greek Theatre | Los Angeles, CA
All of Those Things - Greg Brown

All of Those Things - Greg Brown

Dreamboat Annie - Heart

Dreamboat Annie - Heart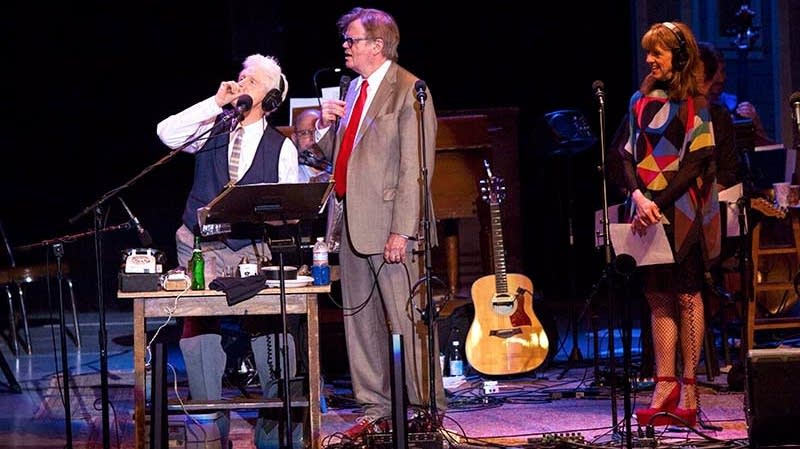 This week, we head back out West for a broadcast from the
Greek Theatre
in Los Angeles, California with special guests, the First Sisters of Rock and Roll, Ann and Nancy Wilson of
Heart
, folk musician
Greg Brown
, gospel grandmaster
Jearlyn Steele
, and blues singer
Hilary Thavis
. Plus: the Royal Academy of Radio Actors,
Tim Russell, Sue Scott
, and
Fred Newman
, musical director
Richard Dworsky
(with
Richard Kriehn
on mandolin and fiddle,
Bernie Dresel
on drums,
Chris Siebold
on guitar, and
Larry Steen
on bass) and the latest News from Lake Wobegon.
Heart

Heart first stormed the charts in the 1970s with hits like "Crazy on You," "Magic Man," and "Barracuda." Back then, Ann and Nancy Wilson were the first women to front a hard rock band. Almost four decades later, the Rock & Roll Hall of Fame inductees are still recording, touring, and performing sold-out concerts worldwide. Heart's story is chronicled in the Wilson sisters' 2012 book, Kicking & Dreaming: A Story of Heart, Soul, and Rock & Roll (HarperCollins). Their new CD/DVD, Fanatic Live from Caesar's Colosseum (Frontiers Records), was released earlier this year.

Greg Brown

Greg Brown was raised in southeastern Iowa, with a banjo-playing grandfather, a poet grandmother, an English teacher mother who played guitar, and a Pentecostal preacher father. The environment, combined with abundant talent, produced one of the most acclaimed singer-songwriters of the past three decades. Said a Boston Globe music critic, "Brown is to this country what Richard Thompson is to Britain: its most essential modern troubadour." Greg's 30-plus recordings may just prove the point. The most recent is 2012's Hymns to What Is Left (Sawdust Records).

Jearlyn Steele

Growing up in Indiana, Jearlyn Steele sang with her siblings as The Steele Children. One by one, they moved to Minnesota and started singing together again. Now music is the family business. Jearlyn has recorded and performed with Prince, George Clinton, Mavis Staples, and others. She also hosts Steele Talkin', a Sunday-night radio show that originates on WCCO in Minneapolis. Her most recent solo CD is Jearlyn Steele Sings Songs from A Prairie Home Companion.

Hilary Thavis

Funny how things come together. Born in Rome, Italy, to parents from Minnesota, Hilary Thavis grew up loving music - especially folk music - from Woody Guthrie to Italian folk singers like Fabrizio De Andre and Francesco De Gregori. But it was the blues that ultimately captured her attention. Trouble & Truth is the 2011 recording from her band Gaia Groove. Now making her home in the Twin Cities, Hilary is working on a solo album of original songs.