To download photos: right-click the image and select "save image" or "download image"
Port Notes -- Trondheim
We had a gorgeous day in Trondheim that started off breezy and cool but quickly heated up under the sun. It was our first time docking at the main destination (in contrast to docking or anchoring in the small Scottish towns on the outskirts of Edinburgh and Inverness), so getting on and off the boat felt like a snap! Women dressed in traditional Norwegian costumes greeted us on the pier and gave us handy maps showing Trondheim's top sites--including, helpfully, public toilets.
Many of us took our own paths through the charming downtown area to reach Nidaros Cathedral, whose extensive garden was bathed in cool shadows. The construction of Nidarosdomen began in 1070, and it wasn't fully completed until 1300. After that time, different sections were rebuilt through the ages; today there seemed to be some restoration work going on behind the scaffolding. Some things never change...or rather, they keep changing forever!
We crossed the Nidelva River on Gamle Bybro (in English, "Old Town Bridge"), which is also known as Lykkens portal, or Gate of Happiness, after the lyrics of a waltz written by Norwegian singer and composer Kristian Oskar Hoddø. Høddo was a member of the Norwegian resistance during the occupation by Nazi Germany, and he was executed along with eight other rebels at Kristiansten Fortress in 1943. Their mass grave was later moved to Nidaros Cathedral: it seems that everything in Trondheim is connected.
On a happier note, the view from Kristiansten Fortress (Kristiansten Festning) on this sunny day was breathtaking. From the top floor of the thick-walled white structure, we could see the island of Munkholmen (used variously through the years as an execution site, a prison, a secluded monastery, and a tourist attraction) and our own ms Rotterdam. Those who did not make it up the steep steps inside the Fortress were not disappointed with their own view of the Cathedral and the many red-roofed houses of Trondheim. In the park next to the Fortress, children played and seemed to be having almost as good a time as we were.
Lecture Notes -- Melissa Gjellstad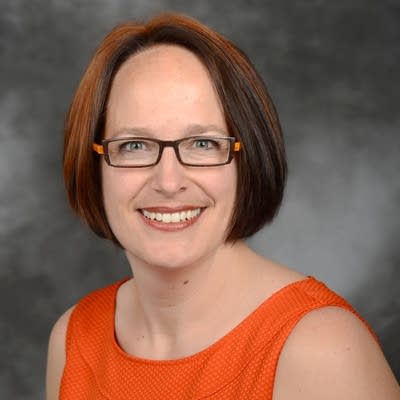 In 2009, Norwegian author Maria Parr published a young adult novel titled Tonje Glimmerdal that features a dynamite girl. Building on the spirit of her literary predecessors Heidi by Johanna Spyri (1880) and Pippi Longstocking by Astrid Lindgren (1945), Parr tells Tonje's story with a great deal of intertextual playfulness. Parr's strong female protagonist values friendship, adventure, and life off the beaten path.
Tonje is the only kid who lives in her tiny village of Glimmerdal, a fictional place not far from Å with "speed and self-confidence" the protagonist enchants readers with her antics. Tonje and her father Sigurd and godfather Gunnvald live on neighboring farms most distal from the ferry dock and the three businesses in town. Tonje's mother is an oceanographer who spends her working life in the field, stationed on Greenland to monitor the melting ice. Tonje is Glimmerdalens vesle keisarinne, and as "Empress of the Valley" she rules her kingdom by closely patrolling the natural and social realms of her loyal subjects. Her best friend is Gunnvald, the tall-as- a-troll grumpy old bachelor. She loves to talk with Gunnvald about "før i tida," or the good ol' days when everyone was younger and stronger and kids populated the valley. Together they scheme about new projects, such as building a racing sled.
Born in 1981 in Sunnmore, author Maria Parr debuted in 2005 with the children's novel Vaffelhjarte [Waffle Hearts]. Four years later, her second novel Tonje Glimmerdal arrived with acclaim, capturing five Norwegian literary prizes, including the prestigious Brageprisen, plus a prize for the best children's book in Germany. Her novels have been translated into more than 10 languages.
Join Melissa on 20 June to learn more about canonical and contemporary Norwegian literature.
The Genius Show -- Joe Newberry
Attend one of Joe Newberry's performances and you'll learn all sorts of interesting tidbits about him from his colorful anecdotes: He was born in Missouri but now lives in North Carolina. In Missouri they had snow in the wintertime, and the appearance of snow in September, too, when the fields were covered in cotton. He dropped out of graduate school to go play banjo in Arkansas, much to the loving bemusement of his father, who was a judge who preached non-judgment outside the workplace. People used to travel from far and wide to see his grandfather, Sterling, recite vast portions of Homer's The Iliad and The Odyssey as a child.
And his connection to A Prairie Home Companion? Well, he played on the show a couple times before Garrison pointedly asked, "Wouldn't you like to play music all the time?" Up until that time, Joe had always had day jobs in addition to playing music. He had been a newspaper editor, a carpenter, a schoolteacher, and the director of communications for the North Carolina Symphony. Joe thought about Garrison's question and realized: yes, yes he would like to play music all the time. His supportive and brilliant wife, Susan, suggested that he book shows for the next six months and see how it goes. That was in January of 2016, and he is going strong!
Joe first picked up music secondhand as a kid: his girlfriend at the time was taking guitar lessons and she would come back from her lesson to teach him what she learned. Their childhood romance didn't work out, but music certainly stayed with him. He later taught himself banjo, and today he teaches his own workshops on that, plus hillbilly singing, as he calls it. In Joe's appearance on The Genius Show this past Wednesday, he seemed pretty content with the decisions he's made. When I asked if he had any advice for people considering a drastic career change or other risky move, he let me in on his secret: "Trust yourself."
Passenger Profile
Dianne Austin-Young is a 30-year veteran in the travel business. She is part of the wonderful EMI family that many of us depend on to troubleshoot problems, answer questions, point us in the right direction, or just hangout and chat. She is sometimes fortunate to work with her husband Ron. Diane was hired in 2005 to work on the very first APHC cruise and has worked on every cruise since! Being a huge APHC fan is simply icing on the cake.
Best advice for people who want to work in the travel industry?
"You cannot lose your patience, you cannot lose your sense of humor and you must always be polite. If you can learn to say please and thank you in the language of the country you are in, all the better."
One sweet memory you would like to share?
"Every cruise I would make a tiara for our dear friend and leader, the late Caroline Hontz, because we called her The Queen. She was the one who helped build our successful team."
Easy packing tips?
"If you can, get those bags where you can take the air out of everything because you can pack much more."
Uplifting part about the job you do?
"To me the most uplifting thing is helping someone and making their life a little easier on these cruises. That's what we're all about."
Funniest moment working on an APHC cruise?
"The first day of a cruise, people were told they could dress very casual for dinner. That night, a stream of people came into the dinning room in their bathrobes. I was laughing so hard I couldn't breath."
View From the Bow -- Bjørn Follestad
Formation of Sognefjorden
At over 200km, Sognefjorden is the longest fjord in Europe and the second longest in the world (the longest is in Greenland). Fjords are a glacially carved feature. Initially, they were fluvially created valleys before the ice ages. During the ice ages, glaciers followed the old track of drainage, creating the feature we now know as a fjord.
Coming into the fjords from the sides are "hanging valleys." Both are formed by a combination of meltwater and sand under pressure of the glacier, which was over 3,000m tall in the middle (of course, the pressure in the main fjord was far greater than that of the side fjords or hanging valleys).
From the mouth of the fjord, the "threshold" is rather shallow, perhaps only 200m, for the first 30-40km. As we cross the threshold, we come into far deeper fjord areas, reaching 1,300m to the soft bottom; you can add another 400m to get to bedrock. Meanwhile, the rocks along the side of the fjord reach up to 1,600m above sea level, creating relief amplitude of over 3,000m. Then, as we approach Flåm, the fjord becomes shallower, transitioning into a valley that can be followed up 1,000m by train during your shore excursion.
Literary Limericks
Excerpted from Garrison's forthcoming book of limericks to be published by Grove/Atlantic
The anthem by Julia Ward Howe,
When sung by a massed choir -- wow.
The Lord's judgment seat,
The jubilant feet,
I wish we could hear it right now.
The debut of Theodore Dreiser,
Sister Carrie, came up like a geyser,
And, trying to match it he
Wrote An American Tragedy,
Which was stronger, sadder, and wiser.
Travel Tips
Ålesund is one of the world's largest exporters of klippfisk: split, dried, and salted cod. Spain and Portugal, in turn, are two of the largest consumer nations of klippfisk, turning it into a variety of dishes that are all called bacalau (Spanish) or bacalhau (Portuguese). Though it can refer to prepared dishes, "bacalhau" literally means "salted cod."
There is no Portuguese word for fresh cod; when Portuguese people want to refer to the fresh fish, they have to say "fresh salted cod" (bacalhau fresco). Besides the cod itself, other ingredients in bacalhau dishes typically include potatoes, tomatoes, hard boiled eggs, and/or boiled vegetables. Here in Ålesund, you can find variations on the dish at the XL Diner (Skaregata 1B) or at Lyst (Kongens gate 12).
---
Journal entries:
Rotterdam | North Sea | Edinburgh | Inverness | North Sea | Trondheim | Ålesund | Flåm
Bergen | North Sea | Oslo | North Sea | Rotterdam | Talent Show