See the faces behind the scenes.
Debra Beck, Logistics
Joy Biles, Producer for The Writer's Almanac
Theresa Burgess, Office Manager and Permissions Coordinator for The Writer's Almanac
Kate Gustafson Sanderson, Managing Director
Jennifer Howe, Assistant to Garrison Keillor
Sam Hudson, Broadcast Engineer/Talent Producer
Janis Kaiser, Lighting Designer
Ben Miller, Web Producer
David O'Neill, Marketing Director/Station Relations/Archivist
Dan Rowles, Director
Thomas Scheuzger, Asst. Technical Director/Transmission Engineer
Kathryn Slusher, Segment Producer/Music Librarian
Noah Smith, Production Assistant
Albert Webster, Stage Manager

---
Debra Beck, Logistics: On any given day, you may find Debra Beck making travel plans for A Prairie Home Companion's staff, arranging catering for upcoming shows, or seeing to hotel reservations for performers. Being in charge of logistics means mowing down a zillion details for each week's program. "You may also find me weeding in the APHC garden," Deb says, "or whipping up a mean pumpkin soup." It's challenging to keep up with all her interests: gardening, traveling, hiking, reading, rock climbing, dancing, the list goes on. She grew up in Sabin, Minnesota — near Fargo — and attended St. Olaf College and the University of Minnesota. Before joining the APHC staff, she had been a faithful listener to the show since its very early days.
---
Joy Biles, producer for The Writer's Almanac: Joy Biles grew up in a military family that moved around a lot, mostly to sunny locales like Florida and Hawaii. She took a cross-country road trip in her 20s, and after visiting a friend who'd moved to Minneapolis, she decided to hang around for a few weeks—and ended up staying for the next decade. An English major, she spends most of her time doing everything from writing, research, editing, production assistance, and her favorite: searching for poems she hopes fans of The Writer's Almanac will enjoy. On her own time, you'll find her walking her dogs, making big pots of soup, camping, or writing little stories.
---
Theresa Burgess grew up in Stillwater, Minnesota, listening to A Prairie Home Companion with her family. She joined Prairie Home in 2005 after attending the University of Minnesota Duluth, and has since graduated with a Masters degree in Business Administration from St. Thomas. Whether assisting listeners, doing research, maintaining office harmony, or seeing to travel, shipping and archiving projects, Theresa's job is always an adventure. She currently lives in Minneapolis with her husband, dog and daughter.
---
In 1986, Kate Gustafson Sanderson was laid off from a position as an elementary school music teacher. So what if she could barely type, she managed to land an office assistant gig with A Prairie Home Companion. Turned out to be a really good hire for Prairie Home. These days, Kate is managing director for Prairie Home Productions, where she oversees the business operations of APHC, The Writer's Almanac, APHC Cruises, Common Good Books and related ventures. When she's not keeping show budgets on track, working on product development, and mowing down myriad details, Kate is caring for her family — a teenage daughter, two stepdaughters and husband Brian — running after her pets, playing organ in her church, and entertaining fantasies of cloning herself.
---
Jennifer Howe, Assistant to Garrison Keillor: In the early '80s Jennifer and her husband, Bob, were invited by their minister and his wife to "go see a live radio show." This lead to Jennifer's retiring from the field of Law Office Management and accepting the opportunity to work with Garrison Keillor and A Prairie Home Companion. Jennifer worked first in the St. Paul office, then assisted Garrison in setting up his American Humor Institute office in New York City, where she worked until 1993. Jennifer and Bob returned to the Twin Cities several years ago, and this past March she rejoined the APHC family as Garrison's assistant.
---
Sam Hudson, Broadcast Engineer/Talent Producer: While other little kids were playing cops and robbers, Sam Hudson spent childhood days tinkering with tape recorders, pretending that he worked at a radio station, or listening to the mix on his dad's Frank Sinatra and Stan Kenton LPs. By the time he hit junior high, he was running the sound equipment at church and for school music events and friends' bands. He's still at it. For many years, he operated his own recording studio, where he produced radio and TV commercials and a slew of CDs. And since the early 1990s, he has worked as an audio engineer for A Prairie Home Companion. In addition to his broadcast engineering duties, Sam researches and scouts out performers to appear on each week's show.
---
Janis Kaiser, Lighting Designer: Back in her PS 127 days, Janis Kaiser had the starring role (princess) in her 4th-grade play, and classmate Lorraine Bracco had to settle for a supporting part (court jester). Lorraine now has The Sopranos on her résumé, and Janis is still a star — a behind-the-scenes star — as lighting designer for A Prairie Home Companion's New York runs and when the show is on the road. She's been with APHC since 1990. Born and raised in Bay Ridge, Brooklyn, Janis has stayed pretty close to her roots. She attended Brooklyn College and now makes her home in Rowayton, Connecticut. Weekdays, she works in administration at the consulting firm McKinsey & Company in Stamford, Connecticut. In her free time, she and her husband, Kevan, are apt to be sailing on Long Island Sound.
---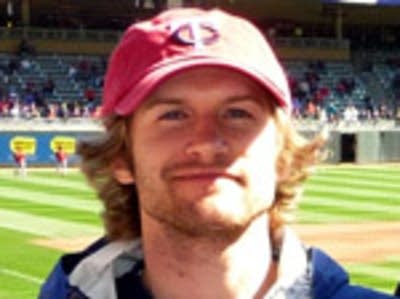 Ben Miller, Web Producer: New website features, videos and updates from the latest broadcast, social media posts, even the code that displays the text you're reading right now — if it's APHC- or The Writer's Almanac-related and online, Ben probably had something to do with it. He grew up in Anoka, graduated from the University of Minnesota and worked at a Minneapolis marketing agency for several years before joining the Prairie Home staff. When he's not obsessively reading the Internet (there's a lot to read), you might find him playing guitar and singing in various bands around the Twin Cities.
---
David O'Neill: Marketing Director/Station Relations/Archivist Before David O'Neill had reached his teens, he was working pledge drives at Minnesota Public Radio. Soon he was doing odd jobs for A Prairie Home Companion — sweeping the theater, selling APHC products in the lobby. Then Ray Marklund, a beloved old stagehand who took photos at rehearsals, handed young David a camera and said, "Here, you take shots. I'm tired of running around." "He wasn't really tired," David recalls, "just giving a kid a break — a reason to be backstage." O'Neill continued to work part time for MPR until his graduation from the University of Minnesota, then full time as the company's historian and archivist, and in managerial positions, including the design manager for MPR's new headquarters. Today, he is APHC's marketing director, serving as media contact and liaison to the 500-plus stations that carry the show.
---
Dan Rowles, Director: Dan Rowles began his radio career by pulling phone gags on his neighbors at his mother's behest. This specialty led him to KBBI radio in Homer, Alaska, in 1980, where he lived in a 16 x 22 log cabin that had a piano and outhouse and no running water. He signed on the station at 5 a.m., and on Saturdays, cued up reels of A Prairie Home Companion, which, back then, arrived in cardboard boxes a week after the program had aired. A show featuring Garrison and Tom Keith doing loon calls, and "Spider" John Koerner singing made Dan wonder what he was doing so far from home. He moved back to Minnesota in 1985 and had the good fortune of being hired as a Prairie Home stagehand. He currently directs the show.
---
Thomas Scheuzger, Broadcast/Transmission Engineer: While Broadcast/Transmission Engineer Thomas Scheuzger has roots in the Chicago area, he spent years in Boston, graduating with honors from Berklee College of Music (a degree in music production and engineering). He was director of audio facilities at the New England Conservatory of Music, before returning to Chicago to freelance as an engineer and studio technician. After meeting Andrea, the Minnesota woman who would become his wife, he followed his heart north in 2002. At A Prairie Home Companion, Thomas works with Sam Hudson, mixing the live broadcast and making certain that APHC's broadcast signal gets from the show's various venues to the control center in St. Paul, where it is distributed through American Public Media. He is also technical director for The Writer's Almanac.
---
Segment Producer and Music Librarian Kathryn Slusher oversees the extensive library of music performed during Prairie Home Companion's 35-plus years. She does a lot of research, sees to songwriter royalties and music credits, and is busy backstage with production of the music segments on the show. She assists Rich Dworsky, the house band and musical guests on the live show each week, and has a hand in talent booking and rebroadcast scheduling. Kathryn makes her home in Minneapolis, where she and her husband Tim are the proud parents of two young children.
---
Originally from South Dakota, Production Assistant Noah Smith attended Minnesota State University in Moorhead, studying the music industry — with an emphasis on audio production and engineering. After graduation, he interned with Hest & Kramer, a music studio that creates soundtracks for TV and radio commercials. There he helped design and build — of all things — robot actors. Since he signed on with A Prairie Home Companion, Noah has had an ever-evolving stack of tasks on his plate, from keeping up-to-date archives of APHC and The Writer's Almanac to making dubs of the programs for guest performers. In his time off, you're likely to find him in his home recording studio, where he mixes music for local bands.
---
Albert Webster, Stage Manager: Attend a Prairie Home show, and you may notice the guy who occasionally shows up onstage to confer with Garrison. That's Stage Manager Albert Webster. He arranges production needs in advance and then tours with the show to supervise the local crew, load the truck, set up the band, and help people on and off stage. During the week he helps choose and contract our tour sites and helps manage our cruises. He's put in more than 20 years in the theater business, including full-time positions at the Brooklyn Academy of Music and Playwrights Horizons in New York, and the Ordway Music Theater in St. Paul. Albert and his wife Kris live in the University City area of St. Louis. Their oldest is striking out on his own in the workplace, their daughter attends Grinnell College, and their youngest son is starting his high school career.